From Chennai To Atlanta, Meet Divya Raghavan: Avid Traveler, Lover of Food & Energetic Storyteller Behind #FarmToThali
"In my twenties, I traveled solo to different places around the world. Traveling solo as a brown female was both exhilarating and challenging and I wanted to share my stories, my gaffes, my experiences and encourage more people to do the same."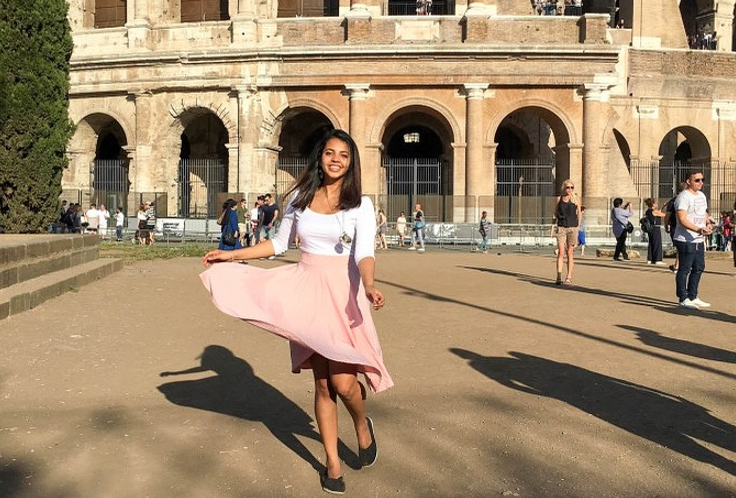 Divya Raghavan moved from Chennai to the US when she was 21 with just 2 oversized bags and her abundant energy. She didn't have a plan but the trip was another pit stop on lifelong travel journey. She works an software engineer job by day, but is an aspiring photographer, a budding pastry chef, the host of the #FarmToThali series on Instagram & YouTube and fantastic blogger (http://gonewithawhim.com/).
___
***Are you or someone you know in the global Tamil community doing great things? We'd love to feature them: FILL OUT THIS FORM ***
Network & collaborate with Tamil Changemakers from around the world. Request to join our private LinkedIn community here.
INTERESTED IN MEETING OTHER TAMIL CREATORS, PROFESSIONALS & ENTREPRENEURS FROM AROUND THE WORLD? JOIN THE TAMIL CHANGEMAKERS COMMUNITY HERE & ACCESS OUR MEMBERS ONLY LINKEDIN GROUP, EXCLUSIVE EVENTS & MORE!
___
What made you start the "Gone With a Whim" social media brand and the #FarmToThali series?
Growing up my mom and I would travel to far corners of India by train, often each journey would take 2-5 days. We did it because the trains were affordable and we loved the thrill of going to new places and meeting new people. She sowed the first seeds of wanderlust in me, even though she won't admit it.
In my twenties, I traveled solo to different places around the world. Traveling solo as a brown female was both exhilarating and challenging and I wanted to share my stories, my gaffes, my experiences and encourage more people to do the same. My blog gonewithawhim.com was the Instagram/TikTok of the early 2010s and I wrote about my experiences and tips and tricks there. ;)
I love telling a good story and listening to one, I love learning about cultures and people through food (I mean who doesn't). After traveling to Nagaland, Madya Pradesh in India, I was shocked and amazed at how much diversity there was to just Indian food, even more, shocked at the expanses of South Asian food. During the pandemic, after feeling stifled at not being able to travel or meet people; I decided to put all my passions together, tell stories of South Asian people, culture, and struggle through our food. I wanted to highlight that there's no such thing as 'curry' in India (my pet peeve for the longest time, curry is the product of colonial conquest of India), that there's more to Indian food than chicken tikka masala, and that there's more to South Asian food than Indian food. I also wanted these to be told by people from those places. Voila #FarmToThali was born.
Unfortunately, after a few episodes, my family got hit real bad by covid so I had to pause it. I can't wait to pick it back up in a few weeks. (STAY TUNED Y'ALL)
Tell us about why you decided to move from India to the US and how the transition has been.
At 20, with two oversized bags and a pocketful of sunshine, I moved to the US after saying goodbye to my entire family. I can't believe I did that without knowing how the next decade would turn out and that I'd be so far away from my family, especially being an only child to middle-class parents.
Real talk: I wanted to move and travel to a place that I had never been before and good luck trying to sell the concept of a gap year to brown parents haha, right?! I opted to study instead.
I was naive, optimistic, and oblivious to so many things. I have burnt many pots trying to put food on my table (my "barbequed" dal is a huge internal joke), faked accents a) because I thought I was so cool b) I struggled with being understood, the whole visa process has been a huge nightmare, I was so broke at one point, I considered smuggling TP haha (just kidding). When I went back home, I had already become too American to be Indian, and in the US, I was too Indian to be American.
Straddling my two worlds has been frustrating and gratifying in equal parts. What a journey the past decade has been. I have an increased appreciation for my roots, my culture, my family, and the values of openness, social justice, and tolerance that I have imbibed being abroad. Indian-ish describes who I am today :)
How do you balance your creative pursuits (photography, vlogging, etc.) with your day job as a software engineer?
Balance is a distant cousin and a work in progress. I oscillate between bouts of passion and extreme productivity and then radio silence and creative block. Lately, meditation, planning my week, setting personal deadlines, prioritizing, and showing up for myself even on the days I don't want to have helped me achieve my goals. It's HARD to be my own boss but I'm working on it and loving the ups and downs. Slide into my DMs if you have any hot tips! ;)
How did you find the financial resources to put together the episodes so far? What are your long-term plans with the #FarmToThali series?
If I have to think big, I would love to have this be picked for a show on Netflix etc (HAHA manifesting). Realistically, I want to keep telling these stories, it would be cool to grow into a more mature video platform for showcasing South Asian food, recipes, people and stories.
In the short term, I have Farm to Thali episodes on Sri Lanka, Pakistan, Japan, Biriyani, etc coming up and I'm super psyched. I would love to do a series on chai and coffee after this. Let's see!
I personally view social media in a positive light. I see it as a tool that can be used for good or bad (similar to a car). Do you agree or disagree with this statement?
I completely agree. Social media has democratized so many fields and I love that regular people can now use their voice to showcase their talents, interest, education, etc. I have been connected to so many wonderful people around the world through social media and it has given me a way to pursue and share my creative side with people.
On the other hand, social media apps are built with algorithms to keep you hooked long term. We are often manipulated into doom scrolling, comparing our lives to the seemingly perfect lives of strangers and friends, and falling prey to fake news, scams, trolls, etc which can have a crazy real-world impact personally and globally.
Moderation is key but it's hard when the apps have been designed to break your habits. There has to be a push to redesign these apps keeping in mind the wellbeing, mental health, and data privacy of the users while at the same time curbing fake news, attacks, etc.
What's one goal that, if you were to accomplish it over the next three months, would feel like a big win for you?
Oh shoot, I can't pick one. I'll pretend you said three. :P I'm working on a coffee start-up idea, I would love to see this come to life. I can't wait to release Farm to Thali Season 2. I'd love to run 5k/10k before my birthday in 3 months.
_____________________________
Related Articles:
_____________________________
What do you like to do for fun outside of work?
I have been learning Kalaripayattu for the past 8 months. It's an ancient still existing martial arts practice with its roots tracing back to Kerala, India. I've been loving the weapons training aspect of Kalari. I spend a lot of my free time recently trying to master the staff movements. It's exciting and meditative for me. (I also feel like a badass haha)
I also love to slow travel and immerse myself in the local culture of new places. Every few months, I move to a new place to work remote. Walking around aimlessly, meeting locals, hiking, jumping off waterfalls, etc is my favorite thing to do. Nothing quite like it.
What is a failure you've experienced in the last 3-5 years that you've learned the most from?
I suffer from a perfectionist mentality, I spend a lot of time obsessing over tiny details and find it hard to move forward at times. I have been doing therapy that has been helping a lot with this :) I have learnt to put my best foot forward and work with what I have at the moment, not getting bogged down, and iterate as I go. Things don't have to be perfect for me to enjoy them or take pride in them.
In terms of your personal legacy, in a few sentences, describe how you want to be remembered by your family and friends?
I'd like to be remembered as the vivacious girl who chased her dreams unapologetically and lived life large, colorfully, and passionately. An adventurer and traveler at heart who soared heights (and lows lol, let's be realistic) and opened closed doors not only for herself but also the people around her. Someone who celebrated life, the people around her, and most importantly herself for the perfectly imperfect ray of sunshine that she was.
Who is one person from the global Tamil community and one person that isn't Tamil that you admire and why?
I love Padma Lakshmi. I love her story of food, family, and struggle, her dedication to fitness. She is fierce, uses her voice and platform for social justice, she is unapologetic and fun. Like me, she is also an immigrant from Tamil Nadu, although she moved at a much earlier age. She is an all-around inspiration for me. 100% Girl-boss vibes.
Where do you see yourself in the next 3-5 years?
Wow, this hit me hard. Hopefully with a thriving coffee and storytelling biz, in a new country, hiking, traveling, cooking new cuisines and giving back to the community.
What do you think you would tell your 16-year old self looking back?
I think I was wiser at 16 than I am at twice the age today. ;) I'd have my 16-year-old self tell the current me that I should be unabashedly myself, that I have a fundamental right to be where I am and chase after my dreams. I'd tell myself that it's not going to be all rainbows and unicorns, that I would fail and fall and should pick myself up, learn from the mistakes and keep marching on, to the beat of my drums. I'd also tell myself that comparison is the thief of joy and that everyone's path and struggle is different, to give myself the grace to embrace my journey, my flaws, and imperfections. I'd tell myself that the world is a beautiful place, that I should continue seeking new adventures and horizons at every turn. I'd also tell myself that the world does not treat everyone equally, that I should use my privilege and place to do better for not only myself but also other people.
What is your favorite book(s) you've read recently or a podcast(s) that you've listened to recently that's had an impact on you?
I picked up a book called Monk of Mokha after its book cover struck my eye at a bookstore in Portland. (who said you shouldn't buy a book based on its cover?) This story is a remarkable real-life story about a Yemeni American guy who chases after a dream against all odds and goes on an adventure to bring his vision to life while seeking his roots and culture. I couldn't put it down. It changed my life. I learned so much about coffee, the coffee trade, the strife, and struggle of coffee farmers, and what goes into a cup of coffee BTS. I appreciate my cup of coffee now. It has also inspired me to start my own coffee adventure that may bear fruition someday? Time will tell. ;)
What is a new belief, behavior, or habit that has most improved your life?
I have been meditating first thing in the morning for the past year and it has done wonders for me and my mental health. I would recommend that everyone begin their day with this ;)
If you were given $1 billion, how would you allocate the money to change the world?
That's a lot of money and I'd distribute the funds to grass-roots organizations that do work from the ground up.
1. Provide education/teaching skills/give healthcare to low-income & marginalized communities so they can sustain themselves/work etc. Invest in the people who don't have access to basic necessities so they have a more level playing field and can live a happy and equitable life.
2. Invest in clean energy solutions.
3. Help stray animals / stop poaching/ solutions for wildlife and forests to thrive.
4. Build schools that impart real-life skills to kids & adults like:
Martial arts, yoga, sports, etc so they can be healthy and active

Teach the importance of diversity and tolerance at an early age.

Skills to learn finance.
What is your favorite Tamil food (meal or dessert)?
EVERYTHING haha but I have a special place in my heart for DOSAS, all kinds of dosas. There's a type of dosa and filling for my every mood and feel out there, no kidding.
What is your favourite Tamil movie?
Many but Alaipazhuthey comes to the top of my head right now. :) I was a hopeless romantic growing up and seeing it again each time makes me feel some type of way. A revolutionary story of its time and shot so beautifully.
What does Tamil culture mean to you?
Tamil is one of the oldest languages in the world and the earliest recorded works of Tamil literature date to over 2000 years ago. Tamil heritage and culture are diverse and rich and have been passed down through generations. I find it incredible and a matter of great pride that I can not only speak and write this beautiful ancient language but also call it my mother tongue. There's a lot I am still discovering about our culture, arts, history, cuisine, diversity, struggle and it has been quite the journey.
*Looking to create your love story? Join the other couples who have dated and got married through myTamilDate.com!***
"myTamilDate Love Story: Jenani & Nav Found Each Other At The Right Time And Right Place In Life"
"myTamilDate.com Love Story: Tharshi & Ravi Found Love During Lockdown"
"myTamilDate.com Love Story: Suji & Sinthu Lived 15 Minutes Apart For Years And Never Met Until Joining MTD"
"How France Met Canada: A MyTamilDate.com Love Story"
***CLICK HERE to listen to us on Spotify!***
Related Articles: