The Tamil Creator Podcast (Ep.21): Shayna Mehta – Aspiring Doctor & Award-Winning Div 1 Basketball Player Challenges The Notion That Brown Girls Can't Ball
Shayna Mehta is a recent graduate of Brown University (Class of 2019) where she majored in Biology and played four years of NCAA Div 1 Basketball while winning Ivy League Rookie Of the Year. She joins Ara to discuss her decision to choose medical school over a professional basketball career, balancing athletics + academics, using basketball as a vehicle for change in India through the Crossover Academy, her love for Stephen Curry (+ Golden State Warriors), and much more!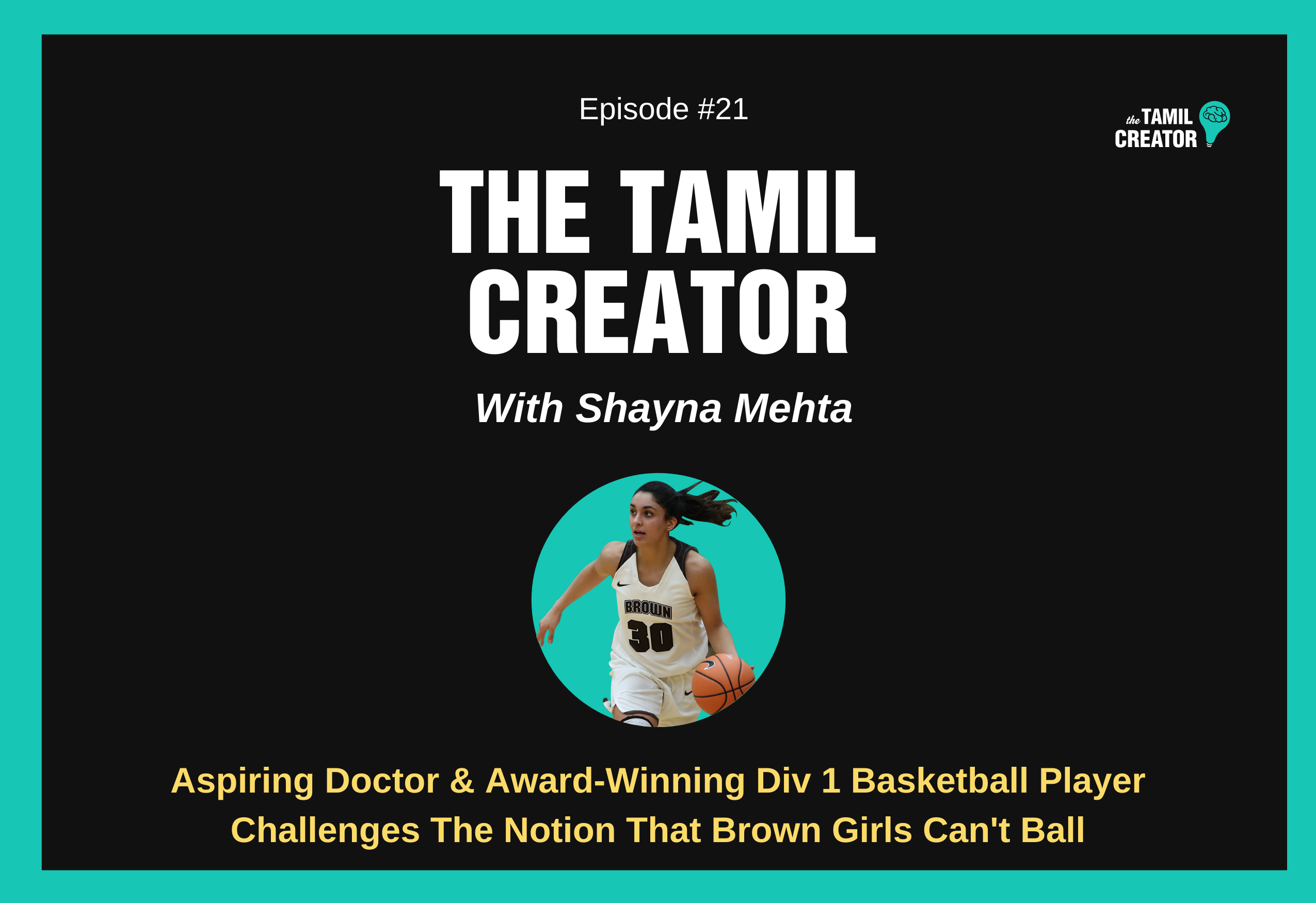 "The Tamil Creator" is a podcast started by me (Ara Ehamparam). As someone who is extremely inquisitive by nature, I created the podcast to chat with, spotlight, and learn about brilliance among creators in the Tamil community - and among creators in general from all over the world.
**TAKE THE QUIZ - "What Type of Creator Are You?"**
***For a chance to win a $100 gift card and get future podcast updates, interviews and other news, please sign up for the newsletter - CLICK HERE!***
Timestamps

00:54 - Introducing Shayna Mehta
02:03 - Shayna's upbringing; Tamil roots, love for basketball and the Warriors
06:32 - Balancing athletics and academics, winning Ivy League Rookie of the Year
09:58 - Choosing between the WNBA and med school
12:46 - Using basketball as a vehicle of change through "Crossover India"
16:33 - Where Shayna sees herself in the next 3-5 years
17:57 - Shayna's dream job
19:22 - What motivates Shayna?
21:42 - Love for travel; favourite places she's been and where she wants to go
23:30 - Shayna's insecurities
24:29 - Shayna's reaction to being admitted to medical school
25:00 - The personal legacy Shayna wants to leave behind
25:52 - Advice Shayna would give her 16-year-old self
27:41 - The White Tiger
29:22 - A habit that changed Shayna's life
30:27 - Admiration for Mindy Kaling and Stephen Curry
34:07 - Advice Shayna has for other Tamil creators
34:38 - Creator Confessions
39:10 - The Wrap Up
**Looking to create your love story? Join the other couples who have dated and got married through myTamilDate.com!***

"myTamilDate.com Love Story: Suji & Sinthu Lived 15 Minutes Apart For Years And Never Met Until Joining MTD"

"How France Met Canada: A MyTamilDate.com Love Story"

"How a Message on myTamilDate.com Led to an Engagement for Lavanya & Vitharan"
Related Articles: