The Tamil Creator Podcast (Ep.27): Bindi Bosses (Shyamla Eswaran & Ragavi Ragavan) - Australian-Based Dance Group Creating Social Movvement And Discussions Through Performance & Storytelling
Shyamla Eswaran & Ragavi Ragavan from Bindi Bosses joins Ara on the latest episode of the Tamil Creator. Bindi Bosses is a progressive South Asian performing arts company that seamlessly blends Traditional Indian Classical and Folk dances with influences from South Asian Cinema and Street dances from around the world. We discuss a variety of topics including how they answer the question "Where are you from?", their views on social media, using their platform to spark discussions around significant issues, the importance of embracing your heritage, and much more!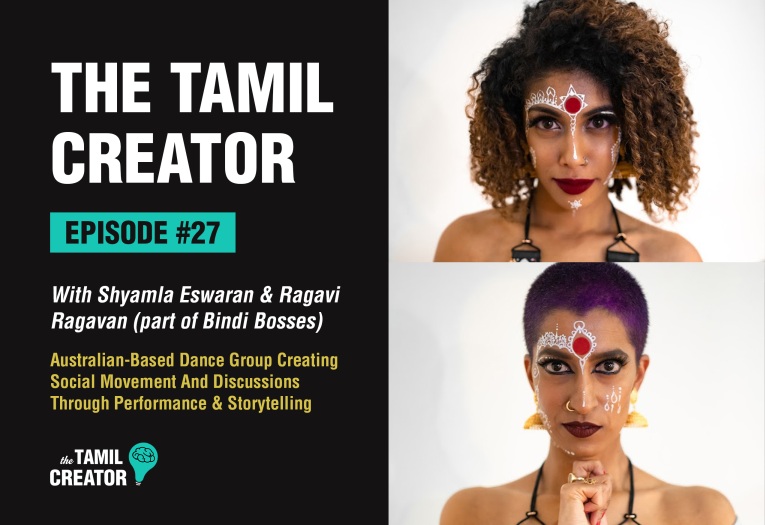 "The Tamil Creator" is a podcast started by me (Ara Ehamparam). As someone who is extremely inquisitive by nature, I created the podcast to chat with, spotlight, and learn about brilliance among creators in the Tamil community - and among creators in general from all over the world.
**TAKE THE QUIZ - "What Type of Creator Are You?"**
***For a chance to win a $100 gift card and get future podcast updates, interviews and other news, please sign up for the newsletter - CLICK HERE!***
Timestamps:
00:53 - Ara introduces this week's guest, Bindi Bosses
06:13 - Tamil diaspora communities
09:24 - How Bindi Bosses responds to the age old question, "Where are you from?"
13:44 - Where did the name Bindi Bosses come from?
20:54 - Being frowned upon if you pursue a career in the creative arts
27:13 - Getting the chance to speak at TEDxSydney
29:59 - Using their platform to open up meaningful dialogue
33:46 - Having differing stances on social media; procrastination, social skills, and more
42:39 - Where Bindi Bosses sees themselves in the next 3-5 years
46:58 - Bindi Bosses' biggest insecurities
52:56 - Hobbies outside of work
57:43 - Most impactful books/podcasts they enjoy
1:02:19 - Personal legacy they want to leave behind
1:09:29 - Advice they would give to fellow aspiring Tamil creators
1:13:57 - Embracing your cultural heritage
1:18:21 - Creator Confessions
1:40:42 - The Wrap up
1:43:40 - Blooper
**Looking to create your love story? Join the other couples who have dated and got married through myTamilDate.com!***

"myTamilDate.com Love Story: Suji & Sinthu Lived 15 Minutes Apart For Years And Never Met Until Joining MTD"

"How France Met Canada: A MyTamilDate.com Love Story"

"How a Message on myTamilDate.com Led to an Engagement for Lavanya & Vitharan"
Related Articles: