The Tamil Creator Podcast (Ep.28): Ari Sooriya - Creative Extraordinaire: From TamilCulture.com to Teacher (And Everything In Between)
Ari Sooriya is a man of many talents; he is a technologist at the University of Guelph Humber, and in the Tamil community he's more famously known for being the host of TamilCulture.com's "TC on the Street" show. He joins Ara on the latest episode of The Tamil Creator podcast to discuss relationships, his views on the 9-5 lifestyle, the question Ara is notorious for asking when he meets someone for the first time, how the book 'Freakonomics' shaped the way Ari thinks today, being ashamed of eating Tamil food back in the day, and much more.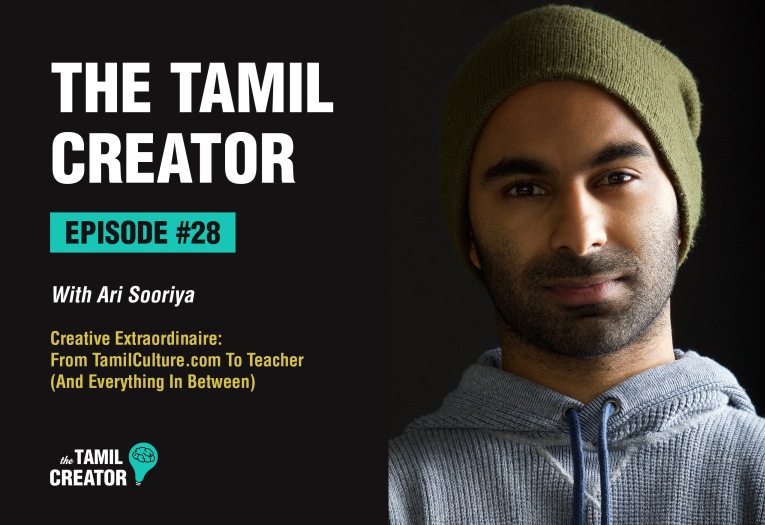 "The Tamil Creator" is a podcast started by me (Ara Ehamparam). As someone who is extremely inquisitive by nature, I created the podcast to chat with, spotlight, and learn about brilliance among creators in the Tamil community - and among creators in general from all over the world.
**TAKE THE QUIZ - "What Type of Creator Are You?"**
***For a chance to win a $100 gift card and get future podcast updates, interviews and other news, please sign up for the newsletter - CLICK HERE!***
Timestamps:

00:53 - Ara introduces this week's guest, Ari - the modern renaissance Tamil man
03:35 - Ara and Ari discuss friendships and what makes a successful relationship
08:15 - Ari opens up about his upbringing, and family life; his mom having Parkinson's disease, his Dad's outgoing personality, and more
13:00 - How Ari has navigated the COVID pandemic
14:22 - Ari speaks on his profession as a technologist specialist, as well his freelance endeavours, thoughts on the 9-5 lifestyle
18:16 - The ultimate job that Ari is looking to secure in the next 3-5 years
20:56 - Who pays on the first date?
22:06 - Some of the most important lessons Ari has learned; avoiding complacency, being consistent, and more
26:42 - Receiving support from your loved ones when it comes to pursuing your passions
31:53 - Most impactful books/podcast Ari has come across; freakonomics
34:46 - What beliefs/behaviours/habits have help improve Ari's life for the better; planning for success
36:12 - How does Ari want to be remembered by friends and family?
37:47 - Ari introduced Ara's wife to Bubble Tea
38:45 - The impact of the Toronto Tamil community on Ari
42:30 - Ari's inspirations from the Tamil community
45:44 - Advice Ari has for other aspiring Tamil creators
47:56 - Would You Rather
57:02 - The Wrap Up
**Looking to create your love story? Join the other couples who have dated and got married through myTamilDate.com!***

"myTamilDate.com Love Story: Suji & Sinthu Lived 15 Minutes Apart For Years And Never Met Until Joining MTD"

"How France Met Canada: A MyTamilDate.com Love Story"

"How a Message on myTamilDate.com Led to an Engagement for Lavanya & Vitharan"
Related Articles: