The Tamil Creator Podcast (Ep.31): Luksimi Sivaneswaralingam – Award-Winning Kollywood Singer & Elementary School Teacher
Luksimi Sivaneswaralingam (@luksimimusic) is an award-winning Kollywood singer and elementary school teacher from Toronto. She joins Ara on this week's episode of The Tamil Creator to discuss how Jayam Ravi (@jayamravi_official) reaching out to her on Instagram helped her music career build traction, being verified on Instagram, why she's made it a habit to disconnect from technology more frequently, what its like balancing her music career with her teaching profession, and a lot more.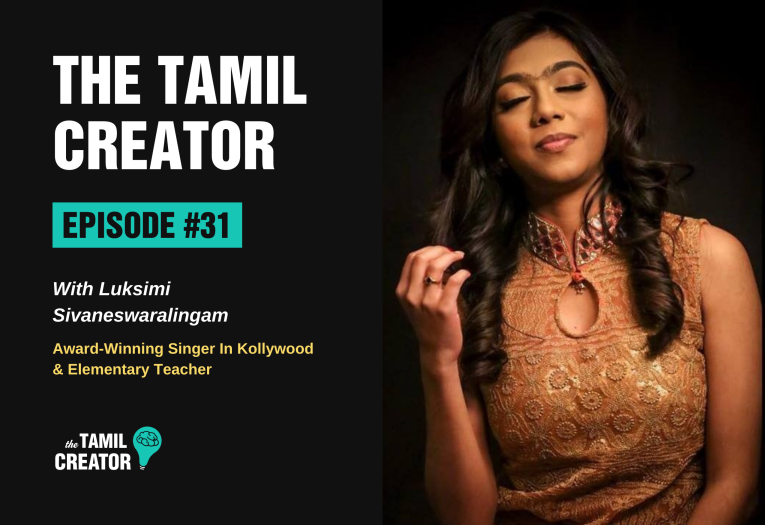 "The Tamil Creator" is a podcast started by me (Ara Ehamparam). As someone who is extremely inquisitive by nature, I created the podcast to chat with, spotlight, and learn about brilliance among creators in the Tamil community - and among creators in general from all over the world.
**TAKE THE QUIZ - "What Type of Creator Are You?"**
***For a chance to win a $100 gift card and get future podcast updates, interviews and other news, please sign up for the newsletter - CLICK HERE!***
Timestamps

00:19 - Ara introduces this week's guest, Luksimi Siva
03:59 - Being invited to Chennai by Jayam Ravi
05:38 - The aftermath of everything; family's reaction, growing fanbase, getting verified on Instagram
10:54 - Balancing her music career and teaching profession
13:31 - Luksimi's projects; how she gets them, what she's working on
15:50 - How she makes a living off of what she does
16:46 - Her experience travelling the world to perform
18:15 - Luksimi's creative process; how she finds inspiration
21:47 - Are Luksimi's friends creative like her?
23:56 - Luksimi's biggest wins and failures in the last 3-5 years
27:26 - Where she sees herself in the next 3-5 years
28:19 - Hobbies outside of work; nature, netflix, and more
30:21 - The personal legacy Luksimi wants to have
31:25 - What advice she would give her younger self
32:40 - Her favourite source of knowledge
33:39 - How being able to disconnect from technology has changed Luksimi's life
35:45 - How the Tamil community in Toronto has supported her journey
37:18 - Who is Luksimi inspired by?
41:33 - Advice she has for fellow aspiring Tamil creators
42:43 - Creator Confessions
46:07 - The Wrap Up
**Looking to create your love story? Join the other couples who have dated and got married through myTamilDate.com!***
"myTamilDate Love Story: Jenani & Nav Found Each Other At The Right Time And Right Place In Life"
"myTamilDate.com Love Story: Tharshi & Ravi Found Love During Lockdown"
"myTamilDate.com Love Story: Suji & Sinthu Lived 15 Minutes Apart For Years And Never Met Until Joining MTD"
"How France Met Canada: A MyTamilDate.com Love Story"
***CLICK HERE to listen to us on Spotify!***
Related Articles: