The Tamil Creator (Ep.11): JYXDI (Jyothee Murali) - Amassing Over 150K Followers And Collecting $10,000 For A Single Piece of Art
"The Tamil Creator" is a podcast started by me (Ara Ehamparam). As someone who is extremely inquisitive by nature, I created the podcast to chat with, spotlight, and learn about brilliance among creators in the Tamil community - and among creators in general from all over the world.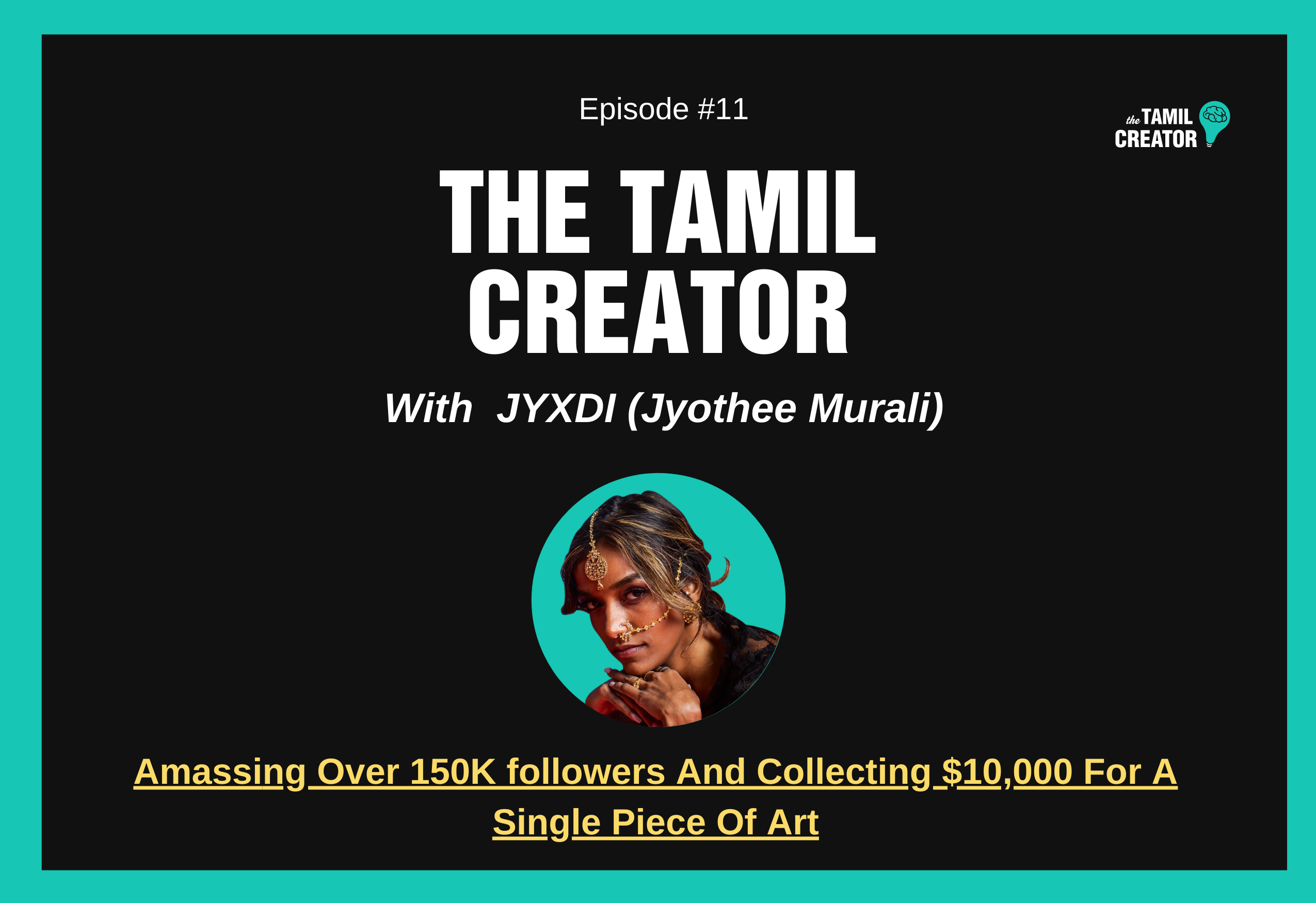 Jyothee Murali, better known as JYXDI, is a 25 year old Tamil self-taught artist from Toronto who has found massive success on Instagram over the last half-decade. She joins Ara to discuss what it was like dropping out of university to chase her childhood passion for art, being handpicked by Michael B. Jordan to collaborate with Coach, creating art for Noah "OVO40" Shebib, and how her work has turned family skepticism to family support.
**For a chance to win a $100 gift card and get future podcast updates, interviews and other news, please sign up for the newsletter - CLICK HERE!**
***To support the work we do to tell creator stories around the world, become a VIP fan - CLICK HERE!***
***Want to leave feedback, guest recommendations or interested in being an advertising partner - CLICK HERE!***
Timestamps:
00:15 - Introducing Jyothee Murali aka JYXDI
01:06 - How death note sparked her interest in anime
03:17 - Dropping out of school to pursue her passion and dealing with the pressure of south asian parents
04:33 - Being handpicked by Michael B. Jordan to collaborate with Coach
05:50 - Thoughts on NFTs and decision to release two pieces recently
07:18 - How her work has turned family skepticism to family support
09:01 - Using social media to create exposure, how she came up with the moniker JYXDI, and how anime has helped grow her brand
11:15 - Playing in chess tournaments growing up, and her love for hiking and Bali
12:31 - The types of people she surrounds herself with, being an introvert during COVID
14:05 - Plans to move out of Canada and to build an art school
15:23 - Teaching Tamil seniors how to paint
16:41 - Favourite books/podcasts
17:51 - Practicing discipline and meditation
18:56 - Growing up in Sri Lanka during the genocide, still visiting frequently
20:49 - The impact of the Toronto-Tamil community, being contacted to teach art 1-on-1
22:24 - Oil paintings being her favourite art-type to produce
22:56 - OVO40 (Drake's Producer) and La Mar C. Taylor (Creative Director for The Weeknd) reaching out for art pieces
24:09 - Wanting to be known for taking a leap of faith and going against the grain
24:34 - From selling paintings at $100 a piece to now sometimes getting $10,000 per piece
26:36 - Being inspired by A.R. Rahman, OVO40
28:21 - Advice she would give to young aspiring artists
29:56 - Speed Round
Related Articles: