Award-Winning Division 1 Basketball Player And Pre-Med Student Shayna Mehta Challenges The Notion That Brown Girls Can't Ball
Shayna Mehta is a recent graduate of Brown University where she majored in Biology and played four years of NCAA Division-1 Basketball as one of their star players, modelling her game after Steph Curry. She won Ivy League Rookie of The Year award in the 2015-2016 season.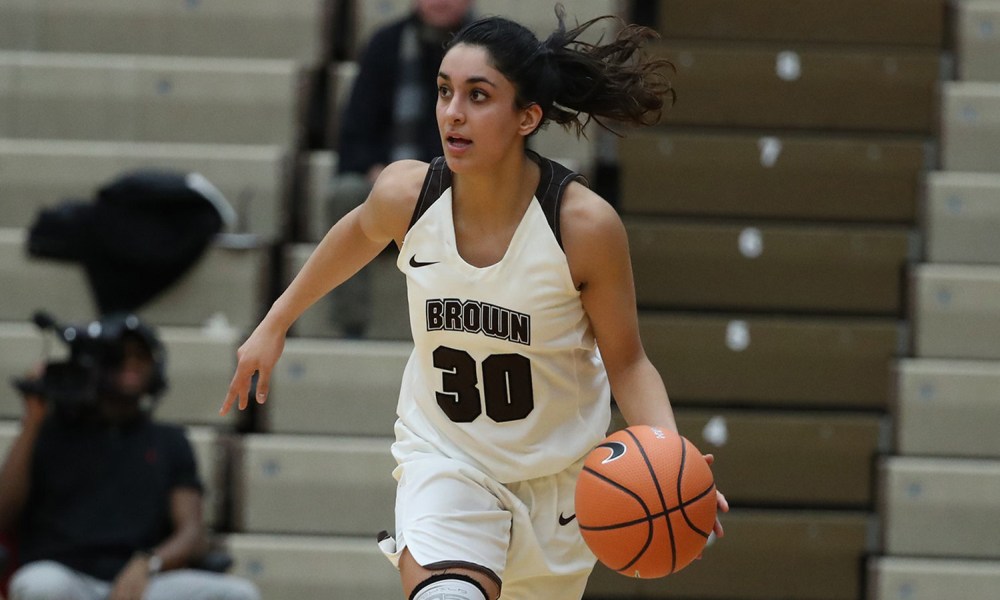 Growing up in a South Asian household (including a Tamil parent) where typically the focus is on academics versus sports, how did you convince your parents that you wanted to play sports?
I was fortunate enough to have parents that did not put up a red flag to girls playing sports as many Indian immigrant parents do. My parents have allowed me to challenge cultural barriers in athletics with their guidance. Growing up, my parents put me in various organized sports such as basketball, soccer and softball. But as my dad is a huge basketball fan, I ended up practicing and playing more basketball as we would go to our local YMCA and shoot around. Having his support as a basketball player at a young age drew me to the sport. With so few desi women athletes in sports to follow as role models, my parents support has been the key to my achievements.
How did you balance the demands of going to an Ivy League school, in a demanding program, with being a Division 1 player which has its own rigours in terms of time requirements?
Balancing a Division I basketball schedule consisting of 30-40 hours of practice, games, travel, film/scouting, weight training, and conditioning a week with a pre-medical academic course load had its challenges. It definitely was not easy! My resilience, focus, and ability to handle stress were continuously tested and refined as I adapted to life as a student-athlete. I learned time management skills, how to prioritize my tasks and to reach out for help when needed.
***Are you or someone you know in the global Tamil community doing great things? We'd love to feature them: FILL OUT THIS FORM ***
You've won a number of awards for your basketball play including Rookie of the Year in the 2015-2016. A South Asian woman succeeding in a competitive league (Division League) must have turned a lot of heads since it's probably something that most other players, coaches and fans don't typically see. Tell us about this experience and how you achieved this success?
When I first came to Brown as a freshman, I remember just hoping to be able to get playing time in games. I never imagined being the starting point guard for a Division I basketball team. Being 5'6" and coming from an ethnic group not known for our athletic prowess, I was not recruited by many programs. I enjoyed being able to prove people wrong when unanimously winning the Ivy League Rookie of the Year award. This award was also special because I had torn my meniscus during my rookie season and underwent surgery in December, in the middle of the season. The fact that I was able to come back from knee surgery and win the award is something I am very proud of.
Becoming the 2nd all-time leading scorer at Brown University, the 11th leading scorer in Ivy League history, setting the record for most 3-pointers made at Brown, setting the record for most steals in a single season at Brown and garnering All Ivy League awards while leading my team to the first ever Ivy League Tournament has allowed me to defy expectations and surprise many.
You mentioned that basketball allows you to exhibit a creative side that most people don't get to see and called it a "medium of expression" which I found interesting. I'm a huge basketball fan and played it - but never thought of it from a creative point of view. Can you elaborate further?
As point guard you can be as creative as you would like with ankle-breaking dribble moves, no-look passes and Steph Curry-like shot selection. You can control the flow of the game, entertain the crowd and show your swag.
You mention that you would love to play in the WNBA to fulfill a dream but also be a role model for other girls that look like you. But it also mentions that you are looking to apply to medical school. Are you planning to do both and if so, how? (It would be unusual but it's been done before with a recent example being Laurent Duvernay-Tardif who plays in the NFL)
Even though I had a successful college career, I was struggling with knee pain throughout my four years - having torn my meniscus in each knee, once as a freshman and then as a junior. Temporary relief was given with painful steroid shots before games. I would have loved to try to play professional basketball, but I knew that my knees would not have held up. Being a physician has been my other passion so I am excited to be accepted to medical school. I start in July and my goal is to be an Orthopedic surgeon and treat athletes.
As a fellow avid basketball fan, I would love to see a South Asian (specifically Tamil) play in either the NBA or WNBA. Why do you think this hasn't happened yet and do you think it's something that could happen in the future?
I know there has been one Indian born NBA player, but I have not seen any WNBA players, and definitely not Tamil players. I agree with you that Tamil culture prioritizes academics, and I think even more than other Indian cultures. I am also half Punjabi so I have seen the differences. That isn't to say that I do not think this will happen. Tamils are superachievers. It will just take time, and the more representation we can get now, the better.
Tell us about your summer volunteering with Crossover (huge fan of the work they are doing). Beyond Crossover, do you see any other opportunities (whether it's non-profit or profit) to marry your love of basketball with giving back?
I enjoyed bonding with the girls and seeing their faces light up and call me "akka" when we arrived each day. Their smiles always put me in a good mood despite the stifling, 105-degree tropical heat. I learned how valuable it was for them to hear my stories about growing up in the U.S. and attending college, to inspire them to also prioritize their education. I have been fortunate to have strong female role models throughout my life, so it filled me with pride that the girls at the camp saw me as a role model. The girls taught me that language and cultural barriers can be broken by a smile. The more I gave, the more determined I became to dedicate my career to helping others.
I definitely see other opportunities in the future to combine my love for basketball with giving back. During quarantine I have been talking to two other former Indian American collegiate athletes about a potential project with basketball and giving back. It is still in the early stages, so I do not want to give away too much.
_____________________________
Related Articles:
_____________________________
What is a failure you've experienced in the last 5-10 years that you've learned the most from?
I regret not making the effort to visit my family, especially my grandparents, on the east coast more often. I have learned that I should make more time for those that I care about.
In terms of your personal legacy, in a few sentences, describe how you want to be remembered by your family and friends?
In terms of my personal legacy in sports, I want to be remembered as someone who has helped change and challenge attitudes towards Indian-American athletes.
Who is one person from the global Tamil community and one person that isn't Tamil that you admire and why?
I admire Mindy Kaling because of how she was able to break stereotypical barriers as a writer, comedian, actress and producer. I have read her books and listened to her podcasts... and I mean who does not like the Office? I also appreciate that she casts Indian-Americans as lead actresses in the shows she has created. By championing this representation she breaks down barriers for entry for Indian actors to the global stage.
A non-Tamil person I admire is Stephen Curry. I have continuously tried to emulate his game ever since he stepped on the court at Oracle arena for the Warriors in 2009. He has been my favorite player since I was in 7th grade, and at Brown University I wore #30. I believe my game is similar to his, as I am an undersized guard, with an ability to create a shot from anywhere on the court.
------------
What do you think you would tell 16-year Shayna looking back?
I would tell 16-year-old Shayna to embrace my Indian culture more, and specifically to learn how to speak Hindi and Tamil.
I would also tell myself to embrace my uniqueness. It was after my trip with Crossover basketball when I saw how much of an impact I could have as an Indian basketball player and a role model.
How would you describe your dream life?
My dream life would be to be able to continue to do the things that I love while having the support of my family and friends. Having just been admitted to medical school, I would love to be an expert in my field as a physician. My dream life would involve travel, staying fit and healthy, being outdoors as much as possible, and hopefully be a mentor to young girls and boys and to continue to lead by example.
What is a new belief, behaviour or habit that has most improved your life?
My peloton has most improved my life as it has helped me stay sane and fit in quarantine.
If you were given $1 billion, how would you allocate the money to change the world?
Women are the epicenter to a thriving family and so also to a successful society. If I were given $1 billion I would allocate half to women in developing countries as micro loans. I would allocate the other half to education for girls in developing countries. I hope to empower women to have the skills, knowledge and confidence to improve circumstances.
------------
How would you describe the Tamil community in the US and the impact they've had on you personally?
I have had great interactions and memories from hanging out with my Tamil family. They are a close-knit community that are always looking out for each other.
What is your favourite Tamil food (meal or dessert)?
My favorite meal hands down in Paruppu Sadam. I used to eat it two times a day growing up. The best version was when my grandmother would add bean curry and rasam. It is still my goto comfort food! My favorite Tamil desert is Paysam.
What is your favourite Tamil movie?
I do not watch many Indian movies and I am sad to say that I have not seen any Tamil movies!
What does Tamil culture mean to you?
Tamil culture means being proud of your roots, being grounded, being hardworking and overachieving. It also makes me think of my Patti's cooking.
Connect with Shayna via her TC profile
Related Articles: