Post-Acquisition Of His Healthcare Startup Adracare, Edward Philip Talks About The Windy & Difficult Path To Success
Edward and his co-founders started with the idea of building an augmented reality DJ product, but somehow ended up building a healthcare platform called Adracare through a connection- eventually selling the company to WELL Health Technologies.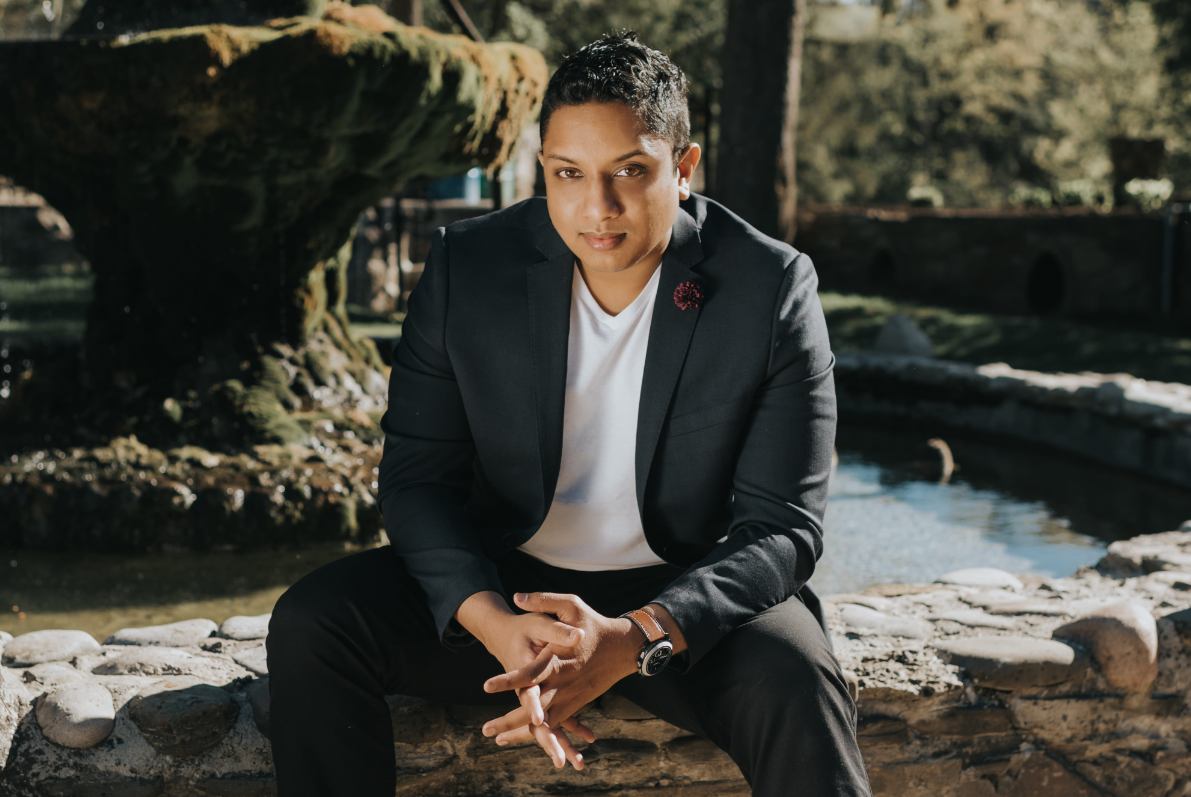 ***Are you or someone you know in the global Tamil community doing great things? We'd love to feature them: FILL OUT THIS FORM ***
Network & collaborate with Tamil Changemakers from around the world. Request to join our private LinkedIn community here.
___
Tell us about how the idea for Adracare came to be, how the founding team came together and how you grew the company before it got acquired.
In 2013, after trying to build Augmented reality DJ Tech (gloves that would allow DJs and artists to "throw" their sound a venue), and not managing to secure funding to develop the idea out, my group of friends decided to take a stab at building technology to make access to care easier, and modernizing it. It's a huge problem that still exists today, and we set out to do something about it.
We were approached by a partner who knew the space well, and we started working on software that's now the Adracare Platform. We initially started by building a suite of tools that could integrate with existing EMR (Electronic Medical Record Systems), like SMS/Voice/Email Appointment Reminders, Virtual Consultations, Online Booking, Questionnaires, and Patient Portals. It's now evolved beyond that, to features like SmartFax, Chromecast Waiting Room Applications, and is used in countries all around the world.
In recent years, there's been a glamourization in the start-up world around raising money and growth at any costs, how do you feel about this?
In my 20's, hearing my friends talk about their Seed/Series A funding was super exciting, and it felt like a race to get there. Later on in my journey, however, I began to realize that racing to find an investor to raise money should never be the goal.
My advice to entrepreneurs is this: Raise money when you absolutely need to. Until then, keep working at building your product, understanding your customers, and then go back to building your product. Establish revenue that, hopefully, you can reinvest in your product. Build revenue, and drive towards a specific valuation before trying to raise.
How did the acquisition by WELL Health Technologies come to be? Also, tell us what the experience of getting acquired looks like briefly.
Networking is probably the most important thing any entrepreneur can make sure they do. I met an Tamil investor who was working with another company I had co-founded, a creative and digital marketing agency, Wooden Panda. Though his investment team passed on Adracare, he made the introduction to a friend of his who worked for BDO, and was looking for a platform like Adracare.
We had met the WELL Leadership Team previously, and it was clear to us that they're a team that's completely focused on improving patient outcomes, and strong believers that technology has the strong ability to make this possible. So we knew right away that it would be the best place to continue doing the work we were doing, as part of a larger team.
_____________________________
Related Articles:
_____________________________
Where do you see Adracare in the next 3- 5 years? Where do you see yourself in the next 3-5 years?
Now that Adracare is part of the WELL Health family, I see it growing and becoming an app that everyone has installed on their phone, enabling them to connect with their doctor, therapist, chiropractor, etc., or find care.
And personally, I see myself continuing this journey of mine, solving problems that matter to me, which is my purpose. And there's no unsolved problem that affects me and my loved ones every day more than the behemoth that is Healthcare.
What is a failure you've experienced in the last 5-10 years that you've learned the most from?
When we started building this software in 2013, we had built it under a different company called OrbCare. And for various reasons (that I can't really speak to), we had to file an NOI (essentially filing for bankruptcy protection) since we realized that our finances were completely "mismanaged" by the partner that was managing them.
The next 5 months were hell. As we embarked on our journey to come out of insolvency, we had to start with layoffs. A week where we felt like we sold our souls, having to look employees in the eyes, and tell them we weren't doing well, and we would have to let them go.
And in an early-stage start-up, it's different. Usually, these are people who take a bit of a pay-cut because they believe in what we're trying to do; they believe in the vision, the mission, the shared purpose of the company. To this day, I wish I had kept an eye on the finances, and I consider every layoff we had to make as a failure that I have learned from since.
After some in-depth vetting and investigating of what went wrong, Orbcare's Seed Round investor, iGan Partners, acquired the Platform, because they truly believed in the value of what we were building, and what we were trying to do in the space. We formed Adracare with them, built a new team with many of the same employees, and continued with our journey.
In terms of your personal legacy, in a few sentences, describe how you want to be remembered by your family and friends?
I hope that I'd be remembered for having a positive impact, big or small, on people's lives. As a happy, down-to-earth person, who did some good while he was around.
Who is one person from the global Tamil community and one person that isn't Tamil that you admire and why?
Global Tamil Community: this would have to be my parents.
My father was a survivor of the 1983 Welikada prison massacre, and has dedicated his life to helping the Tamil Diaspora, and keeping Tamil culture alive. My mother is the powerhouse of my family, and after seeing me graduate University, she went back to school to get her GED, and then her BBA from York University in Accounting.
Like so many Tamil diaspora parents, they made sure that every opportunity that was available to kids from upper middle class families, were also available to me and my sister. This often meant the both of them working 2-3 jobs at a time for decades. And the moment that made it worthwhile for them was seeing me get my degree.
Non-Tamil person would have to be my wife. She's my rock, has had my back, and been my sounding board. She immigrated to Canada with her family in 2007 from Bangladesh, worked full time while putting herself through school while supporting her family, and has never shied away from the tough road.
Do you have any advice you would give you to your fellow Tamil entrepreneurs?
Here's three:
1. Don't compare your journey to anyone else's. Whether your passion is your music, your art, your baking/cooking business, if you find something you love working on, that motivates you to stay up late even when you're tired, focus on that.
2. If you have partners, large or small, if you're invested in a business, make sure that transparency isn't an issue. Understand the company's finances at a high level and make sure to hold each other accountable.
3. Don't be afraid to pivot. Just because a business or service is bringing in revenue, if the margins aren't there, don't just keep it around to keep your revenue high. Focus on value, and if that means you pivot and focus in an area, don't be afraid to make the change.
What do you think you would tell 16-year Edward looking back?
Try to say yes to as many opportunities as possible; you never know what one opportunity can lead to.
What is your favourite book(s) you've read recently or a podcast(s) that you've listened to recently that's had an impact on you?
Podcast - Masters of Scale. There's something amazing about the power other people's stories can have. I've recently been getting into Simon Sinek's stuff as well.
How would you describe the impact that the Toronto Tamil community has had on you personally and your business?
I think the biggest impact the Toronto Tamil community has had on me is making opportunities possible. Music has been a part of my life since I was four years old and I even went to an arts school. Because of the support I've received from the Tamil community, I have been able to play violin for artists such as A.R. Rahman, Illayarajah and Anirudh Ravichandran, who come to Toronto to do shows.
Some of my bigger career opportunities have also been made possible through my professional network within the Tamil tech community. I have found this network to be incredibly supportive and knowledgeable and consider myself fortunate to belong to it.
What is your favourite Tamil food (meal or dessert)?
Kothuroti (Mutton or Seafood) and Mutton Rolls.
What is your favourite Tamil movie?
Ayutha Ezhuthu.
What does Tamil culture mean to you?
For me it's the arts, music, movies, language, food, traditions, the people, and probably most importantly, our history. When I have children, I hope to share these things with them. Tamil culture is ancient, but it's pretty amazing to see people do things to adapt the culture as their own, making sure parts of it live on in the future.
***Looking to create your love story? Join the other couples who have dated and got married through myTamilDate.com!***
"How France Met Canada: A MyTamilDate.com Love Story"
"How a Message on myTamilDate.com Led to an Engagement for Lavanya & Vitharan"
***CLICK HERE to listen to us on Spotify!***
Related Articles: