Artist, Author And Social Advocate Shyanah Kugaleswaran Shares Her Life Journey Which Culminated In Two Books - "White Fire" & "Life Line"
"Failure. I feel like it's a very shallow, yet heavy word. I think for a little while I felt like a failure in the eyes of a few people in my life, but I knew I was doing what was best for me."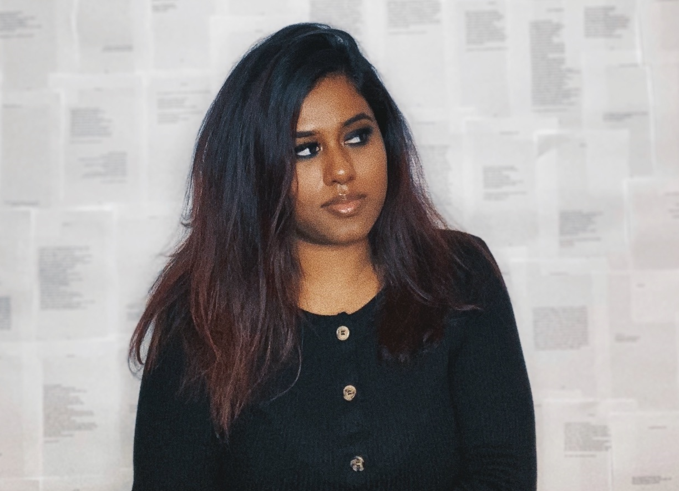 ___
***Are you or someone you know in the global Tamil community doing great things? We'd love to feature them: FILL OUT THIS FORM ***
Network & collaborate with Tamil Changemakers from around the world. Request to join our private LinkedIn community here.
___
Tell us a bit about your upbringing and how that played a part to become an author and artist?
As a child and till this day, I identify as an empath because I was always sensitive and in tune with the world around me. I felt emotions and energies on a very deep level, and at a fragile age I was already very perceptive and cognisant of world issues. I picked up on others' emotions, and because I was so young, I didn't truly understand how this affected me and the way I showed up in social settings or in my personal relationships. There was a lot happening internally, that didn't quite manifest outwardly. I was also very shy and introverted, and I preferred activities by myself. I had such a vivid imagination, loved getting creative, and always identified with the word 'dreamer.' You'd find little kindergartner shy at the painting station on any given day. Though I was very introspective, an abstract thinker and had a lot to say, I hardly ever shared that part of me with anyone else.
As I got older, writing became a form of healing and expression and I also solidified my art technique in all my work. My art and writing became a form of commentary on all aspects; the physical, social, spiritual and mental realms of reality. Writing allowed me to see the reality of life and art allowed me to see the magic of it.
What was the inspiration behind writing "White Fire"? What kind of reception did the book get from its readers?
The inspiration behind "White Fire" was when I truly grasped and experienced the feeling of turning pain into power. There was a point in my life, that could have broken me – and it genuinely wasn't a serious matter at all, but being a sensitive soul, I thought I'd break. Instead, I felt an energy within myself – as if for the first time, I was able to recognize the pain and yet still not be destroyed by it but become a better version of myself through it. Turning my pain into power, was finding my voice again through my words and recognizing my sensitivity as my power rather than my weakness.
"White Fire" was received very well by the readers. It's very relatable and keeps you turning the page, but also brings to light many emotions that aren't often spoken about and topic matters that aren't really discussed either – which a lot of readers not only appreciated but felt validated by.
How long did it take you to write this book? What was the most challenging part about the journey?
The idea of "White Fire" conceptualized in 2016 and it was released in 2020. The most challenging part about writing the book was that as I evolved and grew through life experiences, I often went back and changed a lot of the work. "White Fire" went through three re-writes, which means in its evolution it was three different books. I had to learn to stop doing that and to start thinking of each poetry and prose as a moment in time.
Is writing something that you want to pursue as a full-time endeavour? If not - what do you do full-time?
My full-time career is as a Mental Health, Addictions and Justice Worker. At this very moment in my life, I don't think I would ever give up one of my passions for the other. Writing is part of who I am already, and it takes place organically without it being restricted to a certain timeframe.
Can you tell us about a failure you've experienced in the last 5 years and what you learned from it?
Failure. I feel like it's a very shallow, yet heavy word. I think for a little while I felt like a failure in the eyes of a few people in my life, but I knew I was doing what was best for me. I took a year off before returning to school again to pursue another program after completing my undergraduate degree. In that one year, I didn't have a job, wasn't in school, didn't pursue any volunteering, didn't have much of a social life, didn't paint or write anything. It was a period of stillness for me. A lot of people would blatantly share their opinions about my life or feel bad for my situation. I let them think whatever, because I was already committed and passionate about what I wanted to pursue and understood that time was needed for that growth to take place. In hindsight, I don't see any of that as a failure, because I can appreciate it now. But the world will make you feel like you're failing when in reality, there are many pieces coming together and only you can truly see your life unfolding.
What advice would you give to someone out there considering writing a book?
The most frequent question I always get asked is how I became comfortable posting my writing and publishing it. Writing is a form of art that requires a different layer and type of vulnerability. The way I see it is: every single person has a unique perception, which is filtered through their level of consciousness and life experiences. When you share your art with the world: the magic that takes place, is that everyone experiences it in their own way. That's the way I see it whenever I share my work, and it's possibly the best insight I can give to someone who wants to write a book. Just do you and let your readers experience it their own way!
What role has your family played in the choices that you've made in your life so far?
My family has played an important role in several of the choices I've made in my life both consciously and unconsciously but never have they dictated who I was supposed to be. Because of them, I've been able to be grounded in my roots and flourish the way I was meant to. My parents instilled values in me as a child and allowed me to make those important choices for my greatest good and peace of mind.
Where do you see yourself in 5 years?
In 5 years, I see myself flourishing in my field with more knowledge to support the vulnerable communities and people I work with. I see myself working on humanitarian projects abroad and continuing to expand the work I do in my field. Also, I'm currently working on my third poetry and prose collection. It's very different from my first two books and I have a children's book collection which I'll be sharing more about in the upcoming year. I see all those projects and more in full fruition in 5 years.
_____________________________
Related Articles:
_____________________________
What do you do outside of work for fun?
Outside of work I love immersing myself in movies, watching documentaries, visiting new places and trying new restaurants. I love throwing parties, going to parties, and celebrating others. I enjoy travelling, road trips and immersing myself in nature. Something a lot of people don't know about me is that I'm really competitive and love playing games. I also love cooking and baking. Fun has a different meaning everyday!
What is an insecurity you have?
I feel like I've outgrown a lot of my insecurities as I got older. I'm accepting of who I am and realize I'm always a constant work in progress. To be very real though…the more I think about it, one of my biggest insecurities is math. I wish I was like those super geniuses who could calculate everything in a second. I was also seriously considering math classes just two weeks ago. It would be amazing to have that skill.
In terms of your personal legacy, in a few sentences, describe how you want to be remembered by your family and friends?
That's a tough questions and it does make me think a lot. But I think in terms of my personal legacy, I would want to be remembered by my family and friends as someone who constantly broke many generational curses and empowered the females in my life to achieve greatness, fight for what they believe in, rebel, never give up, and always strive to be the greatest version of themselves.
What do you think you would tell 16-year Shyanah looking back?
I've always felt like an old soul, even as a child so I think looking back I'd tell 16-year-old Shyanah that she doesn't need constantly be so hard on herself. I'd tell her to let go of the deep sense of responsibility she carries with her, realize that she's only 16 and there's plenty of life ahead of her. I'd tell her life is a process and she'll figure it all out as she embraces life and life embraces her. Every failure is a re-direction that will eventually lead her to where she feels the most herself.
What book have you read or podcast have you listened to recently that's impacted your life in a positive way?
I know it's incredibly hard to believe but I haven't read a book in many years and I've never listened to a podcast.
What is a new belief, behaviour or habit that has most improved your life?
A new belief that has most improved myself is to trust my intuition more.
If you were given $1 billion, how would you allocate the money to change the world?
If I were given $1 billion dollars, I would think of a way to get support for vulnerable communities and individuals and connect them with the support systems they need to live a quality life. We have many support systems in this world and after working in the field, I realize there is a disconnect in services and how it's accessed by people and communities all over the world. I would allocate the money to ventures that can help with closing that gap in service. People are just not aware of all the possibilities out there and we've just learned to work within a dysfunctional system that doesn't entirely embrace the differences amongst one another and how to address those needs entirely.
How would you describe the impact that the Toronto Tamil community has had on you personally and professionally?
The Toronto Tamil Community has impacted me in different ways both personally and professionally. I love everything about our culture and I think our community in Toronto embraces all of that and celebrates who we are in such beautiful ways. It's always comforting connecting with people on a level where we can bond through similarities because of our shared experiences that creates a sense of belonging and community. But I think one of the most amazing things about the Toronto Tamil Community is how we've embraced and nurtured many talents which has been incredibly inspiring. The level of ambition within our community is extraordinary and I'm continuously in awe of how we've grown to take up space in many fields.
What is your favourite Tamil food (meal or dessert)?
I love the Tamil cuisine my parents make. My mom's very traditional in her cooking style, and my dad is always experimenting, and I could never choose one.
What is your favourite Tamil movie?
My favourite Tamil movie is "Ullam Ketkumae".
What does Tamil culture mean to you?
Tamil Culture is an extraordinarily beautiful and powerful mosaic of talent, poetry, stories, music, religion, food, music, art, people, history, traditions etc. Tamil Culture also has roots in generational oppression and the battles we each had to overcome as communities and as individuals, at home, locally, and abroad. The social norms and the barriers many of us had to break through and the incredible resiliency within each person really speaks volumes to how Tamil Culture continues to manifest in the present. To the core of it all, to me Tamil Culture means honouring it all. The past, present and future of how we continue to take up space in this world as Tamils.
**Looking to create your love story? Join the other couples who have dated and got married through myTamilDate.com!***
"myTamilDate Love Story: Jenani & Nav Found Each Other At The Right Time And Right Place In Life"
"myTamilDate.com Love Story: Tharshi & Ravi Found Love During Lockdown"
"myTamilDate.com Love Story: Suji & Sinthu Lived 15 Minutes Apart For Years And Never Met Until Joining MTD"
"How France Met Canada: A MyTamilDate.com Love Story"
***CLICK HERE to listen to us on Spotify!***
Related Articles: