The Tamil Creator Podcast (Ep.37): Krish O'Mara Vignarajah - Former Policy Director To Michelle Obama + President/CEO Of LIRS
Krish O'Mara Vignarajah is a Marshall Scholar, former policy director to Michelle Obama and an immigration advocate serving as President and CEO of Lutheran Immigration and Refugee Service (@lirsorg).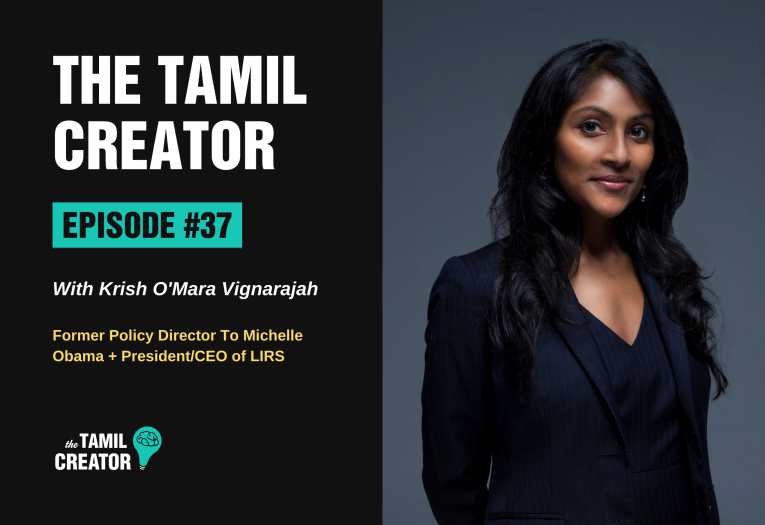 She joins Ara on the latest episode of #TheTamilCreator to discuss growing up in #Baltimore, the lessons learned in losing an election, working with Michelle Obama (@michelleobama) and the lifelong learning benefit of such an opportunity, having a bout with breast cancer, and much more.
"The Tamil Creator" is a podcast started by me (Ara Ehamparam). As someone who is extremely inquisitive by nature, I created the podcast to chat with, spotlight, and learn about brilliance among creators in the Tamil community - and among creators in general from all over the world.
**TAKE THE QUIZ - "What Type of Creator Are You?"**
***For a chance to win a $100 gift card and get future podcast updates, interviews and other news, please sign up for the newsletter - CLICK HERE!***
Timestamps

00:19 - Ara introduces this week's guest, Krish O'Mara Vignarajah
01:44 - Krish speaks on the impact of her parents' support
05:09 - What it was like growing up in Baltimore
08:04 - Krish's decision to pursue political science at Yale
10:42 - Will Ivy League Schools maintain their brand recognition?
16:14 - How did Krish become the policy director to former First Lady, Michelle Obama
21:46 - Securing a role as the President and CEO of Lutheran Immigration and Refugee Service
24:31 - Handling the ISIS crisis
27:11 - What surprised Krish about the Lutheran Immigration and Refugee Service, after joining it
29:42 - Losing an election, and the learning lesson it created
33:17 - Breastfeeding on camera as part of her campaign
36:39 - The personal legacy Krish wants to leave behind
38:18 - Advice she would give her 16-year-old self
39:26 - Lifelong learning, podcasts / books Krish values
41:41 - Creator Confessions
48:53 - The Wrap Up
**Looking to create your love story? Join the other couples who have dated and got married through myTamilDate.com!***
"myTamilDate Love Story: Jenani & Nav Found Each Other At The Right Time And Right Place In Life"
"myTamilDate.com Love Story: Tharshi & Ravi Found Love During Lockdown"
"myTamilDate.com Love Story: Suji & Sinthu Lived 15 Minutes Apart For Years And Never Met Until Joining MTD"
"How France Met Canada: A MyTamilDate.com Love Story"
***CLICK HERE to listen to us on Spotify!***
Related Articles: