School Teacher & Cake Artist Theepika Uthayasandiran On Living With Vitiligo And Creating Cakes For Celebrities
"I had many doctors prescribe various treatments, but nothing really helped. It wasn't until 2020 when my vitiligo spread throughout my entire body that I had started feeling more self-conscious. It really made me not want to be in front of the camera when I was recording cake content."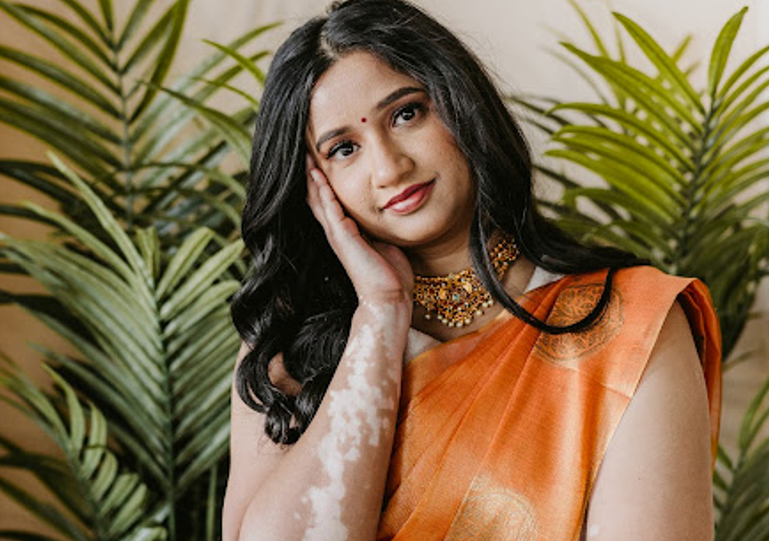 CREDITS: Creative director @beautypursuit_mua & @amilynewman, 📷 @shotbyshiro, 💎 @shopnyra, 💄 @blushbyd @jks.mua @beautypursuit_mua @thenistouch
🚪 Studio @surrealstudios, 👗 Sarees @nnfashion, 👁 Eyelashes @thesavagebeautyshop
___
***Are you or someone you know in the global Tamil community doing great things? We'd love to feature them: FILL OUT THIS FORM ***
Network & collaborate with Tamil Changemakers from around the world. Request to join our private LinkedIn community here.
INTERESTED IN MEETING OTHER TAMIL CREATORS, PROFESSIONALS & ENTREPRENEURS FROM AROUND THE WORLD? JOIN THE TAMIL CHANGEMAKERS COMMUNITY HERE & ACCESS OUR MEMBERS ONLY LINKEDIN GROUP, EXCLUSIVE EVENTS & MORE!
___
When was the first time you realized that you could turn your passion or hobby into a business?
While planning a surprise party, I decided to be ambitious and try my hand at baking. I ended up decorating all of the desserts and cake myself. I had no idea how well they would turn out until I received so many compliments from the guests. After that, it became a possibility in my mind that I could potentially turn this into a business.
You were able to make a cake for one of the participants from "The Bachelor". How did this opportunity come to be? Have you ever got any requests from any other celebrities?
I'm a big fan of "The Bachelor" and I love to host viewing parties at my house! I once made a cake that reminded me of the show and decided to tag a few of my favourite contestants from previous seasons. One of them even commented on the post, and it really made my day! A short time later I got an e-mail from another contestant, asking if I could make a cake for their baby shower. I happily agreed and even got the chance to meet them in person when I dropped the cake off. It was one of the best and most rewarding experiences during my cake career as my business really opened up an opportunity that I would not have gotten otherwise.
I recently got a request from "The Icing Artist" as well, who is a very popular YouTuber with over 4 million subscribers. I made four mini cakes for her that were featured in one of her videos.
Now I am just waiting for Drake to slide into my DMS for a cake ;)
You shared in March 2022 more publicly about your Vitiligo and how it's been increasingly spreading over your body, creating some insecurity but you've been embraced by others online with Vitiligo which is amazing to see. What is Vitiligo and what has this experience living with it taught you about yourself and maybe others?
Vitiligo is a condition where the skin loses its pigment cells. This results in patches and areas of the skin turning white. When I was younger it was always something that I pushed to the back of my mind and avoided talking about it. There were some noticeable patches around my eyes and body that served as a constant reminder of the condition, but I was always able to conceal them with makeup and clothing. I had many doctors prescribe various treatments, but nothing really helped. It wasn't until 2020 when my vitiligo spread throughout my entire body that I had started feeling more self-conscious. It really made me not want to be in front of the camera when I was recording cake content. It took me a while to gain the self-confidence to accept my condition and be willing to embrace it by feeling comfortable in front of a camera. Although it is a work in progress, I feel more confident and empowered to stand in front of a camera to show my true self.
What's a misconception about Vitiligo that you hear a lot?
I think a common misconception is that Vitiligo is contagious, that it will somehow spread to others through contact. I was recently a part of an empowering photoshoot organized by Lini David (@beautypursuit_mua) and Amily Newman (@amilynewman) to raise awareness and help break the stigma. I'm happy to say that it gained a lot of traction and people were able to learn more about Vitiligo.
You've been able to build a pretty good following on Instagram - which is hard to do these days with the whole "pay-to-play" model that Meta (aka Facebook) has set up. What do you think you do differently that gets people to get engaged with your brand?
Honestly, I don't have a special formula. I just try to be myself and make cakes that I am proud to put my name on. I also enjoy taking the time to get to know my followers, especially the one's who engage in my content. I have become close with so many new people who follow me, even though I haven't met a lot of them in person. They continue to cheer for me at every milestone. My content also takes people behind the scenes and shows them the cake making and decorating process. I think showing that side rather than just the finished product, helps me to connect people with my brand.
Is this something that you do full-time? If not - do you have plans to do this full-time in the future?
People who follow me are usually surprised to find out that I do not run the cake making business full time! My day job is a high school teacher and I do not have any plans to become a baker full-time (even though I practically commit 40 hours per week to it!). I enjoy being a teacher and I like having a side hustle that I am passionate about.
What's been a failure (or "learning lesson") you've experienced during this process of building up your business and what did you learn from it?
I learned that you aren't always going to make everyone happy and that is okay. There's always going to be criticism, but you have to accept it, embrace it, and learn from it.
Where do you see yourself in the next 3 years?
Continuing to grow my business and expand my network in the cake community. I also want to continue to hone in on my cake decorating skills and try new techniques. Another thing that I have wanted to get into is to teach cake decorating classes.
What role has your family played in the choices that you've made in your life so far?
I have a big family and they are my biggest fans and supporters. From sharing my page with everyone they know to even coming over and helping me with cakes when I am overwhelmed, they are always there to help.
_____________________________
Related Articles:
_____________________________
What do you do outside of work for fun?
It has definitely been challenging finding any free time from having two jobs. When I have time, I like to spend time with my family, especially my nephews and niece!
What is an insecurity you have?
I suffer from imposter syndrome at times and sometimes I need to remind myself of all the hard work that I put into my business.
In terms of your personal legacy, in a few sentences, describe how you want to be remembered by your family and friends?
Someone who worked hard for everything that they have achieved and is passionate about everything that they put their mind and effort into.
What do you think you would tell 16-year Theepi looking back?
I would say to just keep doing your thing, not worry too much and that everything is going to work out.
What is your favourite book(s) you've read recently and why?
I recently enjoyed reading "The Book Thief", a book that I am currently teaching to my classes. It really opened my eyes to how history hasn't really taught us the lessons we need to have learned by now. Despite all the pain caused by prejudice in the book, the world is still rampant with hate based on race, ethnicity, sexual orientation and skin colour. It opened my eyes to how much work still need to be done to bring these issues to an end.
What is a new belief, behaviour or habit that has most improved your life?
With the pandemic surpassing the two-year mark, I had found myself becoming very accustomed to living in panic, fear and stress of the unknown. I would wake up some days not knowing what to expect in the news and it was seeping into other aspects of my life. This past New Year's Day, I had made the decision to force myself to have at least one positive takeaway from each day, and write it down. Since I enjoy arts and crafts, I wanted to make it visually appealing as well, so I created jars for every month to which I add a sticky-note to for every day. I haven't missed a single day yet, and even though I have had some really challenging days, these jars gave me something positive to instinctively look for in my days.
What is something that you've splurged on recently in the last year that you have zero regret about?
Vacations, vacations, vacations! Something I will never have any regret spending my money on! My goal is to go on 3 vacations per year. I recently went to Portugal in March and I already have my vacation booked for June!
How has the Toronto Tamil community impacted you both personally and professionally?
The Tamil community in Toronto has definitely had a positive impact on me. Toronto has such a wide range of small business owners, and many of them are Tamil women. With all the intense amount of stress we face, we've been able to create an online community to support and encourage each other. Having a group of people that are going through similar challenges and experiences there with you, has really helped me to overcome the struggles that I have faced.
Growing up, many of us in the Tamil community faced cultural adversities. I always felt that our culture was overlooked. Personally, I've always known how much potential Tamil people had to thrive in Toronto, and I'm so proud to not only see all of the success, but to also be apart of it.
What is your favourite Tamil food (meal or dessert)?
Easy, my mom's addu rachee (goat curry) and my dad's kothu roti.
What is your favourite Tamil movie?
This is going to make me sound like I am really old but Bandham (1985) is the best movie of all time. I've watched it over 400 times since I was a toddler.
What does Tamil culture mean to you?
It's everything from the amazing food to the beautiful music, fashion and rich heritage. It's the decades of injustice in my motherland that reminds me of the sacrifices the previous generations had made to provide a better life for us. It's all of the stories that my family has shared with me, and everything that I will pass on to the future generations.
* You can visit her business Instagram page here - https://www.instagram.com/theepicakes/
**Looking to create your love story? Join the other couples who have dated and got married through myTamilDate.com!***
"myTamilDate Love Story: Jenani & Nav Found Each Other At The Right Time And Right Place In Life"
"myTamilDate.com Love Story: Tharshi & Ravi Found Love During Lockdown"
"myTamilDate.com Love Story: Suji & Sinthu Lived 15 Minutes Apart For Years And Never Met Until Joining MTD"
"How France Met Canada: A MyTamilDate.com Love Story"
***CLICK HERE to listen to us on Spotify!***
Related Articles:
"Separated From Family During Sri Lanka's Civil War, Ganesh Thava Overcomes Childhood Adversities To Find Success As Actor, Writer & Director"
"Singaporean-Born, Canadian-Raised, Decolonial Racial Equity Educator Channdika Thayver Delivers Powerful TEDx Talk On Racial Equity In The Workplace"
"Tamil Innovators Spotlight: Theban Ganesh Discusses Building a Web3 Company, Improving Healthcare Through Blockchain, Successful Exits"
"Elite Athlete, Coach, Future Chiropractor & Entrepreneur Abirami Shanmugaratnam Is Making Waves In The Athletic Performance Industry"
"Toronto's OG Food Writer Suresh Doss Is Using His Reach And Voice To Help Engineer A Comeback For Beleaguered Restaurant Industry"
"Ballet And Kung Fu Trained Australian Actress & Writer Rubi Balasingam Is Promoting Tamil Voices In Aussie TV And Film"
"Yathusha Kulenthiran's Marketplace For Environmentally Sustainable Palmyra Products Empowers Female Artisans In Sri Lanka"
"Australian-Tamil Entrepreneur Sujan Selven Is Creating Economic Opportunities For Remote Villages In Northeast Sri Lanka Using Upcycled Devices & Improved Connectivity"
"Crypto Tinhorn & Former Journalist Anand Venkateswaran Talks About Buying A $69M Digital Art Piece, Collecting Stories & Catalyzing Change"
"Tamil Innovators Spotlight: Abarna Raj, CEO of Australian Social Startup Palmera, Is Tackling World Poverty"
"These Tamil Founders Behind Agritech Startup Dunya Habitats Want To Alleviate Food Security Globally"