myTamilDate Success: It Was Love At First Sight For Madhu & Niya
"Personally, I am very cautious when I interact with newer people. But from the moment I met her, I knew that she is THE one and I was ready to give my best to win her over."
Images by myTamilDate.com's photography partner Divinemethod Photography.
Do you have a myTamilDate success story? Submit it here for a photo shoot on us!
myTamilDate.com has been the most trusted dating community for single Tamils around the world for close to a decade! It's the premiere dating platform for diaspora Tamils and has the largest membership base in Canada, USA, UK & more. You can join the community for free at www.myTamilDate.com.
Tell us a bit about yourself:
Madhu: I'm 30-years-old and from Etobicoke in Toronto. I work as an underwriting analyst and in my free time I enjoy watching movies, hiking and other outdoor activities.
Niya: I'm 26, from Toronto and work as a tech consultant here. My interests include animal rescue, Tamil everything (movies, food, songs, clothing), modelling and Harry Potter!
When did you first join myTamilDate.com (MTD)? What made you want to try MTD?
Madhu: I joined in October 2021. I was on a few other dating sites and was not making much progress with a long term relationship. I did not know a Tamil community specific dating site existed. However, one of my friends from Sri Lanka recommended me to try it out. So I told myself why not give it a shot for one month and see how it goes?
Niya: End of October - I had recently ended a long-term relationship and I was quite done with relationships. My family (and extended family) started sending me arranged marriage proposals and I knew it was just not for me. So I thought to give love one more shot. I kept seeing my friend Kiru post about myTamilDate and I reached out to her about it. After a quick little pep talk in getting over my anxiety regarding online dating, I signed up for myTamilDate.
Who messaged first?
Niya: He messaged first. He was actually the first person to message on myTamilDate - less than an hour after I created my account actually.
What first attracted you to the other person and made you want to meet in person?
Madhu: I am an intovert and I find it difficult to keep a conversation going with anyone and usually find limited mutual interests to talk about. With her the conversations kept flowing, we were cracking jokes and I was looking foward to text her daily. During our texts I figured out how caring she was. She was also independent and motivated which were traits I was looking for in my partner.
Niya: Harry Potter magic did it aha. Our first conversation involved both of us talking about our favorite Hogwarts class, and the characters we loved. But on top of the Harry Potter, he also connected that to corny Tamil movie & song references - that's what made things interesting.
From messaging to the first date, how much time passed?
Niya: I think I always bugged him about this lol - he was the first to message but he was the last to go on a date with. It took about three weeks before we went on our first date but all it took was that one date.
WATCH NEXT: The Dating While Tamil Podcast
Where did you go for your first date and how was it?
Madhu: Our first date is the most beautiful memory the both of share to date. The entire experience was so magical, from the moment she entered the doors of the restuarant till I bid her goodbye that day. I got her flowers on the first date and had a surprise cake ordered for her. The weather gods were on our side that day, there was a slight drizzle and just after the food we walked out in the drizzle that night as she held my hand. Looking into her eyes, I knew this is who I want to live my life with.
Niya: We went to Azarias, a restaurant that he chose because it had two things I absolutely loved - cheese & pasta. As I walked into the restaurant before I even saw Madhu, the waitress knew who I was… because apparently Madhu told everyone that he was waiting for his first date and they enthusiastically welcomed me in. When we walked to the table Madhu had a beautiful flower bouquet with a cute little note on the inside. After we sat down, we had a beautiful dinner, with beautiful conversations and he surprised me with a slice of cake being brought out with a candle at the end. When I asked why (I knew it wasn't both our birthdays lol), he said he wanted to make this night memorable and he wanted to celebrate this very special date. I was clearly smitten. It was still pouring rain outside, so he walked me to the subway station and we went our separate ways there. When I was on the bus on my way home, I remember sending a snap to my girls - a selfie with the flowers, and a big smile ear-to-ear. I knew then he was a keeper.
Some studies say that within 30 seconds of meeting a new person, we can gauge attraction. Was that true for you?
Madhu: Personally, I am very cautious when I interact with newer people. But from the moment I met her, I knew that she is THE one and I was ready to give my best to win her over.
Niya: Absolutely! When I first met him, I felt quite comfortable making jokes and goofing off. When I saw him it felt like home.
When did you realize that this was your 'special someone' and you could see yourself spending the rest of your life with them? How do you feel about the saying 'when you know, you know'?
Madhu: Home is the one place we want to go to feel safe, comfortable and cared for. Just like that the "special someone" is the person where you feel comfortable, safe, cared for, trust and plenty more good stuff. The moment you feel the same with someone you know that person is the one. The moment she held by my hand on the walk that night on our first date, I knew she trusted me and felt comfortable around me.
Niya: After the first date, I knew I wanted to see where this goes. The next day, before things got any more serious, I wanted to have a conversation about my past - as I strongly believe in starting the relationship off with an idea of who someone is overall. It's not easy to be completely vulnerable with someone you've barely known - but it was the way he handled it all that made me realize how special he was. When you're at your weakest point, or talking about something traumatic, making you feel heard and understood is essential - and he did that so caringly.
How did your respective families and friends react to the fact you met on a dating site?
Madhu: I was quite unsure if my parents would accept meeting someone online, but to my surprise they did accept. However they did have a few questions I had to answer before they were fully convinced.
Niya: I'm very close to my mom - she's my best friend and she knew every step of my dating process, including myTamilDate. I told her about Madhu and the date and she was very happy how it went - she wanted me to introduce him when we're ready and we did just that.
My friends on the other hand were very protective of me. I remember when I was initially on the site and got matches, I told my two girls about the guys I matched with and the dates I went on. They know my past and how much I've been hurt so they just wanted me to be happy with whoever I chose. Now that Madhu's met & spoken to many of my friends and it seems that they all love him - maybe even more than they like me lol. Clearly I think Madhu is my mom's favorite too - he just wins hearts everywhere he goes.
How did you propose? When is the big day?
Madhu: The proposal never happened. It's funny I know, but we knew we were meant for each other from the day we met. Though we did not explicitly communicate it, we know that we care and love each other. The big day is on June 2022, pretty exicted to start the next phase of our lives together.
Niya: There was no proposal ahha. After both our parents spoke to each other, they decided it didn't make sense to wait much longer. And so the marriage planning began. Tbh I don't think we both thought we'd be getting married so fast - but hey when life gives you lemons, you slice it up and put it on a glass of rum and coke.
What advice would you give to those looking for love but finding it difficult to meet someone?
Madhu: To be honest, it takes a lot of time and effort. I went through a lot of frustration myself. However perserverance, effort and patience will pay off, and a pinch of luck will bring that person to you.
Niya: Two things: Be Open & Heal. First, it was hard for me to put myself out there again after everything that i've been through in the past. And I was sure done with love. But if I wasn't open to dating again, open to also potentially getting hurt again - I wouldn't have met Madhu. And also it was really important for me to acknowledge and understand my hurt and trauma. I don't want to speak for anyone else, but I know I put myself in unhappy, unstable relationships because I wasn't healed from my own past and I didn't know who I was. By going to therapy, understanding my past and really figuring out my wants and needs, I didn't have to rely on another person for my happiness. I was happy with myself and I found someone to share this journey of life with.
What factor would you say patience played in your journey of finding love?
Niya: Patience was crucial. As I said earlier, Madhu isn't my first love. And my love life has been quite a roller-coaster journey that started over a decade ago. Especially in the Tamil community, where dating is still such a Taboo topic, not only did I need to be patient but also accept judgment and criticism from everyone around me. Being patient in the process, especially with the support of my amazing small circle of family and friends, it really helped in finding the partner of my dreams.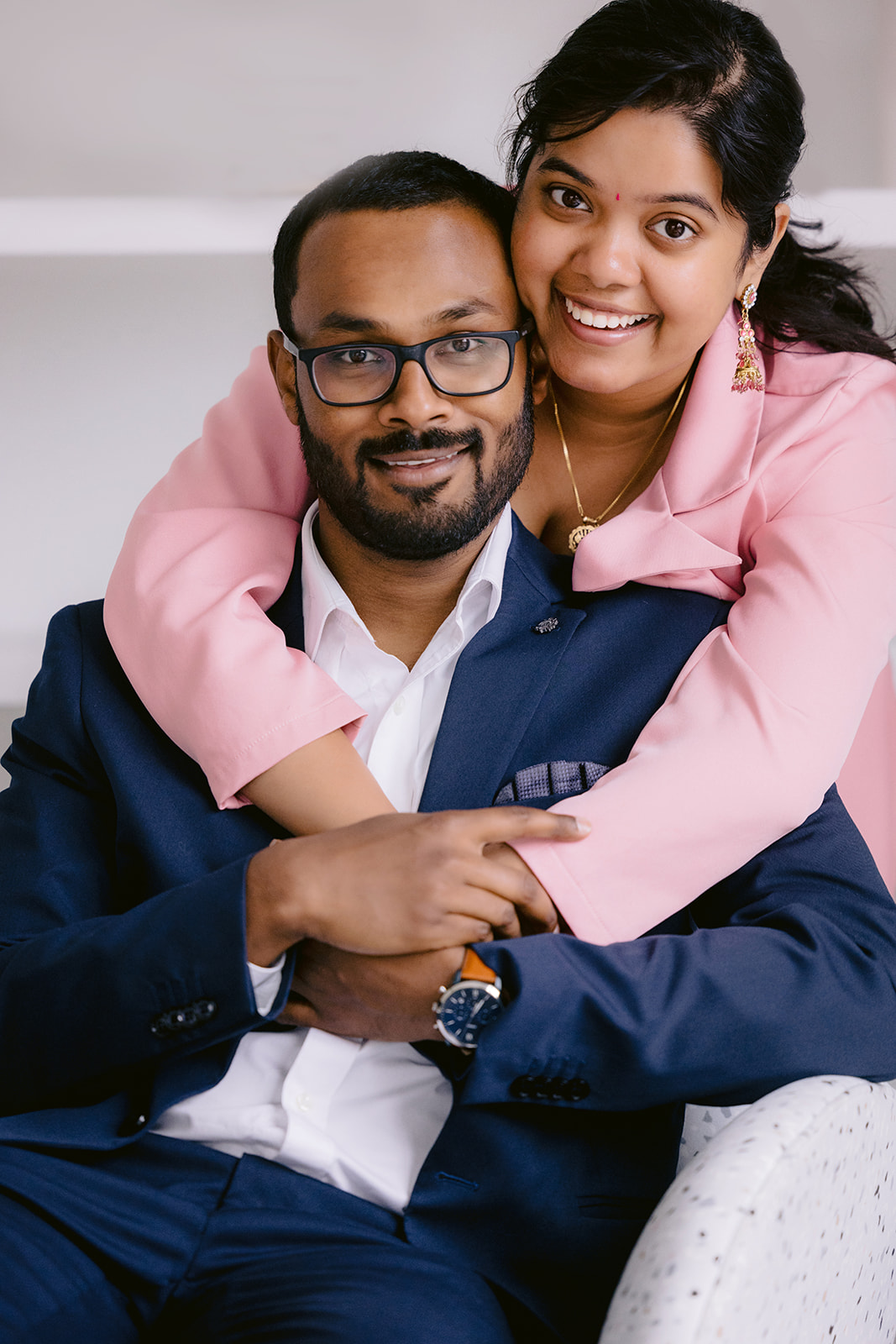 "Finding the right person to spend your life with is a big decision that could dramatically alter the trajectory of your life. It's similar to a career, where any one job interview that goes well could change your life. So approach online dating as intentionally and methodically as you would finding your dream job." Agree or disagree?
Niya: Absolutely. This is actually one piece of advice that my best friend told me right before I went on any dates and I was very upfront about this on my dates as well. Definitely be intentional on your approach and know what you're looking for in a partner. And don't feel embarrassed in admitting that you will be going on other dates before you make your choice. Especially if you're making connections with multiple people, it's only fair to understand what those connections mean before finally deciding on your partner.
Even though online dating is the most effective and popular way to get married these days, some people in the Tamil community still find it to be a taboo. What would you say to them?
Madhu: In my opinion online dating is much more sophisticated than the certain Tamil traditions of getting married, such as hiring a marriage broker or marrying within relatives. Online dating provides greater flexibility than the traditonal methods, such as filtering people who match your likes and dislikes, increased avenues to discuss etc etc. This flexibility is limited in a traditionl marriage proposal setting like marriages between relatives or hiring a marriage broker to find a match. There are cons for online dating, which we are aware of. However we should not discard it entirely. Like all forms of technology when used appropriately online dating is a good tool, especially in this day and age where meeting people in a social setting is becoming ever more difficult. Also with the Tamil community being dispersed globally, online dating forms a good tool to take advantage of to meet people globally. Given all the benefits we should embrace online dating more.
Niya: At the end of the day, this is your choice. I think our community is wonderful in many aspects, but judgment and taboo is quite a big issue. Thing is, none of their opinions will pay our bills. I think it's easier said than done, but it's so liberating to just do what you want regardless of what anyone else may think, as long as you're not causing any harm. Even my mom was completely against me dating originally - her primary concern and many of my friends' parents' concern was, well what would "they" say. They being our extended family, our long-lost cousins, our village mailman and everyone else in between. It took many years of open conversations with her, explaining my side and explaining why caring about others opinions is not the way to live. Till this day some of my family and even some of my friends don't like me dating and you know what - that's okay. My choices are meant for me to live with - not anyone else. And I hope that many of our community members realize that too.
**Looking to create your love story? Join the other couples who have dated and married through myTamilDate.com!***
"myTamilDate Love Story: Jenani & Nav Found Each Other At The Right Time And Right Place In Life"
"myTamilDate.com Love Story: Tharshi & Ravi Found Love During Lockdown"
"myTamilDate.com Love Story: Suji & Sinthu Lived 15 Minutes Apart For Years And Never Met Until Joining MTD"
"How France Met Canada: A MyTamilDate.com Love Story"