The Tamil Creator Podcast (EP #55): Manjula Selvarajah & Kirthana Sasitharan - CBC Journalists Behind The Award-Winning "Boldly Asian" Series
Manjula Selvarajah and Kirthana Sasitharan are this week's guests on The Tamil Creator podcast. Manjula is a Toronto-based journalist, a guest host on CBC Ontario's shows, and co-founder of Tamil Women Rising. Kirthana is a CBC news reporter and associate producer. They are both co-creators of the "Boldly Asian" series on CBC.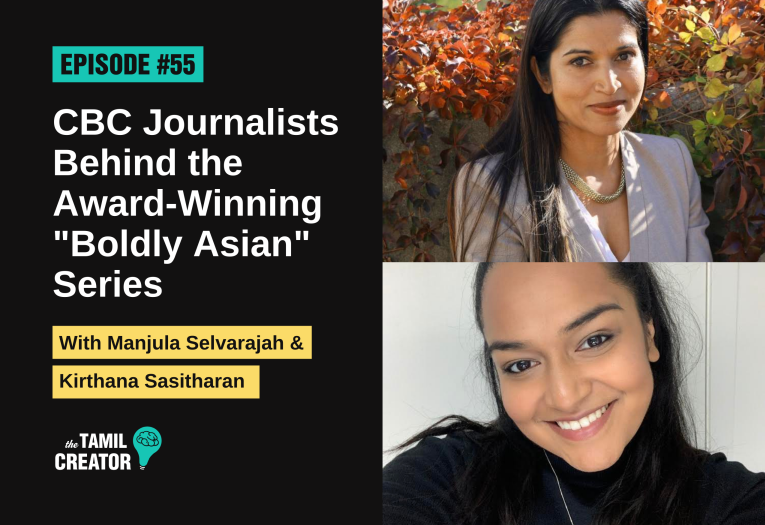 ___
***Are you or someone you know in the global Tamil community doing great things? We'd love to feature them: FILL OUT THIS FORM ***
Network & collaborate with Tamil Changemakers from around the world. Request to join our private LinkedIn community here.
INTERESTED IN MEETING OTHER TAMIL CREATORS, PROFESSIONALS & ENTREPRENEURS FROM AROUND THE WORLD? JOIN THE TAMIL CHANGEMAKERS COMMUNITY HERE & ACCESS OUR MEMBERS ONLY LINKEDIN GROUP, EXCLUSIVE EVENTS & MORE!
___
They join Ara to discuss their friendship, receiving feedback as a creator, their award-winning "Boldly Asian" series, Tamil women helping push other Tamil women's careers forward, learning to embrace rejection, and much more.
"The Tamil Creator" is a podcast started by me (Ara Ehamparam) to celebrate, spotlight and learn about the brilliance among Tamil creators globally. I want you to feel like you're a fly on the wall eavesdropping on a conversation that is a combination of educational, inspirational and entertaining.
*TAKE THE QUIZ - "What Type of Creator Are You?"**
***JOIN THE LIST - CLICK HERE!***
READ NEXT: How France Met Canada: A MyTamilDate.com Love Story
Timestamps
00:19 - Ara introduces this week's guests, Manjula and Kirthana
01:50 - Kirthana speaks on her upbringing, family, and path to becoming a journalist
06:54 - How an electronics class in Nigeria, and Manjula's dad, changed her life
09:57 - Manjula's past fertility issues, and how she became a journalist
15:40 - How Kirthana and Manjula met, and the professional journey they've been on together
30:09 - Receiving feedback as a creator, the award they won together for creating the Boldly Asian
34:17 - What a pitching process, and a good pitch, consists of
42:29 - What the future of the Boldly Asian series looks like
43:48 - How they view social media, tech sabbaths, the future of creators
55:28 - Their view on good journalists leaving big companies to "do their own thing"
1:04:53 - Advice they would give their 16-year-old selves
1:07:48 - The personal legacies they each want to leave behind
1:15:57 - Creator Confessions
1:28:31 - The Wrap Up
*Looking to create your love story? Join the other couples who have dated and got married through myTamilDate.com!***
"myTamilDate Love Story: Jenani & Nav Found Each Other At The Right Time And Right Place In Life"
"myTamilDate.com Love Story: Tharshi & Ravi Found Love During Lockdown"
"myTamilDate.com Love Story: Suji & Sinthu Lived 15 Minutes Apart For Years And Never Met Until Joining MTD"
"How France Met Canada: A MyTamilDate.com Love Story"
***CLICK HERE to listen to us on Spotify!***
Related Articles: