A First Look at Toronto's Tamil Community Centre
The design is inspired by traditional Tamil architecture (a central courtyard), the Tamil language and concepts from ancient Sangam poetry (landscape), and the Tamil people's history of migration, refuge and asylum (a ship).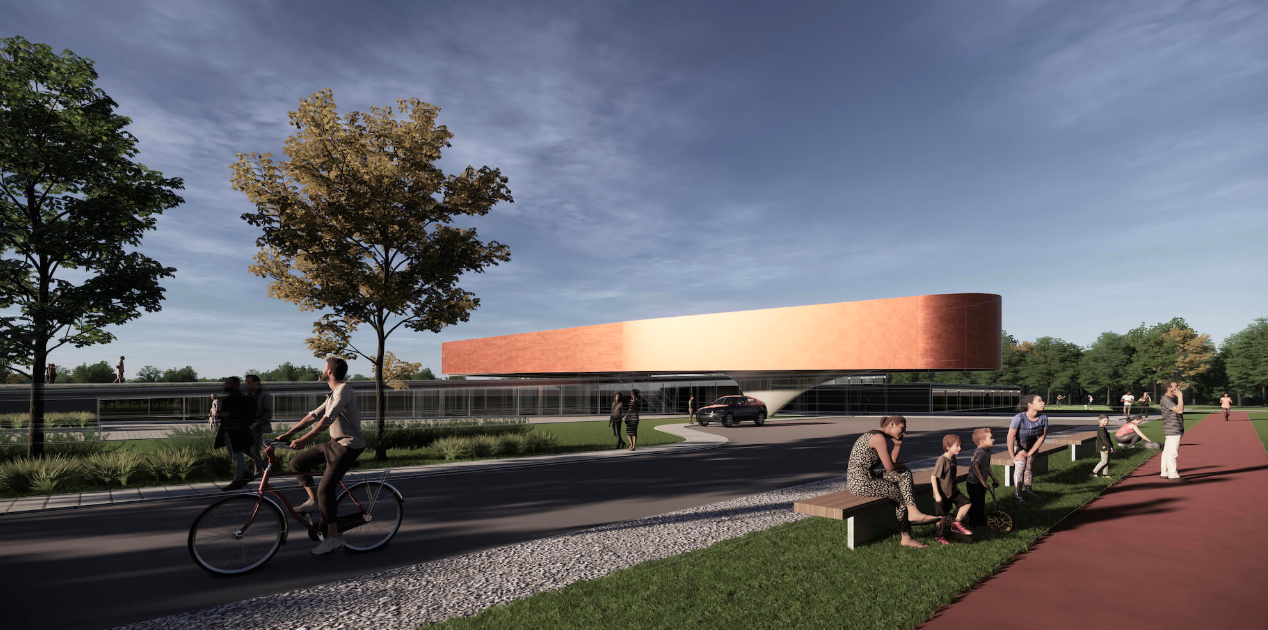 Canadian Tamils have proudly called Canada home since 1960, coming from various parts of South and East Asia, including Sri Lanka, India, Singapore and Malaysia, with their numbers dramatically growing between the late 80s and early 2000s due to the civil war in Sri Lanka. The 90s saw Tamils as the largest growing visible minority group in Canada, and the 2016 census showed Canada to be home to the largest Tamil diaspora outside of South Asia, with a population of 240,851 reporting to be of Tamil descent, heritage and/or culture, of whom 80% currently reside in the GTA. While a large number of these Tamils arrived here as political refugees, they have defied expectations as a refugee population, producing internationally recognized artists and academics, as well as successful students, business people and politicians.
In 2016, January was unanimously declared as Tamil Heritage Month in the House of Commons in recognition of the immense contributions Tamils have made to Canadian society, and of the importance of acknowledging the rich Tamil language and heritage, and their continued preservation through education. Yet, Canadian Tamils remain an underserved community in the GTA. The later waves of refugees arriving in Canada struggled to access services and encountered significant barriers to their progress, including language and the lack of programming spaces.
For close to a decade the community has been making moves toward the creation of a community centre to address the gap in services available to them. In July, the Government of Canada said it will be investing over $14.3 million in the project through the Community, Culture and Recreation Infrastructure Stream (CCRIS) of the Investing in Canada plan. The Government of Ontario is providing more than $11.9 million, while the Tamil Community Centre is contributing over $9.6 million. The City of Toronto has contributed land valued at $25 million to the project in the form of a long-term land lease at a minimal cost of $1 plus HST in annual rent.
The concept plan has been revealed (shown below). A
town hall will be held on October 13
, where members of the community can learn more and share feedback about the plans. If all goes according to plan, the TCC expects to break ground on the new facility in September 2023, with an estimated opening of August 2025.
The concept design includes a main building, a field with the Tamil letter "ழ" traced into the landscape, and a children's playground.
All elements have been designed to reflect the Sangam landscape, a poetic device in classical Tamil Sangam literature that weaves in geographic features representative of mood. Examples include Kurinci, mountainous regions representing union, and Mullai, forests associated with waiting.
With a shape evocative of a ship run aground, the main building would contain cultural components like a library, archives, and a museum. A transition between opaque and translucent materials is meant to represent what the TCC website describes as "a symbolic gesture of people's minds clearing as they look homeward."
An accessible green roof up top would offer elevated views over the adjacent Rouge National Urban Park.
**Looking to create your love story? Join the other couples who have dated and got married through myTamilDate.com!***
"myTamilDate Love Story: Jenani & Nav Found Each Other At The Right Time And Right Place In Life"
"myTamilDate.com Love Story: Suji & Sinthu Lived 15 Minutes Apart For Years And Never Met Until Joining MTD"
"How France Met Canada: A MyTamilDate.com Love Story"
"How a Message on myTamilDate.com Led to an Engagement for Lavanya & Vitharan"
***CLICK HERE to listen to us on Spotify!***
Related Articles: