The Tamil Creator Podcast (EP #86): Ganesh Thava - Overcoming Childhood Adversities To Find Success As An Actor & Director
Ganesh Thava is a Tamil-Canadian Director, Writer & Actor. He's had roles in movies "Spin" and "Cyber Underground" while writing & directing his own short film "The Orchard & The Tree".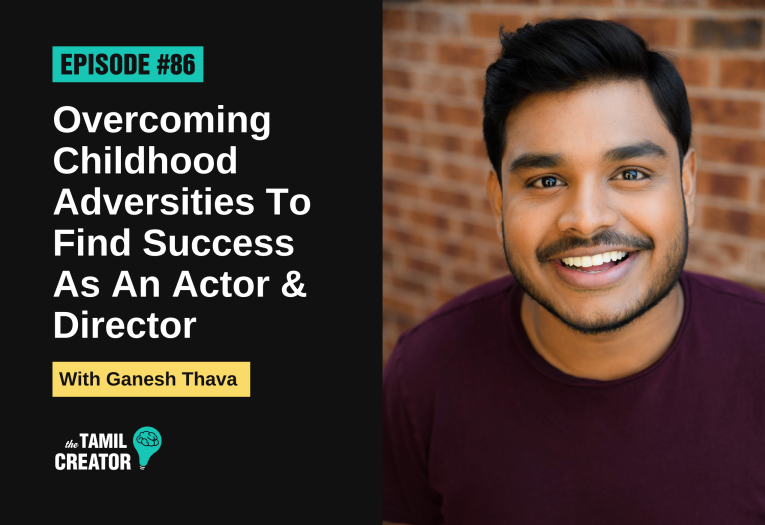 ___
***Are you or someone you know in the global Tamil community doing great things? We'd love to feature them: FILL OUT THIS FORM ***
Network & collaborate with Tamil Changemakers from around the world. Request to join our private LinkedIn community here.
INTERESTED IN MEETING OTHER TAMIL CREATORS, PROFESSIONALS & ENTREPRENEURS FROM AROUND THE WORLD? JOIN THE TAMIL CHANGEMAKERS COMMUNITY HERE & ACCESS OUR MEMBERS ONLY LINKEDIN GROUP, EXCLUSIVE EVENTS & MORE!
___
She joins Ara on this week's episode of #TheTamilCreator to discuss transitioning from politics to tech, growing up in the Tamil co-op in Parkdale, how governments & private companies interact to drive innovation forward, her involvement in developing the new @tamilcommunitycentre in Scarborough, if school actually matters in the grand scheme of things, and much more.
"The Tamil Creator" is a podcast started by me (Ara Ehamparam) to celebrate, spotlight and learn about the brilliance among Tamil creators globally. I want you to feel like you're a fly on the wall eavesdropping on a conversation that is a combination of educational, inspirational and entertaining.
*TAKE THE QUIZ - "What Type of Creator Are You?"**
***JOIN THE LIST - CLICK HERE!***
READ NEXT: "myTamilDate Success Story: It Was Love At First Sight For Madhu & Niya"
Timestamps

00:19 - Ara introduces this week's guest, Ganesh Thava
02:37 - Ganesh speaks on his upbringing; growing up in an environment of love and comfort
04:36 - Being a shy kid/rule-follower; feeling like he was living for other people
08:17 - His recollection of Sri Lanka; feeling more free there than in Canada (mental health)
10:44 - How Ara heard about Ganesh; his movie 'Spin'
12:42 - Almost landing a role but not being able to ultimately get it; rejection rituals
16:13 - Using therapy to improve physical/mental well-being, and the power of social media
18:23 - 'The Orchid & The Tree' and how it was received by viewers
24:16 - How he had his movie screened at various film festivals; the application process
25:25 - The entrepreneurial element of filmmaking; shifting between being a director & actor
29:04 - How his family/friends reacted to his decision to immerse himself in the world of film
37:29 - His perception of money; how he goes about making it, saving it, and more
42:56 - The impact that the Toronto-Tamil community has had on Ganesh
48:28 - What he would tell his 16-year-old self & the personal legacy he wants to have
52:02 - Creator Confessions
57:54 - The Wrap Up
**Looking to create your love story? Join the other couples who have dated and married through myTamilDate.com!***
"myTamilDate Success: The Second Time's the Charm for Aranie & Saaron"
"myTamilDate Success Story: It Was Love At First Sight For Madhu & Niya"
"myTamilDate Love Story: Jenani & Nav Found Each Other At The Right Time And Right Place In Life"
"myTamilDate.com Love Story: Tharshi & Ravi Found Love During Lockdown"
"myTamilDate.com Love Story: Suji & Sinthu Lived 15 Minutes Apart For Years And Never Met Until Joining MTD"
"How France Met Canada: A MyTamilDate.com Love Story"
***CLICK HERE to listen to us on Spotify!***
Related Articles: