The Tamil Creator Podcast (EP #74): Sibi Selvanathan - Writing & Publishing An Amazon Top 5 Epic Fantasy Book In 18 Months During The Pandemic
"Sibi Selvanathan is a Product Manager by profession who was able to knock off a bucket list item for himself by writing & publishing an Amazon Top 5 Epic Fantasy Book in 18 months during the pandemic."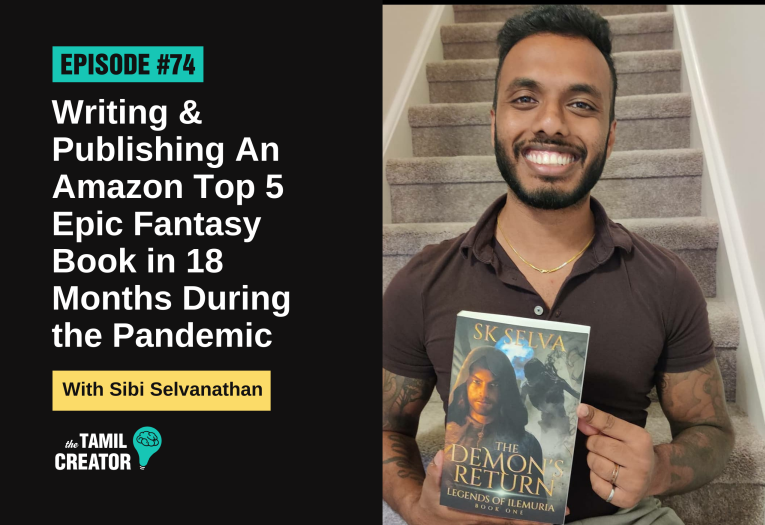 ___
***Are you or someone you know in the global Tamil community doing great things? We'd love to feature them: FILL OUT THIS FORM ***
Network & collaborate with Tamil Changemakers from around the world. Request to join our private LinkedIn community here.
INTERESTED IN MEETING OTHER TAMIL CREATORS, PROFESSIONALS & ENTREPRENEURS FROM AROUND THE WORLD? JOIN THE TAMIL CHANGEMAKERS COMMUNITY HERE & ACCESS OUR MEMBERS ONLY LINKEDIN GROUP, EXCLUSIVE EVENTS & MORE!
___
He joins Ara on this week's episode of #TheTamilCreator to discuss why he chose to write a fantasy genre novel, how he leveraged free time to sharpen his writing skills, being inspired by his sister who helped write 'Amutha Learns' (@amuthalearns, Episode 1 guest of "The Tamil Creator"), being a morning person and trying to make the most of every minute, investing in Gamestop and Bitcoin, wanting to be a professional hockey or soccer player while growing up, Harry Potter books having a massive influence on him, and so much more.
"The Tamil Creator" is a podcast started by me (Ara Ehamparam) to celebrate, spotlight and learn about the brilliance among Tamil creators globally. I want you to feel like you're a fly on the wall eavesdropping on a conversation that is a combination of educational, inspirational and entertaining.
*TAKE THE QUIZ - "What Type of Creator Are You?"**
***JOIN THE LIST - CLICK HERE!***
READ NEXT: How France Met Canada: A MyTamilDate.com Love Story
Timestamps

00:19 - Ara introduces this week's guest, Sibi Selvanathan
01:13 - Sibi speaks on his childhood passion for storytelling (last minute "and now I have a book on Amazon)
04:50 - His sister being a guest on EP1 of #TheTamilCreator and a part of the group that wrote 'Amutha Learns'
06:26 - Why Sibi chose to write a fantasy genre novel
08:32 - The marketing strategy he used to promote his book entitled 'The Demon Returns - Legend of Ilemuria'
10:31 - How his book has sold internationally and interactions he's had with fans of the novel
11:53 - Sibi took 1.5 years to ideate and write a best selling fantasy book
12:52 - Having a full-time tech job while pursuing his passion for storytelling; how he balances both
14:50 - The power of compounding time and consistent effort; how social media interactions kept him accountable
17:01 - Wattpad; Sibi's reluctance to use 'the YouTube of publishing' and the founder's story
19:46 - Advice he has for aspiring authors of all ages; specifically for those wanting to write a novel
21:46 - Leaving a stable job to work at a start-up; what Sibi learned from making this decision
24:29 - His relationship with money; the importance of saving and controlling your emotions when investing
30:47 - Having a big circle and keeping positive influences in his life who supported him in his pursuit of authorship
32:41 - Friendships surviving the test of time; his relationships staying solid despite not seeing friends as often as before
34:00 - Advice he would give his 16-year-old self if he could jump in a time machine; take your time
36:43 - The personal legacy Sibi wants to be remembered for by friends and family
37:14 - Creator Confessions
39:28 - The Wrap Up
**Looking to create your love story? Join the other couples who have dated and married through myTamilDate.com!***
"myTamilDate Success Story: It Was Love At First Sight For Madhu & Niya"
"myTamilDate Love Story: Jenani & Nav Found Each Other At The Right Time And Right Place In Life"
"myTamilDate.com Love Story: Tharshi & Ravi Found Love During Lockdown"
"myTamilDate.com Love Story: Suji & Sinthu Lived 15 Minutes Apart For Years And Never Met Until Joining MTD"
"How France Met Canada: A MyTamilDate.com Love Story"
***CLICK HERE to listen to us on Spotify!***
Related Articles: