The Tamil Creator Podcast (EP #51): Samanta Krishnapillai - Sparking Social Change As Founder & Executive Director of "On Canada Project"
Samanta Krishnapillai is helping to drive social change as the Founder, Executive Director and Editor-In-Chief of On Canada Project.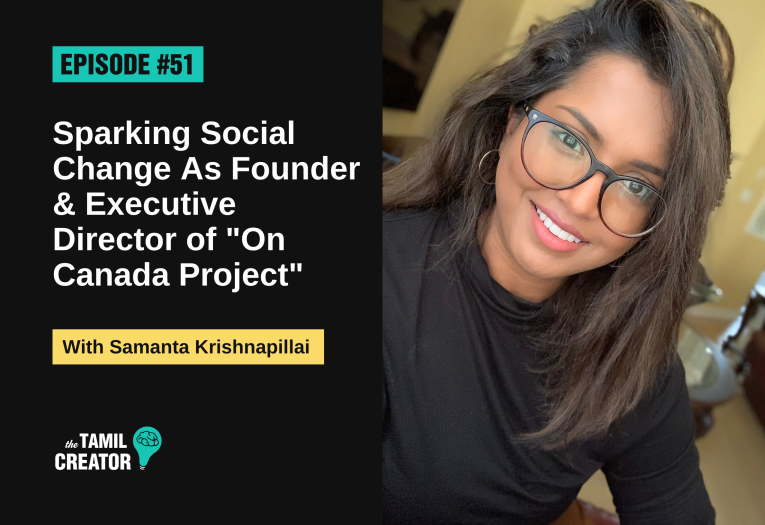 ___
***Are you or someone you know in the global Tamil community doing great things? We'd love to feature them: FILL OUT THIS FORM ***
Network & collaborate with Tamil Changemakers from around the world. Request to join our private LinkedIn community here.
INTERESTED IN MEETING OTHER TAMIL CREATORS, PROFESSIONALS & ENTREPRENEURS FROM AROUND THE WORLD? JOIN THE TAMIL CHANGEMAKERS COMMUNITY HERE & ACCESS OUR MEMBERS ONLY LINKEDIN GROUP, EXCLUSIVE EVENTS & MORE!
___
She joins Ara on this week's episode of #TheTamilCreator to discuss taking a break to work on her mental health, her goal of driving social change through conversation with On Canada Project, code-switching, ending silos so we can "stop letting sh*t divide us," being followed by Ryan Reynolds on Twitter, how silence is violence as it pertains to critical issues, and much more.
"The Tamil Creator" is a podcast started by me (Ara Ehamparam) to celebrate, spotlight and learn about the brilliance among Tamil creators globally. I want you to feel like you're a fly on the wall eavesdropping on a conversation that is a combination of educational, inspirational and entertaining.
*TAKE THE QUIZ - "What Type of Creator Are You?"**
***JOIN THE LIST - CLICK HERE!***
READ NEXT: How France Met Canada: A MyTamilDate.com Love Story
Timestamps
00:19 - Ara introduces this week's guest, Samanta Krishnapillai
01:39 - Samanta speaks on struggling to understand her culture/heritage growing up
07:28 - The On Canada Project; the name, why is started and what it is
15:07 - Her future plans for the On Canada Project; intentions and purpose
17:27 - On Canada Project team and funding strategy
24:48 - The importance of keeping low overhead costs in order to take risks
26:54 - Getting verified on Instagram
28:18 - Being a hardcore planner but taking life one day at a time
29:45 - Where Samanta sees herself and the On Canada Project in the coming years
35:39 - Racism being "subtle" in Canada, people being neutral and afraid to take a stance
43:55 - Was Samanta questioned or criticized by her support system while striving towards her goals/
46:07 - The personal legacy she wants to be remembered for by friends and family
49:12 - What she would tell her 16-year-old self
50:20 - Creator Confessions
55:44 - The Wrap Up
**Looking to create your love story? Join the other couples who have dated and got married through myTamilDate.com!***
"myTamilDate Love Story: Jenani & Nav Found Each Other At The Right Time And Right Place In Life"
"myTamilDate.com Love Story: Tharshi & Ravi Found Love During Lockdown"
"myTamilDate.com Love Story: Suji & Sinthu Lived 15 Minutes Apart For Years And Never Met Until Joining MTD"
"How France Met Canada: A MyTamilDate.com Love Story"
***CLICK HERE to listen to us on Spotify!***
Related Articles: