The Tamil Creator Podcast (Ep.46): Ruban Kanapathippillai - Serial Tech Entrepreneur With Two Exits Collectively Over $1 Billion
Ruban Kanapathippillai is an entrepreneur, angel investor, charter member at TiE Silicon Valley and author of the "Accidental Entrepreneur" series.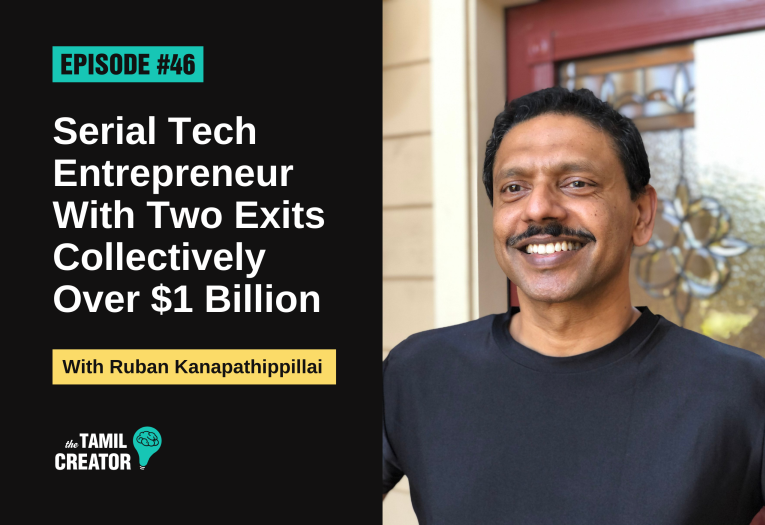 ___
***Are you or someone you know in the global Tamil community doing great things? We'd love to feature them: FILL OUT THIS FORM ***
Network & collaborate with Tamil Changemakers from around the world. Request to join our private LinkedIn community here.
INTERESTED IN MEETING OTHER TAMIL CREATORS, PROFESSIONALS & ENTREPRENEURS FROM AROUND THE WORLD? JOIN THE TAMIL CHANGEMAKERS COMMUNITY HERE & ACCESS OUR MEMBERS ONLY LINKEDIN GROUP, EXCLUSIVE EVENTS & MORE!
___
He joins Ara on this week's episode of #TheTamilCreator to discuss how he's seen The Bay Area change in the many years he's lived there, why he decided to become an angel investor, building a company from 5 founders to 200 employees in about 2 years, having his first company acquired by Intel, how a heart attack was a wake up call to prioritize mental health and much more.
"The Tamil Creator" is a podcast started by me (Ara Ehamparam) to celebrate, spotlight and learn about the brilliance among Tamil creators globally. I want you to feel like you're a fly on the wall eavesdropping on a conversation that is a combination of educational, inspirational and entertaining.
*TAKE THE QUIZ - "What Type of Creator Are You?"**
***JOIN THE LIST - CLICK HERE!***
Timestamps
00:19 - Ara introduces this week's guest, Ruban Kanapathippillai
01:23 - Ruban talks about his upbringing in Sri Lanka, how he met his wife
05:22 - The Bay Area; then vs. now (corporations, real estate, etc.)
11:57 - The impact of digitalization and COVID (on Silicon Valley)
16:09 - How prevalent is the Tamil community like in San Francisco?
21:06 - Having his first company acquired by Intel
29:44 - Owning multiple Google patents and the process behind acquiring one
32:34 - How Intel caught wind of Ruban's company
38:02 - Relatives initially questioning his decision to quit his job before seeing his success
38:34 - What makes Ruban tick; fear of failure
40:08 - Retiring at 35 and being a stay-at-home dad
43:03 - Creating Virident Systems and having it acquired
45:20 - Feeling like he still hadn't proved himself after multiple exits
48:09 - Why Ruban decided to become an angel investor
53:10 - Ruban speaks on some of the companies he has invested in - and what they do
57:35 - Interests outside of work; cricket, mentoring, cooking, family time and ballroom dancing
1:00:35 - Maintaining relationships while balancing other priorities like family and health
1:03:16 - Purchases that Ruban has made but doesn't regret
1:05:28 - What Ruban wants to be remembered for; humility and honesty
1:09:26 - Creator Confessions
1:17:09 - The Wrap Up
**Looking to create your love story? Join the other couples who have dated and got married through myTamilDate.com!***
"myTamilDate Love Story: Jenani & Nav Found Each Other At The Right Time And Right Place In Life"
"myTamilDate.com Love Story: Tharshi & Ravi Found Love During Lockdown"
"myTamilDate.com Love Story: Suji & Sinthu Lived 15 Minutes Apart For Years And Never Met Until Joining MTD"
"How France Met Canada: A MyTamilDate.com Love Story"
***CLICK HERE to listen to us on Spotify!***
Related Articles: