Growing Up In A Single-Parent Household, Shanghavy Karunakaran Overcame Numerous Challenges To Become A Successful Technology Professional and Career Consultant
"As a child I grew up in a single parent household watching my mother work hard to make ends meet. By the age of 8, I had experienced living in a women's shelter, visited food banks, and dealt with many financial obstacles throughout my formative years."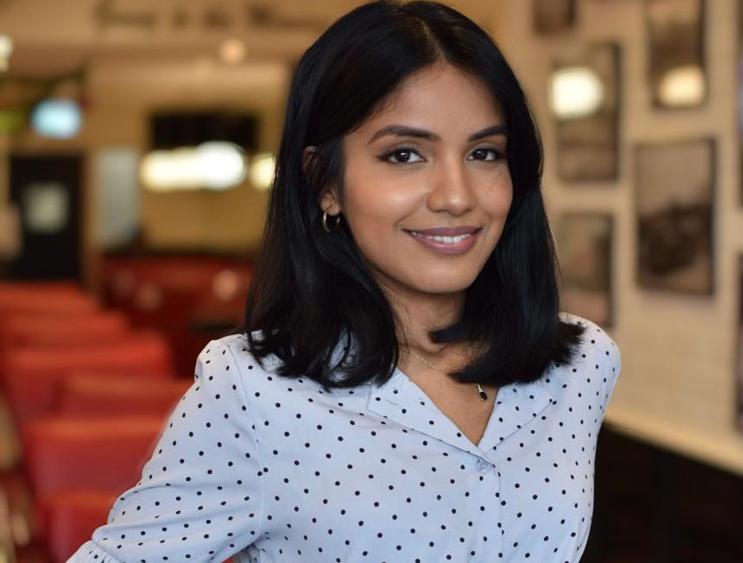 ___
***Are you or someone you know in the global Tamil community doing great things? We'd love to feature them: FILL OUT THIS FORM ***
Network & collaborate with Tamil Changemakers from around the world. Request to join our private LinkedIn community here.
INTERESTED IN MEETING OTHER TAMIL CREATORS, PROFESSIONALS & ENTREPRENEURS FROM AROUND THE WORLD? JOIN THE TAMIL CHANGEMAKERS COMMUNITY HERE & ACCESS OUR MEMBERS ONLY LINKEDIN GROUP, EXCLUSIVE EVENTS & MORE!
___
How did you think your childhood, or your formative teenage years play a part in you developing a passion for community building & women empowerment?
As a child I grew up in a single parent household watching my mother work hard to make ends meet. By the age of 8, I had experienced living in a women's shelter, visited food banks, and dealt with many financial obstacles throughout my formative years. As the eldest child growing up under these circumstances, I naturally felt a strong sense of responsibility to take care of my family and ensure my mother's sacrifices were not in vain. I always told myself that as soon as I grow up, I would help others in need so that no one experiences the same hardships. Now that passion has translated into career coaching, mentoring, empowering women and creating initiatives that contribute to enriching communities.
You've been part of IBM for the last 3 years. I know the tech world, there might be a misconception that IBM isn't as "innovative" as say the Google's, Amazon's, etc of the world. Why are you excited about being part of the IBM team?
As a Senior SAP Consultant, I guide multinational clients through one of the largest business transformations an organization can undergo - SAP implementations. These are multimillion dollar transformations that clients are entrusting us with. Similar to how we entrust the purchasing of a home with a realtor, businesses entrust consultants like us with the purchasing of enterprise resource planning (ERP) solutions in order to modernize, transform, and enhance the efficiency of their operational processes.
What makes IBM unique is that it not only provides clients with transformational software solutions, but it also provides excellence in consulting services to support clients with the adoption of new technology. While the FAANG community is popularly known for innovative technology, IBM is renowned for transformational technology. Recent acquisitions such as Red Hat attest to the strength in IBM's competitive offering and I'm excited to be on the forefront of multinational business transformations.
When you were at Ryerson for both your Bachelor and Master's degrees, it seemed like you were quite involved in various clubs & competitions. What drove this decision to be as involved as you were?
I have always aspired to be impactful in everything I do, and as student I did not want to follow the conventional route of going to school to solely graduate. I wanted to utilize my time as a student attending a massive institution to not only challenge myself academically, but professionally and personally. Getting involved in extracurriculars meant leading meaningful advocacy, give back, and community building activities which became a launch pad that led me to incredible student leadership opportunities. During my undergraduate years I was fortunate to be elected onto the Ted Rogers Students Society (TRSS) Board of Directors where the Board and I represented over 13,000 Ted Rogers School of Management (TRSM) students and distributed a $2.4 million dollar budget across campus. Through my involvement in case competitions alone, I was able to win multiple international opportunities, including: traveling to New York City where I built connections with C-Suite executives from the National Retail Federation, the world's largest retail trade association, traveling to the U.A.E. where I developed a start-up alongside students from the Canadian University of Dubai to address a socioeconomic challenge, and traveling to Bulgaria where I taught web development to international students at the American University of Bulgaria. These experiences were not only rewarding but enabled confidence in my ability to make massive impact, and I'm grateful I dared to take an unconventional path as a student.
In addition to your day job, you also provide consulting services to job seekers looking to take that next step in their careers. How were you able to turn your expertise doing this into a business? Is this something that you would consider doing full-time in the future? What do you love most about this experience?
Through my career coaching services, I help applicants maximize their chances of landing a job by training and guiding them throughout their career journey. It all started when I was in my master's program, during this time I was at rock bottom in my finances because I had quit my part-time job to dedicate my full-time commitment to complete my thesis. Having no income nor savings pushed me to find a full-time role I could jump into after graduation, but it wasn't as easy as I thought. I spent almost a year struggling to land a job, simultaneously experiencing the most professional growth during this time. I spent months at career centers learning how to revise my applications, attended webinars on how to land a job, and set-up several coffee talks via LinkedIn to network with real professionals to gain expertise. By the end of my career hunting journey, I received two competitive full-time offers, one for a coveted rotational program at one of the Big 4 banks in Canada, and the second offer was for my current role today in consulting.
After I landed my role at IBM, a friend reached out for help in applying. I coached and guided her throughout the application process and soon after she landed the exact same role in the exact same company as me. That was when it hit me - if I could help myself and a friend land a competitive role at a competitive firm overcoming job insecurity, I could perhaps help the world with this skill.
What I love the most about career coaching is that it's one of the most fulfilling things I do. As a daughter of a Tamil immigrant who could only qualify to work in manual labour to make ends meet, meant that this achievement not only changed the trajectory of my life, but generations to come. To be able to help others like me also achieve financial stability, gives me the greatest fulfillment. I can definitely see myself doing this full-time in the future, however I prefer having a multi-hyphenate career where I get to pursue a variety of passions, career coaching being a significant one.
Most jobs are found through informal networks via networking. Even though people know this, I find that a lot of people don't invest time building up their network. Why do you think this is? What is your definition of networking and how do you go about doing this?
When we think of investing in ourselves, we think of reading books or going to the gym, but what we fail to recognize is that building your network is one of the greatest ways to invest in yourself. Building your network is like building an infinite pool of resources that can expand your wealth, knowledge, and capacity for impact. For me, social media has been a powerful tool to connect with like-minded individuals and expand my network. Through LinkedIn I was able to build connections that helped me land two competitive offers, through Instagram I've received countless speaking engagements at non-for-profit and educational institutions that have expanded my impact, and through word of mouth I've received countless referrals for my career coaching services. When you invest in yourself and build a network that you can count on, it pays dividends.
Having a great mentor can potentially be a life-changing relationship. Do you have a mentor? If so, what's been their impact? If you don't have a mentor, why not?
I have had several mentors throughout my journey, those within proximity and those past proximity because I believe you can learn from others regardless of their proximity to you. When I think of the most impactful mentor that has left a deep impression on me, I consider Bozoma St John (the former CMO of Netflix) a mentor. Bozoma is an incredible storyteller and shares powerful messages that I have learned so much from. In one of her interviews, she speaks about the importance of showing up as your authentic self to work. Often times as women, we tend to diminish parts of our identities (style, appearance, and even childcare commitments) to assimilate in traditional and historically patriarchal work cultures. In the past I too used to mute parts of myself, wearing neutral makeup, embodying masculinity, and avoiding conflict so I could fit in. Studying Bozoma's journey on how she has been able to not only rise but thrive as a C-Suite executive without compromising her unique qualities, has taught me that your physical presence has no bearing on your intellect or capabilities. I hope to carry her message and empower other women that beauty, femininity, respect, and credibility can mutually exist and that is exactly what I choose to showcase on my social media platforms.
_____________________________
Related Articles:
_____________________________
What's been a failure (or "learning lesson") you've experienced in the last 3-5 years and what did you learn from it?
One of the biggest lessons I have learned in the last 5 years is letting go of the attachment to outcomes. While I was in my master's program, I applied to hundreds of job postings only to receive multiple rejection letters. I measured success as my ability to land a job and not landing a job made me feel like a failure. After receiving notices of rejection, I would make small incremental changes to each application I wrote. I would also set-up numerous coffee chats with processionals and asked for advice on how to upgrade my resume, cover letter, and stand out in my applications. Through this process, each application I wrote became significantly better than my previous one and after a long journey of job hunting, I finally started to receive interviews which later became offer letters. Although I felt like a failure at the time, I didn't acknowledge the improvement I had made from each application. Progress is still progress no matter how minuscular it may be, and by choosing to view success as progress I allow myself the opportunity to be successful every day. In hindsight, this experience taught me the skills I needed to land a job which has now become my gift I help others with.
Where do you see yourself in the next 3 years?
In the next 3 years I see myself building a multimedia platform focused on empowering women, uplifting communities, and work that is meaningful to me. Challenging societal expectations on what it means to be a woman and inspiring women to show up as leaders without compromising their individuality is the message I want to champion in everything I do. By expanding my platform, I want to reach people like me who haven't felt represented in male dominated industries and build a large enough community that uprises the next generation of women who will make a difference in the world.
What role has your family & friends played in the choices that you've made in your life so far?
My family and friends have been my biggest supporters and my mother in particular has played a big role in encouraging me to dream big. During my time as a student, I won a case competition, and the prize was an international experience to teach web development in Bulgaria. As the first in my family to pursue Canadian post secondary education, I used my educational qualifications to work part-time at the Ministry of Education and the City of Toronto to earn an income that could support my family while simultaneously in school. However, after winning that case competition, I knew that if I took up the prize to travel aboard, I would have to stop working for that entire summer and it would be financially tight for my mother. I remember having a conversation with my mother about choosing to stay in Toronto to work for the summer and that there would be many opportunities to travel in the future. Her response surprised me, as she was very stern that I took advantage of this opportunity. She told me that she did not come this far and face the challenges that she's had to face as an immigrant and single parent raising three children, so that I would sacrifice my own prospects and opportunities for the sake of others. Ever since that conversation, I realized I am doing a disservice to myself and my loved ones who have supported me by not choosing to live in greatness. That is why I continue to take up space, take risks and dream big.
What do you do outside of work for fun?
I like going on walks, admiring nature, catching the sun, dancing in my room, reading a good book, trying fun recreational activities, dressing up, styling outfits, creating looks, watching YouTube documentaries, attempting new recipes, trying new food, and playing a good game of Catan with my friends.
What is an insecurity you have?
An insecurity I'm working on is feeling worthy and deserving even when I'm not doing something productive. Hustle culture has made me feel like I need to be constantly commodifying and monetizing my time, and when I'm not it feels like time wasted. I've been shifting my mindset to view rest as a priority because it can be so easy to forget our needs when family, work, and friends require your full-time presence. This means allowing myself to feel safe when saying no to things beyond my capacity and replacing guilt with self-compassion.
In terms of your personal legacy, in a few sentences, describe how you want to be remembered by your family and friends?
I want to be remembered as a changemaker, someone who was intentional, purposeful, impactful, and moved communities forward in a way that is meaningful. I hope to be remembered for uplifting the world and inspiring others towards positive change.
What do you think you would tell 16-year old Shanghavy looking back?
I would tell the 16-year-old me who was the new girl in high school that it's safe to be yourself. You might be afraid of being different, but what makes you different is what makes you special. There is absolutely nothing weird about you and you don't have to hide parts of yourself. It's normal to seek love and acceptance, but the fear of being disliked can make you a dull filtered version of yourself. Instead of worrying about whether people like you, start asking yourself whether you like them. The only thing that matters is impressing yourself. It's going to be uncomfortable coming out of your protective shell but trust me girl - you are the most beautiful when you are unafraid to shine. You'll see.
What is your favourite book(s) you've read recently and why?
My favourite books that I've recently read are:
1) A Radical Awakening by Dr. Shefali Tsabary - this book has been a blueprint for me to deconstruct societal expectations, identify self-suppressing narratives, and embrace my authentic self in every space I occupy. As a homage to self expression, self love, and self awareness, it's one of my favourites.
2) How To Think Like A Monk by Jay Shetty- this book has helped me find a deeper connection to self. Jay Shetty goes deep into the human design, touching upon ego, fear, love, and forgiveness and it's transformed my thoughts on how to live in peace and purpose.
3) Atomic Habits by James Clear- I could go on and on about this book but to keep it short it's changed my perspective on how to approach my goals. I also loved the way it was written, delivering high impact information in digestible chunks.
What is a new belief, behaviour or habit that has most improved your life?
The biggest habit that has improved my life has been incorporating meditation into my daily routine. When I first started meditating, it was quite uncomfortable for me to sit in silence and detach from the thoughts running through my head. I'm so used to being and doing, that stopping and sitting just for 5 minutes was challenging for me. With continuous practice I've been able to sit for 15 minutes every morning and it's improved my self-awareness on which thoughts have my attention and whether that thought is deserving of my energy. Sitting in silence requires you to execute a will greater than your racing thoughts and by practicing stillness I've improved control over my mind.
What is something that you've splurged on recently in the last year that you have zero regret about?
My rice cooker - it's been life changing and I have zero regrets.
How has the Toronto Tamil community impacted you both personally and professionally?
The Toronto Tamil community helped bring me closer to my Tamil heritage. As a diaspora Tamil whose mother banned Tamil movies growing up (because let's be real Tamil movies have intense fight scenes that no child should watch), my first exposure to Tamil culture was through Tamil academy. While my mother worked with students at the Tamil academy, as a young child I would sit and observe this large Tamil environment where everyone looked, spoke, and behaved culturally. Later on in high school I made my first Tamil friends who introduced me to Tamil entertainment and pop culture. But like many of my peers, I struggled to understand the complexities and deep-rooted history of the diasporic Tamil culture. By the time I reached my 20s I wanted to understand the layers to my Tamil identity and connect deeper to my roots. It was around this time I enrolled in PEARL's (People for Equality and Relief in Lanka) reading group - a weekly discussion where a large group of us would read weekly materials, meet in person, and openly discuss a variety of societal, political, and economic topics that make-up the diaspora Tamil community. Through these initiatives that Tamil academies and Tamil organizations like PEARL, CTPA (Canadian Tamil Professionals Association), TCCCA (Tamil Canadian Center for Civic Action) have pushed forward in Toronto, I was able to grow my own personal relationship to my Tamil identity. This also translated to my professional career, as I've been able to comfortably show up, have conversations, and share parts of my Tamil culture in many professional settings.
What is your favourite Tamil food (meal or dessert)?
That's a hard question! But if I had to pick one, I'd say vaazhai ilai saappadu. There's something about eating food wrapped in a banana leaf, it's just 10x better.
What is your favourite Tamil movie?
I'm a Jyothika-stan and love the classic romcoms, but as of now my top favourite Tamil movie would be Mandela. It's left a deep impression on me because it's rare to enjoy a movie with such meaning. It features Yogi Babu, who plays a barber in a small village so you can expect a lot of comedy, but what I wasn't expecting is he turns out to be a changemaker that inspires positive change in his community. The creative interpretation of activists like Nelson Mandela in a Tamil movie, along with a comedic storyline to convey meaningful messages around caste and inequality issues moved me.
What does Tamil culture mean to you?
Tamil culture is a big part of my identity, and it is constantly evolving from generation to generation. Although there are many ways to self-express, I enjoy expressing my culture through language, fashion, and food. When I was pursuing my Masters, I was the only Tamil person in the entire program and on my client projects I am often the only Tamil person in the entire room. I use these situations as an opportunity to share my Tamil culture, whether it's teaching a colleague Tamil words, adorning sarees at western events, or bringing kothuroti to potlucks- it all starts a conversation. As an Eelam Tamil in the diaspora, I also take responsibility in starting conversations and raising awareness on my platform about the Tamil genocide- none of which takes away from the beauty, richness, or pride I have for my culture.
**Looking to create your love story? Join the other couples who have dated and married through myTamilDate.com!***
"myTamilDate Success Story: It Was Love At First Sight For Madhu & Niya"
"myTamilDate Love Story: Jenani & Nav Found Each Other At The Right Time And Right Place In Life"
"myTamilDate.com Love Story: Tharshi & Ravi Found Love During Lockdown"
"myTamilDate.com Love Story: Suji & Sinthu Lived 15 Minutes Apart For Years And Never Met Until Joining MTD"
"How France Met Canada: A MyTamilDate.com Love Story"
***CLICK HERE to listen to us on Spotify!***
Related Articles:
Separated From Family During Sri Lanka's Civil War, Ganesh Thava Overcomes Childhood Adversities To Find Success As Actor, Writer & Director
Singaporean-Born, Canadian-Raised, Decolonial Racial Equity Educator Channdika Thayver Delivers Powerful TEDx Talk On Racial Equity In The Workplace
"Tamil Innovators Spotlight: Theban Ganesh Discusses Building a Web3 Company, Improving Healthcare Through Blockchain, Successful Exits"
"Elite Athlete, Coach, Future Chiropractor & Entrepreneur Abirami Shanmugaratnam Is Making Waves In The Athletic Performance Industry"
"Toronto's OG Food Writer Suresh Doss Is Using His Reach And Voice To Help Engineer A Comeback For Beleaguered Restaurant Industry"
"Ballet And Kung Fu Trained Australian Actress & Writer Rubi Balasingam Is Promoting Tamil Voices In Aussie TV And Film"
"Yathusha Kulenthiran's Marketplace For Environmentally Sustainable Palmyra Products Empowers Female Artisans In Sri Lanka"
"Australian-Tamil Entrepreneur Sujan Selven Is Creating Economic Opportunities For Remote Villages In Northeast Sri Lanka Using Upcycled Devices & Improved Connectivity"
"Crypto Tinhorn & Former Journalist Anand Venkateswaran Talks About Buying A $69M Digital Art Piece, Collecting Stories & Catalyzing Change"
"Tamil Innovators Spotlight: Abarna Raj, CEO of Australian Social Startup Palmera, Is Tackling World Poverty"
"These Tamil Founders Behind Agritech Startup Dunya Habitats Want To Alleviate Food Security Globally"