Naming my son Bharathi brought தமிழ் into the Living Room
Learning Tamil can be a family affair — not being fluent in Tamil shouldn't shy you away from teaching your children. I was excited to hear that the theme for this year's Tamil Heritage Month is "Bharathi, Inside Us." As we celebrate the great poet, this is my personal story of how much influence Bharathi has in my life. By purposefully naming my son Bharathi, I have been on a mission to bring Tamil into our household everyday.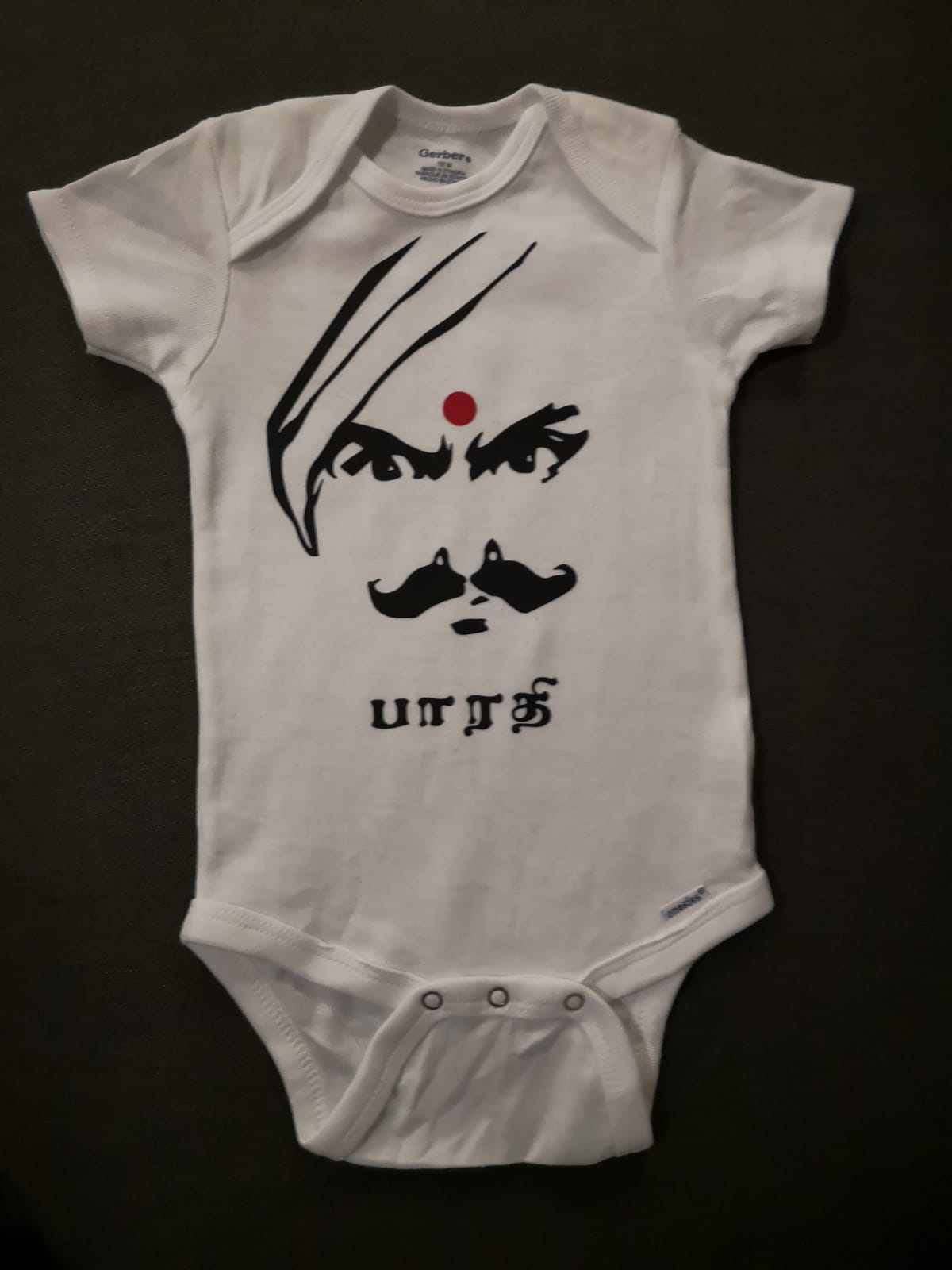 I was recently invited to speak at an event which focused on Tamil literature, with knowledgeable speakers in the subject matter. I was nervous as I was far from being an expert in Tamil literature. I can read and write in Tamil, but not without grammatical errors. However, the organizers asked me to speak from my own perspective, which was what Tamil literature meant to a young Tamil woman who grew up in Canada.
The focal point of my speech revolved around my 22-month old son, Bharathi. Yes, we named him after the revolutionary Tamil poet who fought against societal inequalities and created poetry that was accessible to the masses. My husband and I put a lot of thought into naming our son. Why? A few years ago, I taught Hinduism to 4-6 year olds. I was narrating a story and said, "We must be proud to be Tamil." Immediately, a 5-year old shouted, "No! Don't keep saying that! I am Canadian and I hate coming to Tamil school! My parents force me to come here!" To that child, learning Tamil was frustrating and a form of punishment imposed by his parents. This is because Tamil is treated like an extracurricular activity, that the child is exposed to once a week. Tamil homework is often forced by parents at home without much engagement. As some parents aren't immersed in Tamil themselves, they are uncomfortable in helping their children and leave the responsibility to the teachers.
To me, purpose and passion are essential characteristics of learning a new skill and forming a solid identity. For others to intrude on that space of identity, like how I did to that student by automatically assuming that he would identify as Tamil, is suffocation. By naming my son Bharathi, I am hoping that he will be curious about his roots as a name is usually regarded as the first identity of a person. It's obviously not the only way to engage language into a person's life, but it's a good starting point. We discovered very quickly that this was not only an opportunity for Bharathi, but also for his parents. In order to expose my son to Tamil, we needed to learn it properly as well. My husband and I only had some knowledge of Tamil and Tamil literature, but we weren't discouraged for too long, as there is an abundance of information online. During pregnancy, we would watch videos about Tamil literary figures and have lively discussions. It was the first time we did this together as a couple. For example, based on Bharathiyar's writings on women's rights and our own views of gender equality, we decided the last name of our son would have both of our first names, "Supa-Jeevithan." This is a fundamental lesson we want to teach our son — that gender inequality in any shape or form is unacceptable. As literature ultimately teaches about culture and values of society, we thought we should enshrine it into our everyday lives.
Living in diaspora communities, Tamils think that it's difficult to incorporate Tamil into our everyday lives, but I would disagree. It's just a matter of making small daily changes. For example, as a family ritual, we all try to come together at the end of the day and read a Thirukural together. This is part of our family time before we all head to bed. We play Tamil rhymes and sing together with our son. At the foyer of our house, guests are welcomed with portraits of Tamil literary figures, which often stirs up conversations about Tamil literature. Bharathi is also lucky to have two sets of grandparents who only speak to him in Tamil. One of the main reasons why I was interested in Tamil literature was because my grandmother used to narrate folklores as a bedtime ritual. She had elaborate stories of kings, queens and ordinary people. The oral tradition of storytelling is dying. This is a technique that we can use with our children for bedtime.
Do we do all of this everyday? Definitely not! With demanding careers, house chores and a million other duties, it's impossible for anyone to be on top of all this. But we try to the best of our abilities. We simply started to decrease our screen time when we all get home and focus on being together. Learning Tamil is just a part of spending time together as a family. I hear parents say that they can't teach their kids Tamil because they are not fluent in it. The biggest learning experience for me is that as a parent, we often think we need to be knowledgeable in the subject matter to teach our kids. But learning together is so empowering — your children see you tackle something new and never giving up, irrespective of your age. You are both on this journey together in equal partnership. Try it in the new year!
Photo credits: @designsbyvinu


Connect with Supanki via her TC profile
CLICK HERE to listen to us on Spotify!
CLICK HERE to listen to us on Google Podcasts!
CLICK HERE to listen to us on Apple Podcasts!
***Looking to create your love story? Join the other couples who have dated and got married through myTamilDate.com!***

"How France Met Canada: A MyTamilDate.com Love Story"

"How a Message on myTamilDate.com Led to an Engagement for Lavanya & Vitharan"
Related Articles: