G.U. Pope - A Canadian-born Methodist Missionary & Tamil Scholar
Born in present-day Canada, Pope is attributed for the promotion and recognition of the greatness of the Tamil language, literature and culture.
---
Who was G.U. Pope?
George Uglow (G.U.) Pope was born April 24, 1820 in Bedeque, Prince Edward Island, the smallest province in present-day Canada. The son of English merchants turned missionaries, G.U. Pope spent only a few years of his childhood in Canada before moving with his family to the West Indies [1] and then to England in 1826. He joined the Wesleyan Methodist Missionary Society and begin his journey as a missionary to spread Christianity to South India [2].
Pope began his missionary in 1839 at the age of 19 arriving at Sawyerpuram (சாயர்புரம்) near present day Thoothukudi District (தூத்துக்குடி மாவட்டம்) in Tamil Nadu (தமிழ்நாடு). Pope married his first wife Mary Anderson Carver before going to South India and became ordained in 1845. His wife passed away in Thoothukudi, leaving behind her husband and two daughters.
Pope travelled between South India and England, interacting with well-known missionaries at that time to promote and spread the faith of the Church of England. Pope spent time in Tirunelveli (திருநெல்வேலி), Madras (சென்னை), and Tanjore (தஞ்சாவூர்), founding schools for European children and converting the local population. While in Madras, Pope married Henrietta Page Van Someren and had thirteen children [1]. The locals referred to him as Pope Aiyar (போப் ஐயர்) [3].
Pope left South India in 1881 and decided to settle in Oxford, England where he was appointed Professor of Tamil at the Balliol College at Oxford. There, he taught the Tamil language to future missionaries with the goal of continuing the spread of Christianity in South India [4]. He received an honourary MA in 1886 and a Gold Medal of the Royal Asiatic Society in 1906 for his work [5].
Pope delivered his last sermon on May 26, 1907 and passed away on February 11, 1908 in Oxford at the age of 87. He was buried at St. Sepulchre's Cemetry in Jericho, central Oxford [1].
Calling to South India and Contributions to the Tamil Language
Pope believed that he had a calling to go and spread the Christian faith to the people of South India. He believed that learning the local language was an essential aspect of spreading the faith since this would allow him to experience the culture and truly understand the people.
As a result, he turned into a scholar of the Tamil, Telugu and Sanskrit, becoming deeply immersed in these languages and leading to developing an in-depth understanding and appreciation for them.
---
Date on your own terms! Join the other couples who have dated and married through myTamilDate.com!
---
Pope started studying Tamil as a teenager before beginning his missionary [6]; however, his time in South India is what truly exposed him to the richness of the Tamil language and culture. Pope would become a major contributor to Tamil Christian literature and provide translations for many important Tamil literary works into English [7].
Pope's most well-known work was the translation of the Tirukkural (திருக்குறள்), completed on September 1, 1886 [8]. The Tirukkural is a classic Tamil language text with 1330 couplets (குறள்) providing teachings on virtue (அறம்), purpose (பொருள்), desire (காமம்) and happiness (இன்பம்). Pope translated each couplet of the Tirukkural and provided commentary. He additionally translated the Naladiyar (நாலடியார்) in 1893 [9], a Tamil literary work containing 400 poems (தனிப்பாடல்), each containing four lines, as well as the Thiruvasagam (திருவாசகம்) in 1900 [10], a compilation of 51 compositions written by the 9th century Tamil poet Manikkavasagar (மாணிக்கவாசகர்). From these translations, it was evident that Pope had an admiration for the Tamil language, as found in his preface for the Thiruvasagam quoted below [4] [10]:
"The speech of a dying people may, perhaps, be allowed to die. But this cannot be said of the Tamil race. Heaven forbid! Let the Tamilians cease to be ashamed of their vernacular."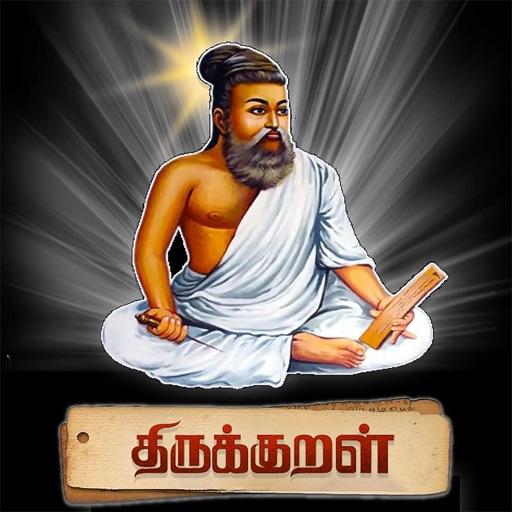 Commemoration in Canada 200 Years Later
Two centuries later, the birthplace of G.U. Pope has become a large hub for the Tamil community, with over 300 000 Tamil Canadians calling Canada their home. To honour and commemorate G.U. Pope for his immense contributions to the promotion of the Tamil language, the Canadian Tamil Congress (CTC) will be erecting a 7-foot monument in his hometown of Bedeque, Prince Edward Island on July 15, 2023. The CTC will also set up a permanent exhibit for Pope at the Bedeque Historical Museum so that his legacy will be remembered.
The CTC has been in discussion with the Government of Prince Edward Island, members of Pope's family and the Bedeque Area Historical Society to make these initiatives possible. The chosen land on which the monument will be erected has been leased by the Government of Prince Edward Island and is where G.U. Pope lived while he was in his hometown.
On July 15, 2023, an opening ceremony will take place with political leaders, academics, professionals, and community leaders from across North America in attendance. All are invited to participate in this historical event.
Anbudan Tamil Concert & Getting Involved
To raise the funds needed, the CTC will be hosting an Musical Concert and is inviting everyone to attend. The following message is from Sivan Ilangko, the President of the CTC:
It is with great pleasure that we invite you to the Anbudan Tamil (அன்புடன் தமிழ்) Concert being held on May 6 at 6 PM EDT at the Thamil Isai Kalaa Manram (தமிழ் இசைக் கலாமன்றம்). For the very first time, Megatuners and Agni will jointly perform to support this historical initiative.
We are very pleased to inform you that all proceeds from the Concert will go towards the construction of the monument for G.U. Pope, an outstanding Tamil scholar at his birthplace in Bedeque, Prince Edward Island in recognition of his immense contributions to the Tamil language. We are also very proud that a Canadian by birth translated the Thirukkural to English in the 19th century.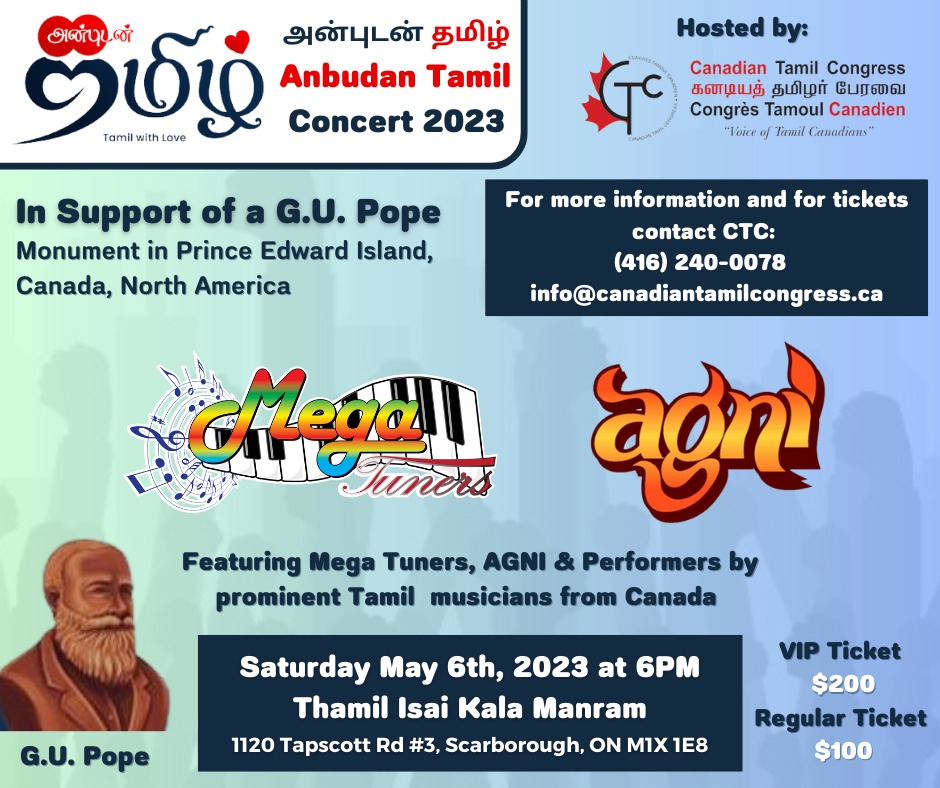 For more information on tickets or to make a donation to this initiative, you are invited to contact info@canadiantamilcongress.ca by email or by phone at 416-240-0078 or 416-707-9104.
The contributions of the CTC is representative of the Tamil Canadian community's gratefulness for the promotion and recognition of the greatness of the Tamil language, literature and culture.
References
| | |
| --- | --- |
| [1] | "George Uglow Pope: St Sepulchre's Cemetery, Oxford," Friends of St Sepulchre's Cemetery, 2012. [Online]. Available: http://www.stsepulchres.org.uk/burials/pope_george.html. [Accessed 12 April 2023]. |
| [2] | S. Muthiah, "Dr G.U. Pope, Sawyerpuram," The Hindu, 26 June 2011. [Online]. Available: https://docs.google.com/document/d/17sXScxcTAYWCjFDq_PFhC-s63HFXQSyoJd80tZGp7r8/edit. [Accessed 12 April 2023]. |
| [3] | E. Thurston, "Castes and tribes of southern India. Volume I-A and B," Government Press, 1909, p. 19. |
| [4] | "Tamil Language & Literature - Reverend G.U. Pope "Student of Tamil"," TamilNation, [Online]. Available: https://tamilnation.org/literature/pope.htm. [Accessed 16 April 2023]. |
| [5] | R. E. Frykenberg, "Pope, George Uglow," [Online]. Available: https://doi.org/10.1093/ref:odnb/35572. [Accessed 16 April 2023]. |
| [6] | C. Lees and M. Wellings, "Pope, William Burt (1822-1903), Wesleyan Methodist minister and theologian," [Online]. Available: https://www.oxforddnb.com/view/10.1093/ref:odnb/9780198614128.001.0001/odnb-9780198614128-e-35574.. [Accessed 14 April 2023]. |
| [7] | J. M. Ockerbloom, "The Online Books Page - Online Books by G.U. Pope," [Online]. Available: https://onlinebooks.library.upenn.edu/webbin/book/lookupname?key=Pope%2C%20G%2E%20U%2E%20%28George%20Uglow%29%2C%201820%2D1908. [Accessed 14 April 2023]. |
| [8] | G. Pope, Thirukkural: English Translation and Commentary by G U Pope, Tinnevelly: The South India Saiva Siddhantha Works Publishing Society, 1886. |
| [9] | G. Pope, The Nāladiyār, or Four hundred quatrains in Tamil. With introduction, translation, and notes critical, philological and explanatory. To which is added a concordance and lexicon with authorities from the oldest Tamil writers, by the Rev. G.U. Pope, Oxford Clarendon press, 1893. |
| [10] | G. Pope, The Tiruvāçagam, or, Sacred utterances of the Tamil poet, saint, and sage Māṇikka-Vāçagar: the Tamil text of the fifty-one poems, with English translation, introductions, and notes: to which is prefixed a summary of the life and legends of the sage:, Oxford: Clarendon Press, 1900. |
| [11] | D. R. Nagaswamy, Interviewee, The Cruel Intentions of G.U. Pope. [Interview]. 7 May 2020. |
| [12] | P. Sharma, "G.U. Pope: A Garbage Evangelist Who Distorted Tamil Works With Nefarious Animus," The Commune, 27 August 2022. [Online]. Available: https://thecommunemag.com/g-u-pope-a-garbage-evangelist-who-distorted-tamil-works-with-nefarious-animus/. [Accessed 16 April 2023]. |
READ NEXT
Mother-Son Duo Prema & Prasanna's South Indian Cookbook 'Made With Prema' Is A Culinary Cultural Love Letter
Tamil Innovators: V.T. Nayani On The Power Of Storytelling
Tamil Innovators: Noel Kirthiraj, CEO Of Maajja, On The Future Of South Asian Music
myTamilDate Success: A Gentle Push Towards Online Dating By Family Brought Céline & Santhous Together