Mother-Son Duo Prema & Prasanna's South Indian Cookbook 'Made With Prema' Is A Culinary Cultural Love Letter
Prema and Prasanna Ranganathan, both legally blind, share their love for South Indian food with their cookbook 'Made With Prema' and donate all proceeds to the Canadian National Institute for the Blind.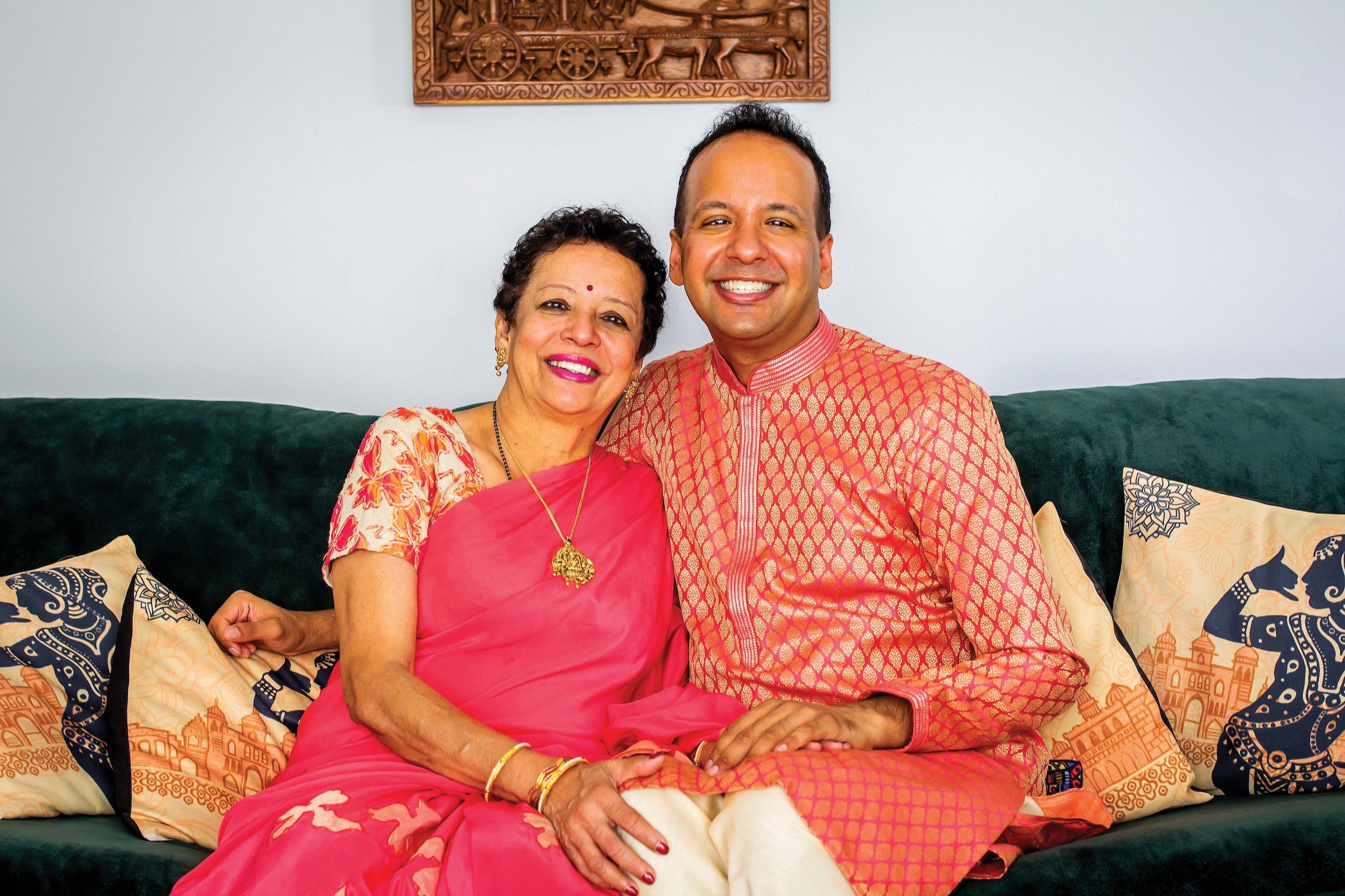 Date on your own terms! Join the other couples who have dated and married through myTamilDate.com!
---
"Made with Prema is a culinary cultural love letter because food is the love letter that my Mom writes to her ancestors, family, and friends every time she steps into the kitchen."
I had the privilege of interviewing Prasanna Ranganathan about his experience co-authoring an incredible cookbook with his mother Prema Ranganathan. The level of love, care, and attention to detail poured into every aspect of this book leaps off the page with gorgeous dishes set on the backdrop of Prema's personal collection of beautiful and vibrant sarees! Read more about this inspiring story below.
BUY YOUR COPY OF 'MADE WITH PREMA' HERE.
Tell us about yourself? Where did you grow up? Was it hard to find good South Indian food where you grew up?
I was born in Ottawa, but immediately after I was born, my parents moved to Saskatchewan. I was raised there and my parents still live in Saskatoon. I am now based in Toronto. There were no South Indian restaurants in Regina and Saskatoon when I was growing up. Mom made such incredible South Indian food at home and taught South Indian cooking classes in the community, catered charitable fundraisers, and ran an Indian catering business selling samosas, dried snacks, chutneys and sweets for many years.
Growing up, what role did food and cooking have on your family?
Growing up, food and cooking were so important in our family. Food was an expression of love and care from my mom to us. Food told the story of my mom's journey to Canada and the stories of her family and ancestors, and their impact on her. Food was a history lesson in our family. Food told the story of culinary adaptation as she made classic Indian recipes using local ingredients. Food and cooking were the ultimate gift because they allowed us to appreciate what we have and share what we love. Food allowed us to create community and connect to one another in the most impactful ways.
---
Interested In Meeting Other Tamil Creators, Professionals & Entrepreneurs From Around The World? Create Your TC Profile And Join Our TamilChangemakers Community Here.
---
What inspired the idea for the cookbook?
My mom's dream was to always write a cookbook. She has taught cooking classes for nearly 50 years, ran a food business, and catered charitable fundraisers. She is also called Annapoorni (the Goddess of Food) by her friends and fellow community members, as she is always cooking for other people and sharing delicious food. Her students, friends and family have asked her to write down her recipes for the past 20 years and at the beginning of the pandemic in March 2020, with everyone at home, she began the work of bringing this book to life. And I am so glad that she did. It is a treasure!
How did you settle on the title?
My mom's name is Prema (means love) and she lives up to her name, so we wanted a title that fully represented the meaning of her name. My friend Komal Minhas suggested the concept of Made with Prema to indicate that it was made with love. As soon as she suggested it, we knew we had found the perfect title.
Tell us a little about the cookbook. What can people expect? Will a novice like myself be successful?
The cookbook has 300+ recipes rooted in South Indian cuisine with many global dimensions. The recipes are organized into various chapters including: soups, salads, appetizers, dhal, sambar, rasam, kulambu, rice, poriyals, tiffin items, North Indian dishes, pickles, chutneys, desserts, global recipes, spice powders and spice mixes. There are sample meal plans and detailed appendices on how to make the spice powders from scratch, should you choose to do so. The recipes span the full spectrum of culinary complexity from simple no-cook, easy to make chutneys and salads to complex multi-stage recipes, including making idli and dosa dough from scratch. The book provides an entry point into South Indian cuisine for people at any skill level and allows you to curate meals and experiences based on your comfort and your interest. This book will be a beautiful addition to anyone's culinary library and the recipes included will add such joy and deliciousness to your meals.
How has the experience been working with your mother?
Working with my mom on the cookbook has been a dream come true. My mom is my hero, and she is the heart and soul of our family and our community. Watching her commit these recipes to paper, organize them into chapters, and go through each recipe with such care, from the perspective of a reader embarking on South Indian cuisine for the first time, is a testament to her expertise and to her high care. She taught me to never give up and to always give back and this book is a beautiful testament to her life and these lessons. I am so proud of my mom and so honoured to have worked with her on this book.
How was the process of pitching the book and finding a publisher? Were you worried people wouldn't understand your vision with such a niche product?
This was a concern – we knew we had an amazing book but were not sure how this book would reach the world. Not having prior experience in publishing, we were doing research into self-publishing, contacting publishers, and putting together a pitch/proposal after we finished the manuscript.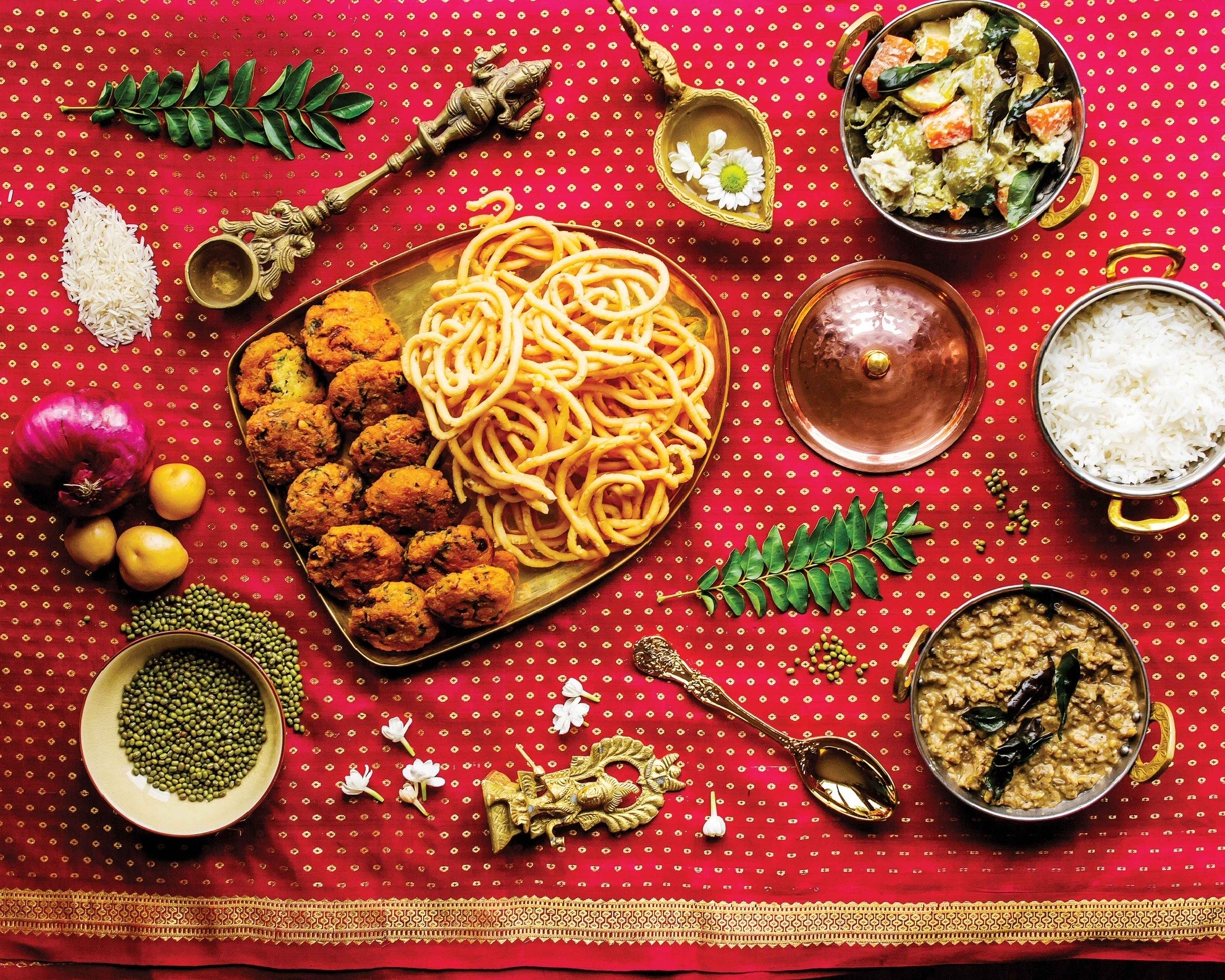 How did famous Canadian poet Rupi Kaur get involved?
When we finished the manuscript and the proposal I reached out to Rakhi Mutta, Rupi Kaur's manager and business partner to get her advice on how to approach different publishers. She read our proposal and immediately said that she and Rupi wanted to publish the book, under their special project Likhari Authors, which they built to support and amplify the voices and expertise of South Asian women like my mom who have so much incredible knowledge, skill and talent to share with the world but who often don't get opportunities to share their brilliance through traditional publishing platforms. It was a dream come true. Rupi and Rakhi saw my mom's expertise and wanted to celebrate it. Mom and I will forever be grateful for their unconditional support. They poured their hearts into this book alongside us, mobilized their incredible team, and supported us at every phase from photography to editing to layout to printing and marketing. We are forever grateful to Rupi Kaur, Rakhi Mutta, Baljit Singh (photographer), Jess Huang, Angella Fajardo, Shannon Frost, Prabh Kaur, and Mahsa Sajadi.
All the proceeds from your book go to support CNIB (Canadian National Institute for the Blind). Tell us why this cause is so important to you and the importance of giving back?
Mom and I are both legally blind and the CNIB has provided us with such vital services from access to the white cane, to transit services, and technology/accessibility services and supports. Their work is vital to people who are blind and experiencing vision loss. Mom said early on that we have been blessed with so much in our lives, it is time for us to give back, so it was very important that all our profits from the book go to the CNIB.
How has vision loss impacted your life?
I have been legally blind since 2005, as I have experienced previous retinal detachment and macular degeneration. I now use a white cane to navigate surfaces while walking and rely on technology (including screen readers etc.). Being legally blind is my reality.
What advice can you share with others who may be experiencing vision loss about leading a successful and fulfilling life?
The advice that I share when asked is that disability is not inability. As someone who is legally blind and experiencing progressive vision loss, there is nothing wrong with me. There is no flaw or defect in me. My disability arises in my interaction with the world around me that is designed for people who see. So many times, stories are told about people with disabilities which seek to diminish us or make us feel less than and my hope is that we can all work together to remove accessibility barriers and create a truly inclusive world. Because the responsibility around accessibility is a shared one and everyone must do their part to build an accessible and inclusive world. It cannot be left to people with disabilities alone to outline issues and devise solutions. It is on all of us.
What were some of the challenges you faced when creating the cookbook with both you and your mother's vision loss? How did you overcome them? What supports did you lean on?
Given that mom does not type with her vision loss, she would speak to her friend Chamundi Eswari Selvaraj (our incredible contributor on this book) on the phone every night and dictate the recipes for Chamundi to type. I then took the drafts they prepared and began to put together the book and worked closely with mom to write the connective pieces and build out the framework of the book. Mom often recorded voice notes with recipes and I would speak with her on the phone for hours on end to go through the edits with her. I would leverage my screen reader and use screen magnifiers to help with the typing and editing of the book. We are profoundly grateful to Chamundi Eswari Selvaraj for her support on this book. We could not have done it without her. I also worked closely with editor Shannon Frost to go through the book line by line for clarity and accuracy.
What comes next for you on this journey? Where do you hope the success of your book can take you?
My mom is constantly experimenting in the kitchen, coming up with new recipes that delight everyone who comes for dinner. She will continue teaching cooking classes and is volunteering with the local food bank in Saskatoon to provide South Indian cooking lessons as a part of their community outreach programs.
As for me, I am hoping that I can pursue my love of writing by writing more articles or a collection of short stories and essays on my work in diversity and inclusion.
Lastly, what is your favourite go-to recipe from the book?
Ooooooooooh. This is such a hard question. If I had to choose, I would choose the Rasam chapter starting at page 72. Rasam is my favourite food in the whole wide world – it is a soup like dish that you mix with rice and have with vegetable poriyals. It makes you feel better when you are sick. It warms you up when it's cold outside. And it is packed with so much flavour, it will make your tastebuds dance with joy. Move over chicken soup, rasam is here to take the crown for the ultimate comfort food!
Made With Prema is the perfect collection of recipes and expression of love for you to experience with your family and friends. Join celebs like Mindy Kaling and order your copy now!
Photo Credit: All of the photos were taken by Baljit Singh.
BUY YOUR COPY OF 'MADE WITH PREMA' HERE.
---
READ NEXT:
Tamil Innovators: V.T. Nayani On The Power Of Storytelling
Tamil Innovators: Noel Kirthiraj, CEO Of Maajja, On The Future Of South Asian Music
myTamilDate Success: A Gentle Push Towards Online Dating By Family Brought Céline & Santhous Together