Meet Vijay Sappani: A Pharma Professional Who Created a Multibillion-Dollar Cannabis Business
Vijay Sappani is the founder of one of Canada's largest cannabis producers, TerrAscend. At present, TerrAscend has over a billion-dollars in market capital and is listed on the Canadian Securities Exchange.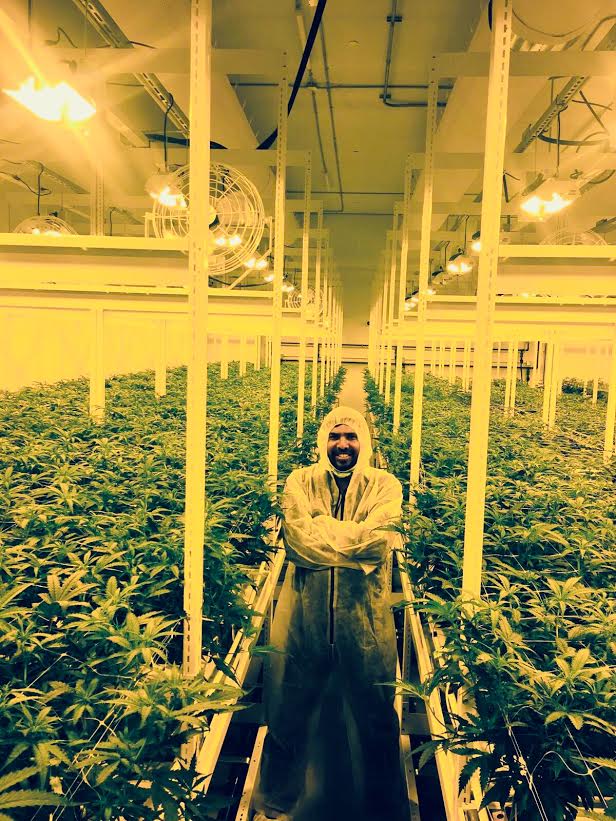 Sappani recently spoke with TC to discuss how he got involved in the cannabis industry, the barriers and backlash associated with his profession, and advice he has to offer to aspiring Tamil entrepreneurs.
1. Tell us a bit about yourself and the origin story behind TerrAscend.
I came to Canada in 1999 as an international student to do a post-grad in marketing. After graduation, like most immigrants, I worked in restaurants, gas stations and factories until I landed my first job in the pharma industry with Biovail. I did many roles there in sales and corporate affairs until the company was acquired in 2010. I then had the opportunity to work for Ontario's Minister of Health before switching gears to the generic pharma industry.
In 2014 I came across the Health Canada medical cannabis program. It was in its early stages but having been in the pharma industry for most of my life, I was able to understand its complexities and develop an interest in its growth. I shared this interest with a friend of mine who was a pharma entrepreneur and a friend of his who was in the finance sector. We wanted to service people with access to quality medical cannabis and accessories, which ultimately led to the birth of Solace Health.
Shortly after, we created TerrAscend as the parent company and went public in May of 2017. We subsequently received our license in July of that year. In December, Canopy Growth and US based JW Asset Management invested over $52-milion in the company, which led to shares going up almost four times overnight.
Today, TerrAscend has over a billion-dollars in market capital and has acquired companies in the US and expanded itself. It is currently listed on the Canadian Stock Exchange under the ticker symbol TER. We have the goal of being among the top five cannabis companies in the world.
2. What would you say was the biggest challenge in getting TerrAscend off the ground?
Oh, there were many! We dealt with road bumps spanning from financial issues to a slow application process with Health Canada. We paid almost $60,000 in rent per month for two years for our facility without knowing if and when we might get a license. There was also a total lack of information and support on the government side of things.
There were moments when we were on the verge of giving up. All of us partners even discussed closing down if we didn't get a security clearance by a certain date. It was nerve wracking for all of us. Luckily, it all ended up working out.
3. Have you received any backlash for pursuing work in the cannabis industry?
In terms of backlash, I think my family and friends have seen my career and understand that my work in the medical cannabis industry has been an extension of the work I've done in the pharma business. In the last five years, people have even called me to ask how they can invest in the cannabis sector.
4. What are some of your future goals?
I stepped down from the management of TerrAscend in June 2018. While the company has grown a lot since then I continue to be a major shareholder and advisor. My reason for leaving was to simply do other things.
I started a venture capital company, Ela Capital (named after my daughter Ela) that focuses on investing in the cannabis and health care space. So far, we have completed over 10 deals and are already seeing exponential growth. We invest and provide advisory services to companies and help them go public where necessary.
While I have learned many things in my journey with TerrAscend, I have come to realize that the most important asset in a company comes down to the people. Hiring top talent and seeing them implement a vision is an amazing thing. I have co-founded three other companies in partnership with smart people in the cannabis eco-system focused on devices (Qunuba Sciences), brands (High 12 Brands) and global supply chain (Materia Ventures). All of them have attracted A+ investors from capital markets, and the goal is to build each one of them into billion-dollar companies. While I still work 60 to 70 hours a week, I really do enjoy every part of what I do.
On the philanthropy side, my wife and I started a family foundation and invested a few millions into it. We focus on supporting projects that help young girls and disabled children in Canada, India and Sri Lanka. We hope we can devote more time to this endeavour in the future.
5. Any advice to people in the Tamil community interested in entrepreneurship?
I went from being an accidental entrepreneur to an addicted entrepreneur. I never thought I would be an entrepreneur, let alone the founder of a billion-dollar company. The fear of the unknown and leaving the comfort of a salaried job were definitely barriers I had to overcome. Luckily, I had a great support system of people who encouraged me and helped unlock a lot of opportunities.
My advice would be to volunteer, volunteer and volunteer. If anyone is interested in becoming an entrepreneur, they should find an area of interest and volunteer their time to a cause. It will make them into a better person and help develop their skills and networks. Be hungry, find mentors, and know it's okay to fail. If you push yourself, you will get rewarded.
Interested in learning more about TerrAscend? Check it out here!