Shaun Jayachandran Is Using The Power of Basketball To Empower Young Women In India
Standing at 6'4, with a shaved head, Shaun is often mistaken for a lot of things other than who he actually is: non-profit CEO, basketball coach and player, teacher, and a person of Tamil and Canadian background.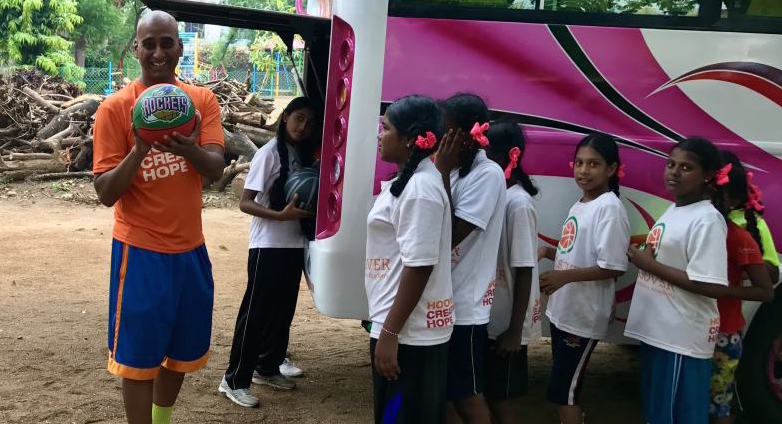 Shaun Jayachandran is a former basketball player, teacher, administrator, coach, and now, CEO at the international non-profit Crossover Basketball and Scholars Academy India, which brings student athletes from the U.S. to a program in India aimed at encouraging students to stay in school through teaching pillars of growth through athleticism and basketball.
***Are you or someone you know in the global Tamil community doing great things? We'd love to feature them: FILL OUT THIS FORM ***
What made you decide to start the Crossover Basketball and Scholars Academy?
Crossover came about from multiple experiences coming together and connecting for me in 2010. So it's important to gather the context somewhat. My mom was born and raised in an orphanage in Chennai/Madras and earned a scholarship to attend high school and university before eventually immigrating to Canada. Her story is so beyond a movie script that I had a hard time connecting with what she overcame as I was growing up. It's still nearly unbelievable except that more than a few nuns have gone on about my mom's journey.
And then when we moved to the US while I was in high school, I had the amazing opportunity to play for Coach Bill Sweek. Coach Sweek isn't a household name right now but he won THREE NCAA championships with Kareem Abdul-Jabbar at UCLA and played under the ultimate GOAT John Wooden. I'm talking full-on Pyramid of Success from the starting point - how to put on your socks and tie your shoes without getting blisters.
I had been working in independent (private) school education for a few years when I started Crossover. It occurred to me as I was completing my Masters that there had to be an easier way to impact change that didn't involve the fakeness of an instantaneous outcome and also didn't ask a child to be so singularly focused on academics 24/7 (my mom has stories about stealing candles from the Church to study at night in the hostel). So I created the idea of Crossover, to help students have a long-term crossover from a predictable non-opportunity situation into ones where we could teach gender equity and critical thinking through play and share how it applies beyond the lines of the court and into their communities, classrooms, and families.
Where do you see Crossover in the next 5 years?
There are so many timelines that this could follow. My ideal would be that we are now able to start extending the reach of Crossover similar to a TEDx type approach (shameleslly dropping my first TEDx here), having Hoops Creating Hope groups existing in dozens to hundreds of communities led by local educators and coaches who are all connected by Crossover. This approach allows us to scale impact in magnitude beyond our 500 student two-week programs and into having programming throughout the year and the development of various levels of opportunities to play, experience growth, and create new personal networks.
You grew up in Canada, moved to the US and then focused on doing charity work in India. That's quite an experience and journey. What are the differences you've noticed in living in Canada and the US, as a Tamil, in cities that seemed like they didn't have a lot of diversity (at least at the time that you lived there)?
Being born and raised in Calgary, Alberta, before it's diversity explosion in the 2000s, is a masterclass in navigating code-switching. Especially since we lived in an area of the city (SE) that was not known for being very diverse. And you're right, I definitely do float between being Canadian, being an American immigrant (though very few think of me that way… probably the term "ex-pat"), and then basically being a quasi-foreigner in India.
For a long long time, it didn't seem like I knew many Tamils. We lived in the wrong part of the city, attended Catholic schools, and I was obsessed with playing and reading books about sports. None of those fit with the stereotypes that people had of brown kids back in the day (and even some hold on to today). So it wasn't even just being Tamil, we attended Malayalee events which I sat through while reading sports autobiographies and not understanding Malayalam, but it just was rare in day to day to be around lots of Brown people.
When we moved to the Northern Virginia/Washington, DC area, it was such a different experience. In Canada, the Indo-Canadian community spans the socioeconomic spectrum. You find families who are blue-collar like mine, or whose family members are working in administrative roles or an aunty working at the Bay and even kids not academically excelling. The US - the immigration selection process has created a Brown community of all extremely high achievers. Doctors, engineers, professors, computer programmers/scientists, and professors. The dynamic shift was huge in that there was always a self-segregation occurring at some level and also an inherent competition between families.
We've definitely started to see a shift in the last ten years of how generationally it's becoming more diverse but also how to best share and express our culture. There's less of a need to code-swith/culturally segregate who we share with which groups and more acceptance of people sharing their whole self. That joint identity is a powerful movement going forward and if the people you're around aren't accepting of it - there's literally tens of thousands of people waiting to be cool with you for all of you. We're not locked into our small circles anymore.
As a fellow avid basketball fan, I would love to see a South Asian (specifically Tamil) play in either the NBA or WNBA. Why do you think this hasn't happened yet and do you think it's something that could happen in the future?
At this this - it's something that so many feel should have happened but the approach has consistently been so singularly focused on short-term that it's failed to create a breadth of talent. I always look at it like this - Steph Curry and LeBron James… born in the same hospital yet into two vastly different socioeconomic and family realities. One, the son of an NBA player with unlimited reach of means, trainers, court time, access, and insight into the game behind the game. He was not highly rated or sought until after he attended Davidson and grew into his body and game. The other moved quite often, mom did her best, eventually moved in and lived with his football coach and grew. He was the consensus next one mid-way through high school and has exceeded every hype placed on him. I share this in that there is no one pathway and yet we consistently see people trying to jam athletes from South Asia into being discovered and hailed by the middle of high school.
The current system of trying to find the top 20 kids in the subcontinent and not having a much larger infrastructure denies the "late bloomers" - the Curry's, the Dame Lillards, the Langston Galloway's, the Russell Westbrook's, the Gordon Hayward's of continuing to play let alone have a chance at developing into a pro.
We've had some great women college players as well, recently Shilpa Tummala and Shayna Mehta (half-Tamil) who played at Harvard and Brown, respectively. They both can flat out go and Shayna destroyed the Ivy League record books in a bunch of categories.
It is something that is becoming much more a reality rather than a sideshow. There's a great young man out of Texas named Tweets by RyanAgarwa1 " target="_blank" rel="noopener">Ryan Agarwal in the HS graduating class of 2022. He has offers from Harvard, Howard, Princeton, Stanford, and more - the kid has a ton of the tools and is a great person. There's going to be more like him popping up and we just need to show vocal positive support for them rather than let the old-school uncles and aunties get in their head.
Even though it hasn't happened on the player level yet, there seems to be in-roads from a coaching, TV personality, etc. point of few (ie. Sonia Raman who just signed as an assistant coach on the Grizzlies). Typically, this kind of career path isn't encouraged by parents. Do you think this is changing and if so, why?
I'm not sure I would go so far as to say it's encouraged but more less discouraged. As we see the generational evolution into second and third generation South Asians in North America, we are finding more of our footing in terms of starting to see people in sports, in movies, on tv, and in print. And the more each new Brown kid sees someone already doing it - then it becomes completely possible. Representation Matters in creating dreams. So we are seeing families and parents able to turn on ESPN/ABC and see Kevin Negandhi, read Kavitha Davidson`, podcast with Shireen Ahmed, catch Sonia Raman and Roy Rana on the sidelines of NBA games, Aditya Malhotra and Manny Dosanjh others on the bench at college games, Jayshen Saigal playing at Lehigh, and Harsimran Kaur signing a letter of intent and Ryan Agrawall being recruited by the likes of Harvard, Howard, Princeton, Baylor, and Stanford among others.
And it's all now being broadcast - the social media revolution is being broadcast and we can instantly share each and every story with our families to chip away at mindset changes.
Beyond Crossover, do you see any other opportunities (whether it's non-profit or profit) to marry your love of basketball with giving back?
2020 has accelerated so many opportunities for social impact and more and more NBA teams have added front-office diversity roles. From the Players Associations in both the WNBA and NBA, organizations such as PeacePlayers, and conferences led by Beyond Sport. The biggest stressor for me is to jump in as an opportunity to learn vs the ego that just because you've played the game or coached a youth team that the learning curve is over. I can't share how many articles, lectures, webinars, and books I read to constantly look at ways to further impact.
I've seen you be involved in some interesting discussions with some notable personalities including Baron Davis most recently. How did you manage to make connections like that or participate in these kinds of opportunities? What is something manageable and tangible that you would advise to a young person today that they could do to increase the size and improve the quality of their network?
It's a bit wild to think a kid from Calgary is being invited into conversations with WNBA and NBA players, execs from professional teams, and being invited to the NBA's first games in India. So many connections have honestly come from being a good person to others. It honestly stems from a combination of two tenets.
1 - Ask to speak with people (in a straight forward non-entitled manner that shows you've researched them… so why do you want to speak with them) and with a non-sense of snarkyness if you don't instantly hear back. Our life exists in our own vacuum so don't get into a huff if someone you don't know and who doesn't know you does not reply. I do my best to reply to everyone that reaches out and yet sometimes I'm absolutely behind by a week or three if I don't immediately recognize the name.
2 - Be genuinely helpful and kind. You really can't envision how small worlds are that intersect. And who you are and how you treat others is your absolute calling card. None of us are perfect or even close, but our intentions can be genuine and communicated. Do you check in on your people? Do you read a social post and think "that sucks" or "<3" or are you the person who shoots a personal note off the main page via text or DM and asks "hey, how are you? Things ok? Wanted to see if you wanted to catch up." Real recognizes real and that will always be the case.
Do you have any mentors that have helped you in the progression of your career? Do you think everybody needs mentors? How does somebody find a mentor?
I've been truly blessed with some amazing mentors. And while I don't think everybody needs one I do think they add immense value to your growth. Too often we try and think of mentors as life long yoda-types instead of those needed to help us to through our next phase of growth. Some might be a few months and others years to a lifetime. I've mentioned Coach Sweek and he even mentored me in writing my International Baccalaureate extended essay in high school (comparing the 1972 USSR-Canada hockey series as a microcosm of the socioeconomic systems each country employed). Chuck Driesell, teammates with Len Bias and son of Hall of Fame coach Lefty Driesell, was my first true coaching mentor who both appreciated my unique chess-like approach to hoops analysis. Cliff Goodband at Belmont Hill School who took me under his wing as young educator who sat on the same line of being vocal pro-ethical approach to our students and demanding the best of them (think grizzled Dead Poets Society).
With globalization and connectivity at an all-time high, it has become easier to reach people, to find those who are willing to mentor, to share their time, and fit into a perspective and understand your goals than ever before. Really spend some time thinking about the type of person you aspire to become over the next few months and next few eyars and start from there. Who fits the person mold from character and purpose rather than simply title and capital. It's important to think about what inspires you and create conversations on social platforms, connect on linkedin, and engage.
---
What do you think you would tell 16-year Shaun looking back?
Don't be afraid to lean in to your passions. Being smart is amplified a million times when you are excited to apply it into something that excites your mind so go find that path or create your own. Every setback is just a detour to a new part of the journey.
How would you describe your dream life?
The only thing missing would be for Crossover to be fully funded. This would allow me to focus my days fully towards the operations of Hoops Creating Hope, being able to have more flexibility in going back and forth, and continuing to find ways to scale the program to impact tens of thousands more families.
What is your favourite book(s) you've read recently and why?
"Loving Sports When They Don't Love You Back: Dilemmas of the Modern Fan" by Jessica Luther and Kavitha Davidson
"The Spencer Haywood Rule: Battles, Basketball, and the Making of an American Iconoclast" by Marc Spears and Gary Washburn
"A Most Beautiful Thing" by Arshay Cooper
"Here We Are: American Dreams, American Nightmares" by Aarti Shahani
What is a new belief, behaviour or habit that has most improved your life?
Running. Started with the Couch to 5k app back in February right before the COVID shutdowns and progressed into the Nike Run Club app - such a phenomenal way to start each day in clearing my head. I prioritized it enough that I started to wake up earlier, had coffee already prepped, and just get in a quick 20-30 minute guided run with Tweets by bennettrun " target="_blank" rel="noopener">Coach Bennett that really helps my mind settle before the intensity of each day hits. Love the Cheer A Friend portion of the app too so feel free to add me for anyone reading.
If you were given $1 billion, how would you allocate the money to change the world?
There are some amazing programs that again are starting to work on generational change and that's where that investment would be focused - on expanding the work to empowering families with a living wage incentive for as long as their children are progressing towards a forward academic and emotionally solid pathway and insisting on addressing the hidden inherent trauma that is revealed as people shift from survival mode into finding growth and success that this would be a huge component. We need to do both - be teaching others how to fish but also providing the boat, the fishing rod, and food while they're learning.
---
How would you describe the Tamil community in the US (since you spent more of your adult life there vs Canada)?
This is a tricky question. In connecting with individuals there have been amazing people from MR Rangaswami (founder of Indiaspora), to Anu Chitrapu (SVP at Citibank), to Varun Ram (played hoops at Maryland). However, trying to find a way to connect into the establishments, especially with a nonprofit like Crossover vs a more traditional startup/capital raising industry has not been something I have really cracked.
What is your favourite Tamil food (meal or dessert)?
Is there really anything that feels more like home thatn Masala Dosai and Filter Coffee?
Also prawn curry and payasam.
What is your favourite Tamil movie?
"A Peck on the Cheek" - how can you not be a fan of Madhavan when he spent time studying abroad in Alberta.
What does Tamil culture mean to you?
I love that Tamil culture is a term that is seeing a beautiful revolution. It's something that for so long wasn't one that was seen or spoke about in the mainstream and yet now you can see it coming together in the diaspora - not worried about what side of the Palk Strait families originated from and recognizing the thousands of years history beyond. There's a strength in Tamil culture that defines us, the inherent pushback against colourism, the beauty of our resilience and strength, a history that weaves through so many timelines and even the history of a disciple of Jesus being buried in Madras and thus 2,000+ years to Cricket in South Asia at Chepauk Stadium.
There's some amazing stories coming out that are going beyond the highlighting of someone being Brown but also Tamil. And it's across industries - from VP-elect Kamala Harris and her family, Utkarsh Ambudkar and Mindy Kaling, Krish and Thiru Vignarajah, Vijay Iyer, Sri Srinivasan, Indra Nooyi, Padma Lakshmi, and so many more.
Connect with Shaun via his TC profile
***Looking to create your love story? Join the other couples who have dated and got married through myTamilDate.com!***

"How France Met Canada: A MyTamilDate.com Love Story"

"How a Message on myTamilDate.com Led to an Engagement for Lavanya & Vitharan"
Related Articles: