Have Tamil Women Always Been Portrayed as Submissive Partners with No Sexual Desires? An Analysis of Ancient Tamil Literature
Poet Andal defied societal norms: she never got married and did not shy away from talking about her sexuality. All things considered taboo today.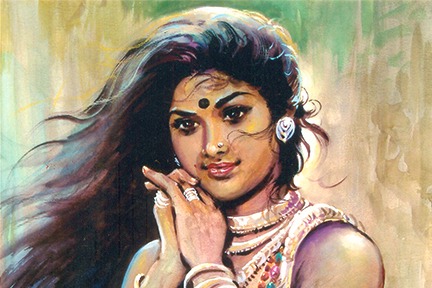 Date on your own terms! Join the other couples who have dated and married through myTamilDate.com. Join Here.
---
Sensuality and sexual union continue to be taboo topics for the Tamil community, especially in the context of women. Glorifying gender stereotypes of Tamil men being aggressive and sexually adventurous and Tamil women as passive, motherly and sexually passive continue to exist to this day.
A classic example of this in popular cinema is that of Neelambari (brilliantly played by Ramya Krishnan) in Padayappa. Neelambari was punished and vilified for being confident and open about her desires, while the hero adored and married the passive and sexually modest Vasundara. Has Tamil society always operated this way? In other words, have Tamil women always been portrayed as submissive partners with no sexual desires, surrendering to the fantasies of their husbands?
An analysis of ancient Tamil literature referred to as Sangam literature (roughly between 300 BCE to 300 CE) has an abundance of information about love, sex and society in ancient Tamil society.
Firstly, Sangam literature celebrates love and union. There is a lot of literature about Tamil women longing for their partners and lovers secretly meeting in the night. There are some references to Tamil women explicitly expressing their desire for love-making in poems. For example, Kurunthokai 269 states:
My dad, having recovered from wounds

caused while hunting ferocious sharks,

has gone back to the blue sea.

My mom, in order to barter salt for rice,

has gone to the salt pans.

I think it would be nice

to have a friend, who won't mind

the long distance and tiring walk,

to go and tell the man from cool long shores,

that if he wants to see me, this is the time to come!

– Translated by Old Tamil Poetry (https://oldtamilpoetry.com/2016/10/27/kurunthokai-269/)
In this poem, the heroine is inviting the hero over to her house when the rest of the family is not home –yes, this is a 2,000-year-old poem!
Moreover, Tamil women were not confined to their homes and had some autonomy to be in public spaces (not to the extent we expect today, but it was not frowned upon in ancient Tamil society). For example, in the following poem, a friend tells the heroine before the rain:
Is your crop of millet

parching?

Look, the raincloud sits

on the sapphire hills of

your man

like fat on a cut of

meat.

– Kapilar, Ainkurunuru (Translated by AK Ramanujan, From Poems of Love and War)
In this poem, the friend makes fun of the heroine yearning to meet her lover and points to the 'sapphire hills of [her] man' — derived from the sapphire Kurinji flowers that adorn the hills. It is also interesting to note that the role of the "thozhi" (female friend) is unique in Sangam poems as it's usually the friend that is the messenger of the heroine: the friend often tells the heroine's mother about the love affair, advises the hero about the longing of the heroine, and is a trusted person in the inner circle of the heroine. In fact, the friend is regarded as an independent person who freely speaks about the heroine's needs and desires. This may have been a stylistic element used in Sangam poetry to protect the heroine's image of being the "ideal Tamil woman" who is not overtly explicit about her sexual desires and has limited agency to directly express her desires to the male figures in her life (e.g. father, brother, husband).
The image of the "ideal Tamil woman" is essential because although eloping and love-making were acceptable in ancient Tamil society, women were still expected to be sexually exclusive. The same did not apply to Tamil men, as there are ample references of men visiting the homes of sex workers and having extra-marital affairs. Although controversial, I believe that with whatever information we have to date, Tamil society has largely been patriarchal. The obsession with "chastity" being the highest virtue of Tamil women is existent even in the earliest Tamil literature we have today, the Tholkappiyam.
---
Looking to create your love story? Join the other couples who have dated and married through myTamilDate.com!
---
To this day, the patriarchal Tamil society continues to erase any erotic or sensual literature written by Tamil women. The perfect example of this is the Tamil philosopher, saint and poet Andal who was part of the religious "bhakti" movement. The bhakti movement focused on the deep passionate love and devotion towards Gods. She was the only female saint out of twelve saints who were devoted to the God Vishnu. Andal defied societal norms: she never got married and did not shy away from talking about her body and sexuality. In fact, in Andal's poetry, she was an equal partner to her lover (God Vishnu) without shying away from the notions of sexual abstinence that are expected from women. For example, she wrote the following lines in her poetry, Nachiyar Thirumozhi:
I dissolve in anguish awaiting his glance.

But the duplicitous Lord of Govardhana

Cares not if I live or die though he rains attention

On everyone else. If that looter, that

Plunderer but look in my direction I shall pluck

out my useless breasts by the roots and fling

them at his chest
Although Andal's poetry is sung in all Vishnu temples, over time it has been desexualized. The lines cited above in Nachiyar Thirumozhi are less popular compared to her other devotional texts like Thiruppavai. Instead of seeing her as God's lover, she has been granted the mother status as she is now portrayed as an incarnation of Vishnu's consort Lakshmi. Researcher Upasana Rangarajan explains the dangers of Tamil women being reduced to "mother goddesses":
This idea that women are pure and spotless due to their nature as mothers pervaded the Tamil consciousness so strongly that it has remained an unshakeable notion for centuries, continuing till date. The mother-metaphor rendered a historical continuity to the role of the man as the protector and owner of the unchanging and pure mother. Mother became a prefix for the land and the language of Tamil, and the male became its owner and protector, whose manliness is demarcated by this ownership, and women were regarded as merely aids. The woman existed only as a mother – her natural vocation – and was exalted into a position of pure and chaste Tamil person, who had little choice to be anything else. Hence, ignoring the sexuality of women (including Andal) and exalting them to the position of a mother is a choice of convenience by men.
Hence, Andal's rich contribution to Tamil literature and Tamil women is often hidden with the attribution of motherhood as an attempt to desexualize to protect the repressive patriarchal society under which we all live. This erasure of sensuality and the celebration of motherhood continues to hurt Tamil women.
As I always say, continue to celebrate the amazing rich Tamil heritage we have, but also be ready to question and change the repressive aspects of our culture and traditions. Andal should be celebrated for who she was, rather than what society wants to construct her to be.
Sources:
Understanding Andal: Desexualised Mother And Her Erotic Desires by Divya Krishnamoorthy
The Intimate Relationship Between the Private and the Public in Tamil Sangam Poetry by Saranya Subramaniam
Old Tamil Poetry by Chentil Nathan
Hookups and dating dilemmas in the time of Tamil Sangam Poetry by Divya Karthikeyan
Art credit: Oviyar Maruthi
To learn more about ancient Thamizh customs and practices follow @whatthepottu: https://www.instagram.com/whatthepottu/?hl=en
---
READ NEXT: