Thiru's Gourmet: A Tamil Family's Ascent from Newcomers to Entrepreneurs
In both a figurative and literal sense, Tamil small businesses are the lifeline of the diaspora. As the global health pandemic runs its course, the Tamil business community perseveres.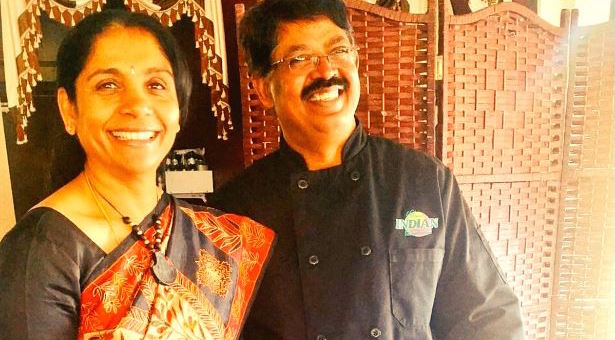 Featured image: Thilaka and Thiru, the founders of Classic Indian restaurant
The Tamil Canadian diaspora is, among other things, characterized by an entrepreneurial spirit. Immigrants continue to be the bedrock of Canadian society and have proven to be integral to its economic development and an innate component of its cultural fabric. As the global health pandemic looms and social distancing becomes the new normal, the fate of small businesses remains unclear. According to one survey, 40% of Canadian small business owners doubt the viability of their enterprise post-pandemic. Considering the extent to which Tamils have relied upon entrepreneurship for subsistence, the community is uniquely impacted by the crisis.
A silver lining amidst the chaos is the palpable sense of appreciation that has developed for frontline workers, such as staff in Long Term Care homes, grocery store associates, and countless others risking their lives to sustain civilization. Similarly, Tamils fortunate enough to be cooped up at home during the crisis, reminisce about the ethnic businesses they once frequented and reflect upon the resilient nature of the Tamil business community. As a tribute, the following piece features Classic Indian, a restaurant in Waterloo, Canada, emblematic of the Tamil diaspora's persevering disposition.
Today, Classic Indian is well-regarded within the Waterloo region as an authentic Indian restaurant, whose dishes are freshly crafted in a way that is palatable to a diverse audience. As a result of the eatery's location within a cultural mosaic, Tamils consist of only a small proportion of sales, while the vast majority of customers are of non-Asian descent. For many Canadians, Classic Indian serves as their gateway to South Asian cuisine.
In an exclusive interview with TC, Chef Thiru, the founder of Classic Indian, shares his journey from being an Indian child with an unquenchable passion for cooking, to the owner of a successful Canadian enterprise. Thiru recounts his early years in India, in which upstanding students were exclusively streamlined into professions within the medical, engineering, or banking sectors. The prospect of entering the foodservice industry, enabling him to be engaged with his work, consistently be learning new skills, and be the reason for others' happiness, was far too enticing for Thiru to pursue a conventional career pathway.
At the age of 17, he entered a professional culinary school in Madras, where he studied advanced cooking, ranging from butchery to international cuisine. Following graduation, he landed positions in several prestigious hotels. Thiru worked in India until the age of 22, when he travelled to Switzerland to undertake an intensive training program in European cuisine. His experience working in Europe, instigated his desire to refine his cooking skills through international exposure.
Thiru attained reputable positions at some of the top hotels in Bahrain, UAE, and Oman, before returning to India seven years later to marry his wife, Thilaka. The family of two grew to include their two children, Adhavan and Vennila. Despite the extensive time Thiru had spent away from his homeland, he was keen on ensuring his children spoke their mother tongue, Tamil, and remained connected to their roots. The family resided in India for some time, but moved to Sultanate of Oman for a few years, until Thiru received an offer to serve as an executive chef and managing partner for a restaurant in the United States. With a heavy heart but an optimistic outlook, Thiru accepted the position and subsequently departed for the States while his family temporarily returned to Chennai, India, to reside with grand-parents. Although he thoroughly enjoyed the role, Thiru could not bear missing milestones in his children's lives and longed to be reunited with his family. As a result, Thiru applied for Permanent Residency in Canada for the four of them, and in 2000, the family reconnected.
Upon arrival, Thiru took on some temporary gigs while searching for housing. As a newly arrived immigrant without a credit history and no relatives to rely on, establishing a life for himself and his family was difficult. Fortunately, Thiru was able to secure an apartment in Kitchener, Waterloo, a cosmopolitan city ideal for young families. It was while residing in the suburb that he decided to realize his dream of founding a restaurant. He chose a modest venue, crafted a do-able menu, and gradually built an ethnic eatery from the ground up. On April 3rd, 2001, Classic Indian was established.
Chef Thiru learned to balance the fine line between maintaining the authenticity of dishes and catering to a global audience. For instance, traditional Tamil cuisine such as dosa and sambar are one of his specialties. Chettinad cuisine, referring to the cuisine of the native inhabitants of the Chettinad region of South India, is offered at Classic Indian, and is widely enjoyed by the restaurant's vegetarian & vegan customers. Thiru has creatively altered certain dishes to reach a broader audience, by for example, veganizing traditional meals. Over the years, the menu has also expanded to encompass anglo-Indian style cooking such as Butter Chicken Masala. Thiru fondly recounts the formative years of Classic Indian: "Within the first months, we saw repeat customers, a sense of optimism overtook us. The whole family was involved. Vennila spent more time in the restaurant than at home. We worked hard and had fun together. Fortunately, the Waterloo community has always been supporting us, right from the beginning."
The family business progressively gained traction, and today, consists of a line of retail food products branded as "Thiru's Gourmet." By transforming traditional Tamil curries, such as Mulligatawny (milagu thani/pepper water, served as Mullugtwanny under Thiru's Gourmet brand) and Sambar, into curry sauces and soups, Chef Thiru has been able to introduce Tamil cuisine to a Western audience. Today, the line of products is supplied to stores in Toronto, London, and Ottawa, as well as sold online in bottled jars. The innovative way in which Thiru has reimagined and modernized Tamil cuisine, provides insight into how the Tamil foodservice industry will evolve in an increasingly globalized world.
SUPPORT SMALL TAMIL SHOPS: BUY THIRU'S PRODUCTS NOW AT TCMRKT >>
In response to a question of whether Tamil youth, born and raised away from their homeland, have the will, capacity, and cultural knowledge to maintain the Tamil food service industry in foreign countries, Thiru appeared hopeful: "I landed in Canada at the age of 42, experienced lots of hindrances and uphill tasks. [Meanwhile] my children, raised here, are immersed in this country's diverse culture." Thiru explained further: "I would like to think they have a leg up because they are familiar with the local infrastructure and the local culture. [It's the] perfect bridge to take what's Tamil and make it more palatable for a Canadian audience. That's something we've adopted, for instance how we're positioning our dosas and sambars. Tamils use sambar as a side for dosas. For Canadians, [it is now] consumed as a soup with chicken. [The] younger generation will be able to do better."
As fewer Tamils immigrate to the West, Tamils born and raised in Western countries enter the workforce, and globalization runs its course, the prospect of ethnic businesses becoming obsolete is conceivable. While one may not miss inhaling the pungent stench of fish when stepping into a Tamil grocery store or eyeing the shelves brimming with skin whitening creams, a sense of nostalgia may be evoked when craving a sip of Nelli Crush or searching to no avail, a bootleg CD of a childhood film. These admittedly superficial examples of how small businesses, owned and operated by Tamils, have taken shape in the lives of second-generation immigrants, is just the tip of the iceberg regarding their significance to the Tamil Newcomer identity. In both a figurative and literal sense, Tamil small businesses are the lifeline of the diaspora.
The tradition of Tamil shops remaining closed on Maveerar Naal is fostered by the business owners' deep-seated piety towards Eelam as well as the community that keeps them afloat. The posters and artwork plastered around Tamil businesses in commemoration of Maveerar Naal or Mullivaikkal Remembrance Day, are for some non-Tamils, their only reminder of the genocide for which justice has not yet been served. Chef Thiru recalls 2009, as the civil war worsened, the efforts of the Tamil business community to work alongside activists and political leaders. Standing in solidarity with Eelam Tamils, Thiru's family protested at the American embassy, calling on the Obama administration to interfere. Despite potential ramifications, Thiru provided Classic Indian as a venue for two Members of Parliament and prominent members of the Eelam Tamil community to engage in a dialogue. Ultimately however, Thiru notes that "[t]he whole world turned a blind eye."
The necessity for Tamils to continue investing in our community's small businesses and sustaining our own economic infrastructure, could not be made clearer than through recognizing the advocacy Tamil immigrant-owned shops engage in. In 2004, Classic Indian participated in relief efforts for Tamils affected by the Indian Ocean Tsunami. By donating ten per cent of every customer's purchase, Thiru fundraised $6,400 in total. Today, the restaurant continues to be actively involved in advocacy, by supporting events within the Waterloo region such as International Women's day, and organizations such as the Waterloo Regional Food Bank and Heart & Stroke Foundation.
Unfortunately, as the global health pandemic wages on, disproportionately affecting vulnerable local businesses, it becomes another factor threatening their existence. Thiru notes that his line of retail food products are sold in trade shows, but as the 20-25 trade shows scheduled for this year have been cancelled, sales have been heavily impacted. While the tenacity of the Tamil business community should not be underestimated, the pandemic is an opportunity for the Tamil diaspora to reflect upon how we can collectively ensure the resuscitation and vitality of Tamil small businesses.
As a departing message, Chef Thiru offers a kural, which underscores a guiding principle he lives by and may provide a sense of optimism for other small business owners as they weather the storm ahead:
"தெய்வத்தான் ஆகா தெனினும் முயற்சிதன்

மெய்வருத்தக் கூலி தரும்." (619)

While fate may hinder one's success, one will receive results in accordance with how tirelessly they work.

Looking to create your love story? Join the other couples who have dated and got married through myTamilDate.com!

"How a Message on myTamilDate.com Led to an Engagement for Lavanya & Vitharan"