Tia's Cancan Saree Travels
When I started sharing the cancan saree looks on my Instagram page @tiabhuva, I had no idea it would get the response it did. I posted the first look with my red koorai saree and blue cancan skirt on February 14th of this year and the rest, is history. My name is Tia and while my day job is in the food industry, I've always had a huge interest in fashion – putting together outfits and experimenting with different looks. What started as a fun way for my mom and I to spend some time together, creating different drapes with her old silk sarees and cancan skirts, has turned into a small business that my husband Tony and I run together in our spare time.
If you're unfamiliar with this kind of drape, what follows are a series of looks made with sarees and cancan skirts (or lengha skirts with layers of tulle). 
The Cancan saree & Portugal series was unplanned – I had shared all of these looks on my Instagram page before leaving to Portugal. And as much as I had wanted to take some of my skirts to put together looks while on vacation, the 23kg luggage limit was a huge deterrent.  We were going to spend nine days exploring Portugal and so I needed as much space as possible to pack everyday clothes, shoes and toiletries.
 This picture was the first of my travel series.  Funny enough, when I put it together and shared it on Instagram, I had no idea this would become a series!  I remember standing at the top of the stairs, looking at this view and thinking that I wish I had brought the saree that I wore to my friend's wedding in 2008 because the view reminded me so much of this saree. The pic on the right is of Camilo beach in Portugal - hands down the most beautiful beach I have ever visted. It is a five minute hike down from the car park, but there are beautiful views every minute of that walk!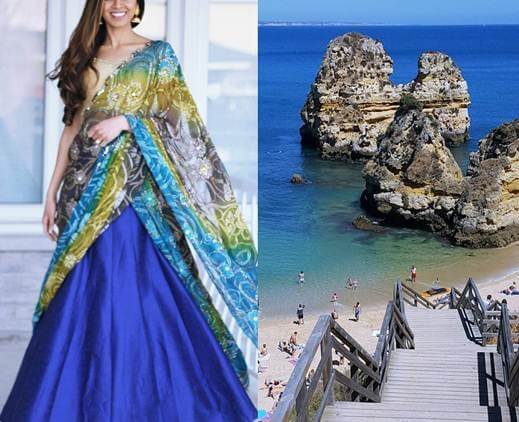 As I relived my trip through the scenic pictures that I had taken, I realized I had cancan saree looks to match most of them.
I've never been a fan of castles, because most of the ones I've seen are dark, cold and gloomy. But not the ones in Portugal - these castles are what fairytales are made of.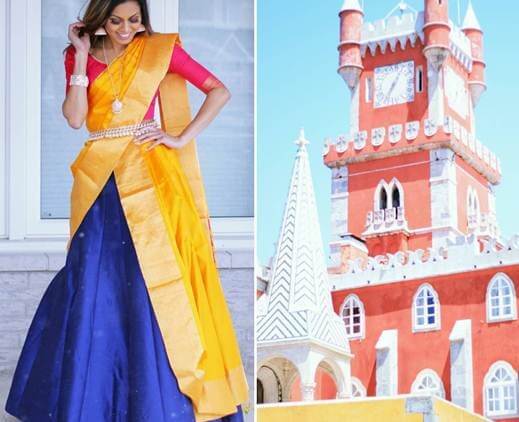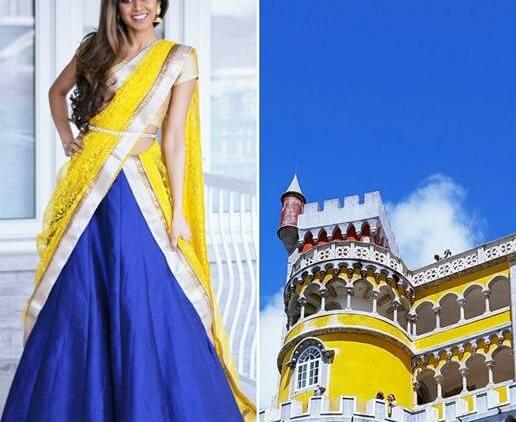 We had an 8 hour transit in Ponta delgada (an island in the middle of the atlantic ocean), so we rented a car and drove to 'Lagoa das Sete Cidades' (pictured on the right below) which is a twin lake situated in the crater of a dormant volcano. It is the #1 attraction on this island according to Trip Advisor and we agree! Hands down, the best way to spend an 8 hour layover!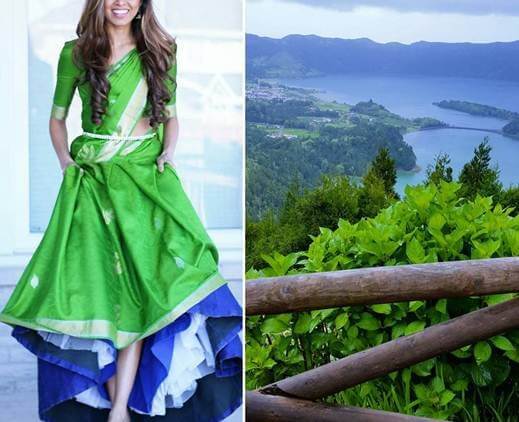 This is the famous Benagil caves. We took a boat ride to see this view and it was one of the most incredible experiences- not for the faint at heart! The boat is super rocky and the water is very choppy. It was every bit as magical as I'd imagined it.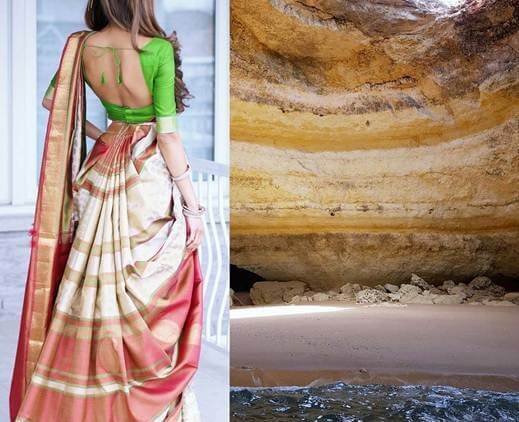 The famous Benagil Caves from the top vs a net saree draped over a cancan skirt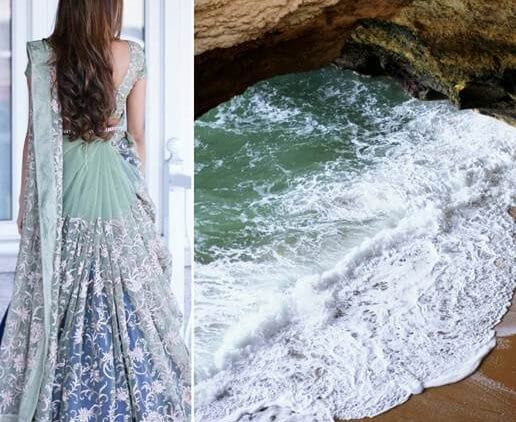 This view in Alfama, Portugal reminds me of the famous Positano views - I haven't experienced the latter personally but it's on my bucket list! This is one of my favourite compilations because even the subtle pinks in the saree can be seen in some of the houses in the view on the right.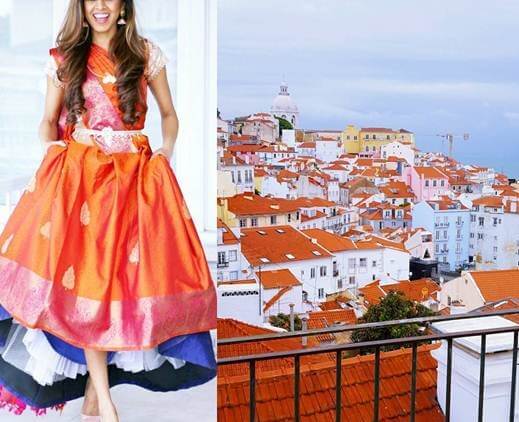 Fell in love with these bougainvilleas that covered an entire wall of the private outdoor terrace at the first Airbnb we stayed at in Lisbon.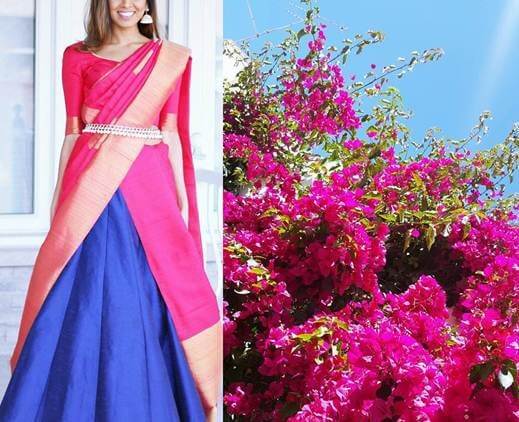 We drove to Fatima and for whatever reason the GPS took us here. We spent an hour there (even though this church was under construction) and bought some souvenirs. It wasn't until Tony checked the maps again that we realized THE Fatima church was still about a 5 min drive away. I am so happy Tony realized this before we left the town!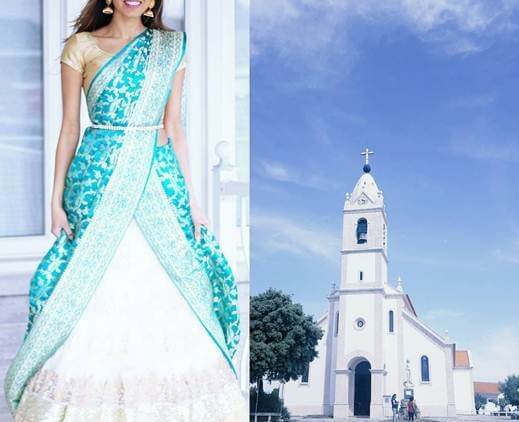 This was one of my favourite desserts at a cute little restaurant by the river in Porto. Those choc wafers melted in your mouth and the mix of flavours and textures were amazing!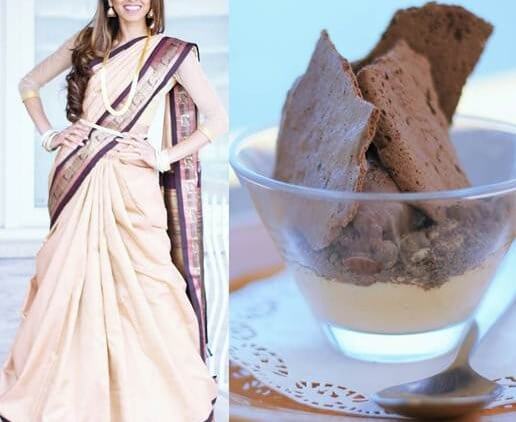 There were beautiful tiles everywhere you looked in Portugal. The picture in this compilation was taken at the front of a grocery store in Albfueira.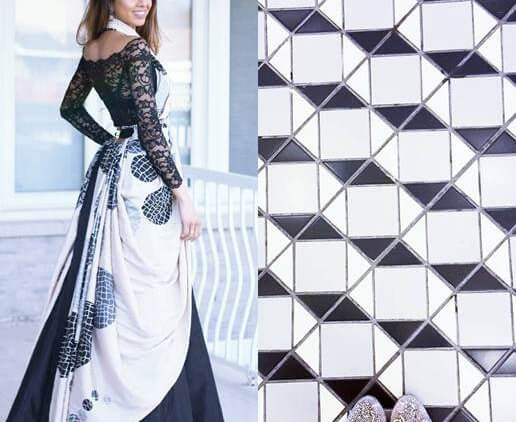 The wonderful thing about fashion is that inspiration can be taken from anywhere! So next time you're travelling or enjoying your favourite dessert, take note of the colours and textures around you. And when you're standing in your closet and have no idea what to wear, remember your favourite places, sceneries, food and use this as inspiration to put together unlikely pieces, colours or textures. Sometimes they work and sometimes they don't, but this is the amazing thing about fashion: there are no rules!
If you like what you have seen in this article, follow me on social media:
Instagram:@tiabhuva https://www.instagram.com/tiabhuva/ Facebook: https://www.facebook.com/tiabhuva/
To get your own cancan skirts, please visit www.tiabhuva.com
 Tony and I opened our online store on July 10 2017 - we hadn't planned on this date but it just so happened to also be our one year Hindu wedding anniversary. So far, it has been a lot of fun AND a lot of work. But mostly fun. The lack of experience in staring a new venture works in most new entrepreneurs' favours, ours included. We wouldn't change a thing about our journey so far, but had we known all the challenges and hurdles we were going to face, I'm not sure we would have taken that leap! Having said that, it is one of the most rewarding experiences so if you have a passion, an idea, don't hold back – a year from now you will have wished that you started now!