The Seven Year Spark
It was June 2008 when Nila Thana first met Divinemethod's photographer Siva Haran on the set of a photo shoot.
It was June 2008 when Nila Thana first met Divinemethod's photographer Siva Haran on the set of a photo shoot.
"So who made the first move?"
"Siva did. Definitely." Nila laughs. "He added me on Facebook that night when I got home and he was all like 'Hey want to see your pictures from the photo shoot? I'll send them to you. Add me on msn.' …and he never showed me them!"
Getting Nila to add him on msn may not have taken a lot of convincing but anything more quickly proved to be a challenge for Siva. "I completely hated his guts. I never hated someone as much as I hated him," Nila admits, explaining she quickly took Siva for a player. "I was also in a relationship at that time. He kept flirting with me and I just wouldn't flirt back."
It was a completely opposite experience for Siva who up until that point…well, pretty much was a ladies' man. "She was the first girl I had ever pursued. I was a lot more popular back then and meeting women wasn't hard for me, but then I met this one," giving her a playful look. When she was finally single in October, he made his first attempt at asking her out for a movie date– which she rejected – and he followed up soon after in February, this time proposing a coffee date.
"By October/November, we were connecting more instead of him just flirting all the time. I realized 'Wow, this guy really has substance!' but even then I wasn't ready to date. I've never dated-dated. I get committed really fast. This was my first date-date."
And how did she like her first date-date? Well it was enough for her to feign an interest in Siva's tastes.
"It's a funny story," Siva smiles as he recalls. "I took her to Second Cup and I got her a chai latte without sugar and a banana bread because I like it and I thought, 'Who doesn't?' But here's the thing: I like coffee. She doesn't like coffee. I don't like sweet things. She likes sweet things. So I got her the chai latte and banana bread not knowing, and she ate it! She's sitting there drinking unsweetened chai tea!"
They both laugh and Nila adds, "He asks, 'How do you like it?' and I'm like 'So good!'
Their relationship quickly heated up. Two months into dating, Nila told her parents about Siva and they not only liked him, they immediately asked about the prospect of marriage. And so, three months later, Nila and Siva exchanged promise rings and started living together.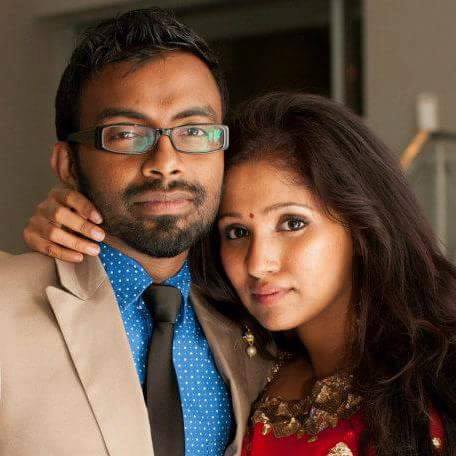 "And you both felt ready to take that step?"
Without hesitation, the response was a confident and unifying "Yes."
Siva explained, "The conversations we were having made me realize that down at the core we were the same person and that was the most important. It was rare - I don't find many people who are like me and who are like her," he continues, "We're are very similar on the important things but we're very different when it comes to trivial things."
"Completely opposite" she reaffirms.
"A lot of people think that someone is compatible with you because they like the same things as you. We both had been in previous long-term relationships and we learned from those relationships that this wasn't the case. It's when shit hits the fan, you realize you are the same; your moral values align."
Shit did hit the fan two years into their relationship when they had to face one of the most difficult periods in their lives: Siva was diagnosed with Stage 4 Lymphoma and was told by the doctors that he wouldn't live.
"The most romantic thing she's ever done for me is to fall asleep on the hospital bed with me", Siva proclaims as his eyes swell up with tears. "I was 80lbs and looked like Lord Voldemort and she told me that I was still the most handsome man she had ever met." His eyes continue to swell, ""A lot of people will be there for you…but to be there for you mind, body, and soul…and really being there for not just me but my family. Even when the doctors told me I wouldn't live, she was still there."
And he would still be there too. A year later and cancer free, Nila and Siva got legally married, and shortly after had their religious ceremony.
As our conversation continued, I felt like I was watching two young teenagers falling in love for the first time. From the way they looked at each other to their playfulness of their words and body language, this was the type of material a good Nicolas Sparks novel was made out of. Often a cynic myself, I probed them on how they feel about keeping their relationship strong after seven years, in a generation of prolonged commitment and the ability to meet new people being just at one's fingertips.
"We know that you can look at someone and be physically attracted and flirt, but we know what our boundaries are. Our relationship is so strong, we even check out people together! […] We know who we are and what our love means to us. There is no other person in the world that would be the same as her and I would be."
They both also admitted that as harmonious and connected as they seemed now, there was a period in their marriage where they had their challenges, having difficulty communicating with each other, so much that they created a blog where they could share their feelings. Using writing as an outlet comes as no surprise for these two creatives, who strongly support each other's endeavours and individual successes – hers in beauty and his in photography. They have become one of those social media "it" couples exchanging sweet nothings on each other's photos, which now talking to them in person I see is just a reflection of their physical life.
Siva thinks back to that Second Cup coffee date, "We were just sitting there staring into each other's eyes and it's always the same feeling …it's never gone away."
-----------
Looking to create your love story? Join the other couples who have dated and got married through myTamilDate.com!
"How a Message on myTamilDate.com Led to an Engagement for Lavanya & Vitharan"