17-Year-Old Anjalee Narenthiren is the Founder of Not One, But Two Companies
Anjalee Narenthiren refers to herself as a tech-nerd and entrepreneur - one who is on a mission to do good and help as many people as possible in the process.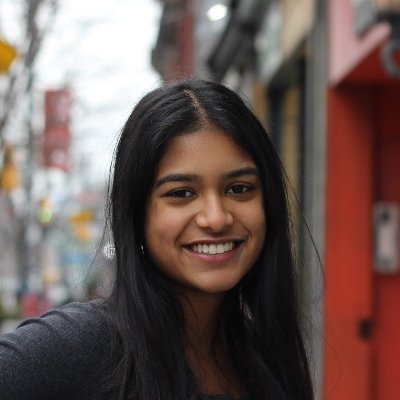 ***Know anybody in the global Tamil community with an interesting story or workin on an interesting initiative that we should feature? => FILL OUT THIS FORM ***
Born in Toronto, and raised in the GTA, Anjalee began learning to code at the age of nine. Looking to leverage her passion, skills and opportunities, Anjalee followed her love for technology to become the founder of TechExplore at the age of 14, and Startup Dojo at the age of 17. I had the pleasure of discussing this, her recently launched podcast titled The 2020 Show, and much more.
As a self-described tech-nerd, what is your favorite piece of technology?
I would have to say my computer. I'm always typing away, Googling something, and talking to people. I live on my computer.
What are your interests outside of tech?
I love running and reading. Since the quarantine started I've been trying to read one book a week and so far I've succeeded with the help of audible; it's kind of my cheat code. I just love learning about new ideas, whether it be related to history, business, social human rights, or anything really.
What led you down the path of programming at such a young age and where did your passion for technology come from?
I got really lucky. I was in the fifth grade when I was introduced to this awesome robotics program called FIRST LEGO League. We would build little Lego robots, program them, and then have them compete against other kids' robots. It was through this competition that I got my first taste of programming. It's actually kind of funny because we lost our first competition, but you know as a kid, you're just so passionate about everything. For some reason, as a ten-year-old seeing that we had lost, I just decided that this was something I was going to keep doing and I haven't looked back since.
What was the first company you started, and how did it come about?
I was a part of a robotics team that became world champions, where in my final two years I was a programmer, and a head programmer, respectively. That was an amazing experience to contribute to and be a part of, and it's also what fueled my ambition to start TechExplore as a start-up in 2017. I wanted to help kids explore technology, hence the name. The idea was to have high school students run conferences and workshops to help educate the younger generation with something that I felt wasn't really present in the school system before.
I realized that there's little to no education in tech or in coding in schools, and with where the world is heading that's a really big problem because kids will not be adequately prepared for the future. I wanted TechExplore to be that safe space which helps introduce kids to the technologies that changed my life, introduced me to robotics and helped me find my passions so that I could inspire them down a similar path.
Why is the next generation your core focus?
I think a lot of the choices you make in life are determined by your early childhood experiences. If somebody tries math and they do well in it, then they're going to spend the rest of their life thinking they're good at math. But if they never had that good math teacher in the first grade, then when they're in high school, or when they're looking for a job, there's a pretty good chance that this is going to influence the way that they see themselves, the world, and the way that they think.
If a child isn't at least given the opportunity to try something like coding, then they won't get the chance to realize "oh, I can actually be really good at this." I just think it's really important to give young kids as many initial opportunities as possible so that they themselves can discover if there's something more they want to do with it.
What was the motivation behind starting The 2020 Show?
Over the past few months I've been trying to figure out how I can take my knowledge, my experiences, and the lessons I've learned to help even more people. The 2020 Show is a podcast where I host discussions to figure out where the world is headed past 2020. It's still relatively new but overall it's been an incredible experience, as I've had the pleasure of conversing with and learning from some amazing guests from places like MIT and Deloitte, just to name a few. I've also received great feedback from my listeners that I'm looking to implement in the hopes of continuing the podcast well into the future.
Speaking of the future, what does the future of technology look like to you?
I've done a lot of thinking about this topic throughout the course of my education and I feel like the education system is preparing students for an ancient world. What's being taught now might have been useful 50 or a hundred years ago, but it is not useful for where the world is going to be five, 10, or even 20 years down the line.
There has been a lot of hype about technologies like AI and quantum computing which are expected to disrupt everything about how we work. So, if you just expect kids to listen and comply, rather than to question and innovate, then they won't be able to survive in a world where this is the reality. We either need an education system which is more technology-centered with problem solving skills being a primary focus, or we need to teach kids how to innovate and think creatively rather than to just copy and do as we're told.
Are you planning on pursuing a post secondary education?
Yes. I recently graduated highschool and I will soon be going to the University of Pennsylvania to pursue a really cool double degree program with the Wharton School of Business and the Pennsylvania School of Engineering. I'm really, really excited to be a part of that, but this year I will be taking a gap year for a year to build out the current startup I'm working on.
Given that you're so young and already running two successful companies, why do you feel the need to pursue higher education?
Yeah, that's something that I've been thinking about as well. I think that I'm at a point in my life where I'm just trying to optimize all the opportunities that I have, and that my future self will have. When I think back, trying different clubs, and trying a bunch of things in high school is what gave me the opportunities and choices that I have for myself today. So it's kind of the same deal here. Even though I have the network that I do now, I'll eventually be able to say that I went to Penn, that I have this education, and I know that the knowledge I pick up will bring forth even more opportunities. I don't know what those extra opportunities are now, but looking back, I understand that when you take those chances and when you try and diversify your opportunities, it usually pays off.
Can you tell us a little bit about your most recent startup?
As I've mentioned, schools don't really do enough to prepare kids to be critical thinkers. Startup Dojo is the current venture I'm working on to address that. It's essentially a global academy that helps train young entrepreneurs - think of karate, but for founders. From a young age, kids level up as they learn new life skills that are not taught in school, and these are the skills that will help them successfully navigate the 21st century.
With the help of student coaches like myself, older mentors, luminaries who are experts in their field, past successful founders and other entrepreneurs, Startup Dojo's aim is to help kids learn to think creatively about problems they're confident about so that they can take those ideas and build up solutions for them.
We're trying to set up this big community, and it's a big network, but it gives other kids a platform that I didn't have as a young entrepreneur in high school. I didn't have the support system. I didn't have this community. I think if I did, I would've been able to go so much farther, and I would have been able to do so much more.
I watched a speech that you gave at a Google event where you said two things that really stood out: make failure your friend, and help other people win. Can you clarify what you meant?
In a traditional sense, using traditional language, failure has a negative connotation. I failed early in my life, and I fail constantly now, but I think it's important to process the feeling of failure and see it as an opportunity to grow. At the end of the day, every failure reveals information about yourself and shows you where to go next.
When it comes to helping others win, I think being involved in so many things from engineering to building a social enterprise, my main focus was always on helping kids. I realized that's my biggest passion, but figuring out how to use my skills and help other people is where I find the most fulfillment and I think that's pretty universal. I feel like everybody, at least to some extent, finds joy in helping others. But when you understand that, you're able to go a lot farther and do a lot more. It's really a win-win situation for all and I think if everyone looks at life that way, the world could be an awesome place.
Do you have a message for other entrepreneurs, either in or outside of the Tamil community, who are trying to create their own lane?
Just take the first step. I remember when I started TechExplore, there were so many people who were like, "Why are you doing this?" I was in high school skipping classes to go to other schools and teach other kids, and my teachers weren't happy at first. It took a lot of convincing but we were able to work something out. A lot of people thought it was a stupid idea, but I think if you believe in something and you want to do it, you have to learn how to drown out the voices and just move forward chase your vision.
On top of that, I also think it's fundamentally important to give back to those who helped you. I try to use my experiences, even the ones that aren't great, so that it can help make other people's journeys easier.
***Looking to create your love story? Join the other couples who have dated and got married through myTamilDate.com!***
"How a Message on myTamilDate.com Led to an Engagement for Lavanya & Vitharan"
Related Articles:
"These Tamil Entrepreneurs Share How They Grew Their Side Hustles"
"Angel Investor Jay Vasantharajah On Building His Portfolio One Day At A Time"
"Danny Sriskandarajah's Journey From Rural Sri Lanka to CEO of Oxfam Great Britain"
"Coronavirus Took My App From Our Lives"
"This Toronto-Tamil Family Is Living Minimally To Maximize Their Quality of Life"