You're Invited to CTCC's Start Up and Young Entrepreneurship Business Lab
The panel of guest speakers will discuss their success with Startups and Entrepreneurship.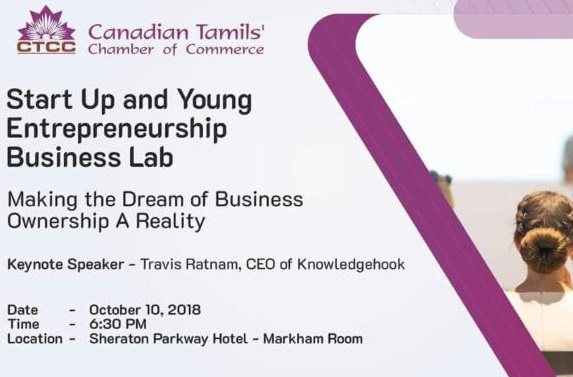 CTCC
believes that young people's contribution is integral to building sustainability, keeping the organization rejuvenated and moving forward, stronger than ever before.
For that reason, we are proud to announce that CTCC's "Start Up and Young Entrepreneurship Business Lab" will take place on Wednesday, October 10th 2018, at the Sheraton Parkway Toronto North Hotel & Suite's Markham Room ( 600 Hwy 7, Richmond Hill, ON L4B 1B2) . This meeting will start at 6:30 PM.
We encourage all of our members to get their children who are young entrepreneurs, business students, or recent graduates to participate in this event! This event is open for Young Entrepreneurs and Students and CTCC Members! Please be kind enough to encourage your kids, family members and friends to take part in this FREE event to comprehend some great details about the Start Up and Small business initiatives.
Panel of guest speakers who have accomplished in Start Up and Entrepreneurship will be sharing their success stories in this event. Also there will be an opportunity to learn some of the support provided by the City of Toronto towards entrepreneurship.
Renish R Kamal ( Founder/ CEO - Fidget Toys Ltd )
Nathan Nandhakumaran (COO - Aversan Inc)
Travis Ratnam - ( CEO and co-founder of Knowledgehook )
Sandra Koitsis Zigomanis (Small Business Advisor at City of Toronto, Economic Development & Culture, Entrepreneurship Services)
Please send your RSVP's before October 05, 2018 to info@ctcc.ca.