Why I Moved to Singapore
Hello and Vannakam everyone! In this post, I would like to share some insights into my life in Singapore and why I feel this is a unique experience. As a British Tamil living in Singapore, it's very interesting as I can quite easily shift between the expat community and the local community.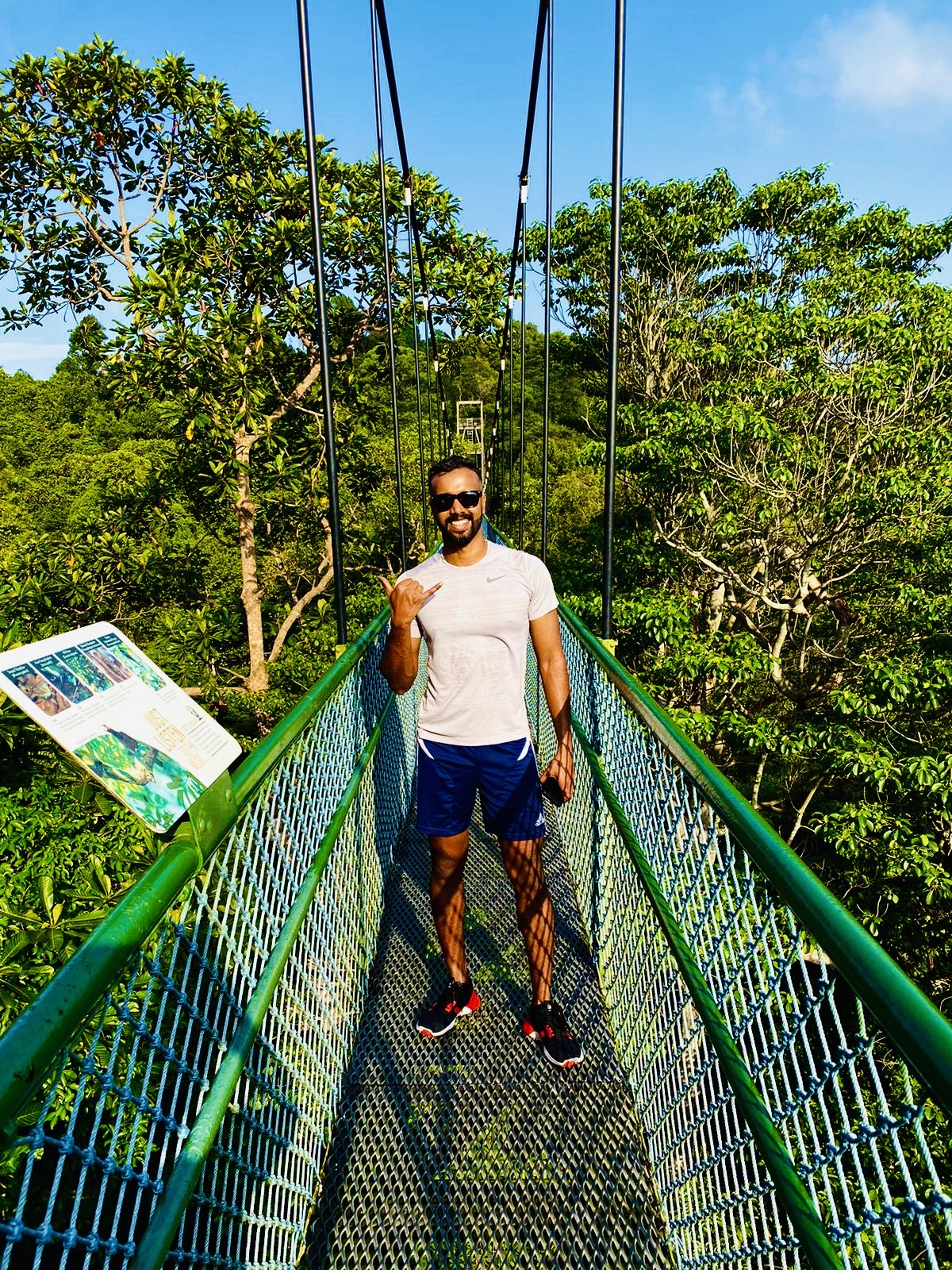 Hello and Vannakam everyone! In this post, I would like to share some insights into my life in Singapore and why I feel this is a unique experience. As a British Tamil living in Singapore, it's very interesting as I can quite easily shift between the expat community and the local community. Most people would assume that I am a local until they hear my accent, which is always entertaining to see. I've learned to appreciate both ways of life. You could find me at a local wet market buying my groceries and another day at an Atas supermarket buying my British biscuits.
At Common Man Coffee Roasters

I was born in Jaffna and grew up in London as I detailed previously. Feel free to read my blog on my story from Jaffna to London. I've also travelled all around Asia in the last few years. During my backpacking trip to Indonesia, I stopped in Singapore for a few days. Since then I've always had a special place in my heart for this beautiful country. I've lived in London for over 20 years, it was time for a change and a fresh challenge. The plan was to move to Asia, build a remote business and travel further. I was also motivated by being close to Jaffna and Malaysia where I still have a lot of family and friends. The tech startup ecosystem in Singapore has picked up a lot of traction in recent years and the investment opportunities are booming too. I wanted to explore the opportunities here. Last but not least, the weather is actually a huge factor contributing to my move. So before COVID-19 could stop me, I decided to pack my bags and jump on a plane.
Quick facts about Singapore:
Languages: English, Tamil, Malay, Mandarin Chinese
Currency: $ Singapore Dollar (SGD)
Level of crime in Singapore: Low
Cost of living in Singapore: Moderate
Quality of life in Singapore: High
Population: 5.5 million
Why do I feel comfortable here?
I think it's a number of different reasons for feeling comfortable in Singapore. From the moment I landed, I was greeted by a lady with a pottu. I found this super cool as I've seen this in Eelam or India. I saw this as a very strong cultural appreciation. This may not be such a big deal for many but the reason I appreciate these little things is that as Eelam Tamils we have always been deprived of freely practising our culture and discriminated for speaking our language. Signboards and government documents can also be found in all four official languages which includes Tamil. The community where I live is very important to me. Whether it's the corner shop aunty or the uncle at the prata shop, I love being able to walk into a place and being able to converse in the local languages.
Sri Thendayuthapani Temple

Working in Singapore?
On working as an expat in Singapore: I don't hold a regular 9-to-5 job here, but I work on my startups, network with the business community, and look at ways to get involved in volunteering. Employment and visa approvals are extremely tight in Singapore due to the influx of expats. Low taxation is also incentivising for expats to move to Singapore.
Is Singapore expensive?
In short, it can be expensive, however you can quite easily live within your means. Singapore is often ranked as the most expensive country in the world to live in. I'm not sure how they drew this conclusion, but I do know I've paid $21 for a masala dosa and puri. The rent for my room for one month is almost as much as my mortgage was in London.

Owning a car can be super expensive in Singapore (over $100,000 for something like that for a Toyota Corolla), the taxes and fees, and the petrol, you'd need to be a millionaire to drive in Singapore as well. The reason for that is to discourage car ownership. The public transport is great here and the country is so small you can get around really efficiently and quickly on the bus or MRT. Taxis and Grab (Uber version of SE Asia) are another popular way to get around and are considerably cheaper than they are in many other places (e.g., London). If you're visiting, I suggest downloading Grab or Go-Jek.

There are ways to cut down on costs – living a little further out from the central district, renting a HDB (Singaporean public housing), eating at hawker centres (which can be cheaper than cooking at home and delicious ), and taking public transport. However, expect to spend more than what you would in any other Southeast Asian country.
Macritchie Treetop Walk

Where to live?
If you're wondering "Where do expats live in Singapore?" here are some popular neighbourhoods:

Tiong Bahru - laid back hipster neighbourhood with loads of personality, a more relaxed vibe, and unique cafe culture. It's also very close to the business district. One of my favourite places to hang out.

The East Coast — A neighbourhood with sea views and breezes. The downside is that it's fairly far from downtown. East Coast Park is also my favourite spot to go cycling.

River Valley - High-end residential area close to Singapore River, CBD and Clarke Quay. I love the community vibe and accessibility. Sri Thendayuthapani Temple on Tank road is one of my favourite places to go on a Saturday to connect with my culture.

Generally, landlords in Singapore would expect you to sign a lease for two years, this could be a huge commitment for some. I actually stay at a co-living space with two housemates which works out great. I'm not tied down to a long term lease which works out to be quite flexible for me and I don't have to buy furniture etc.
River Valley Area

What is the food scene?
Eating is practically a national pastime in Singapore, and for good reason. Singaporeans love food. The food here is a delicious fusion of Tamil, Malay, Indonesian, and Chinese influence with a Singaporean twist. My absolute favourite is prata which is similar to the veechu roti and although quite a bit less exotic, Singapore's most popular dish, chicken rice, is another of my favourites. I have yet to try the popular chilli crab. I've heard it's a great experience, I cannot wait for the lockdown to end so that I can indulge in some chilli crab. To do any justice to the food scene in Singapore, I feel I should write a separate blog on this.
What is the Singaporean lifestyle?
For a city-state, Singapore is very relaxed. People even walk slower here than I'm used to, so I've had to learn to slow down just a little to fit in. I live centrally, so I tend to walk almost everywhere, which most locals find crazy. They often ask "how do you walk around in this heat?". On the weekends and evenings, I pick up my bike and go for long rides. Riding along the Singapore river leading to the Marina Bay Sands and then onto East Coast Park is an awesome route. So if you're wondering "What's it like to live in Singapore?" or "Is Singapore a good place to live?" The standard of living in Singapore is very high, so it seems like a great choice if you're interested in working and living abroad. If you're also a diaspora Tamil, who's looking for a place with western comforts but also want to be connected to the community, then this could be a great option.
What's the weather like?
Singapore happens to be close to the equator which means it has a tropical climate. I've experienced really hot days and rain. It's a great combination as the rain usually cools down the heat. Thunderstorms are also quite common in Singapore. Perfect t-shirt and shorts weather. People love air conditioning here, whether you're at home, office, mall or taxi the air con is usually on full blast. It took me a while to get used to it, I remember it being super cold when I first arrived.
What languages do they speak in Singapore?
Singapore is made up of many nationalities and races. The four official languages are English, Mandarian, Tamil and Malay. And then there's Singapore's unofficial language – Singlish! Singlish is an informal way of speaking that mixes English and various Chinese and Malay dialects to create a one-of-a-kind language that's actually pretty fun to use. My local friends love hearing me speak Singlish!
What's the nightlife like?
Unfortunately, my knowledge of the nightlife in Singapore is very limited. I've been out a few times but since I arrived at the beginning of the pandemic, I've not had the opportunity to explore it further. I've been out in Boat Quay and Clarke Quay, which offer a lot of different choices, all with pretty views of the Singapore River. C'est La Vie at the iconic Marina Bay Sands is also a decent experience, even though it felt like I could have the same experience in any big city. Way too pricey and fancy for me. My days of Mayfair nightlife are over, I prefer to check out local places or more outdoorsy vibes. Haji Lane on Arab street is also very cool. If you're into live music outdoors with a Tiger tower then you will enjoy it. I must admit it can be quite touristic.
How to stay active in Singapore?
I'm an avid F45 goer, they are dotted all around the country. I also like to do long-distance runs and biking. Sunday trekking to Machritite is also a great experience. I'm hoping to do more trekking once the lockdown starts to ease. Watersports along the coasts or nature trails, both of which are excellent options if you need a break from the city.
Is Singapore really strict?
In short, yes. Most people know that Singapore doesn't play around when it comes to laws and the penalties for those who break them. Yes you're right, chewing gum is banned in Singapore, food and drinks on public transport is prohibited. It makes sense why everything is super clean. I'm a bit OCD with tidiness and cleanliness so I'm not complaining. You could also be fined for Jaywalking, this concept took a while to get used and did test my patience.
What do you think about expat life in Singapore? Is this what you pictured being an expat in Singapore might be like? Do you have any other questions? Click on Connect/Message on my TC profile if you'd like to learn more about my experiences.
Looking to create your love story? Join the other couples who have dated and got married through myTamilDate.com!
"How a Message on myTamilDate.com Led to an Engagement for Lavanya & Vitharan"