#LoveMyCity: A Tamil Guy's Tribute to his Hometown Toronto, Through Sports & Travel
Growing up in the city of Toronto, I've always been very patriotic about my roots that have made me the person I am today. Using these traits I've engaged in expanding our Toronto market across the globe for others to acknowledge. With a background in marketing and an everlasting love for the city of Toronto, I've integrated my passion for photography and my interest in traveling to create the #LoveMyCityProject.
A small one-bedroom apartment in Yonge & Davisville for the Chandrakumar's household of five. Two immigrant parents who fled their home in Sri Lanka in the hopes of building a better life, and a middle child who reveres in the wonder of it all. I identify myself as a Tamil-Canadian who was born and raised in Toronto, the greatest city on Earth (in my humble opinion). Growing up, I was always aware of our Tamil background and how much Toronto had to offer us. From the apartment balcony, I had a clear sightline of the CN Tower and this majestic view was the start of it all. In school, during arts and crafts, I would draw the Toronto skyline with the infamous SkyDome right beside Toronto's major landmark, the CN Tower. With the CN Tower resembling a lighthouse of hope, Toronto provided a solid foundation for many immigrants; especially Tamils seeking refuge and wanting a new life for the betterment of the next generation.
My home was always filled with love for our Toronto teams. Appa would be home from work and amma would have finished her cooking, while listening to the Geethavani Tamil Radio. Whether it's Saturday Night Hockey on CBC, where the Leafs took on a rival, or a weeknight on TSN, watching the Raptors face a division opponent; the Toronto teams were always welcomed in our living room. My enthusiasm for when I received my first Raptors and Leafs jersey was out of this world. I still remember the Koho Leafs jersey I received for Christmas and the Hakeem Olaujwan retro Raptors jersey, which was passed along by one of my cousins. The Toronto sports scene was very much prevalent in my life, as I grew up representing the teams and players with my own jerseys, and also admiring how the players represented the city of Toronto through their respective sports.
Whether it was Mats Sundin from the Toronto Maple Leafs netting his 500th goal, or Vince Carter's 360 windmill slam dunk, while representing the Toronto Raptors at the NBA All-Star games - these were key players that influenced me heavily. These ambassadors helped to propel this city to become a sports hub of not only the country, but also the world. Watching the teams on TV was always a highlight, but having those rare opportunities to see the teams live was truly an exclusive and limited-edition experience. Appa worked for a company that sponsored the Blue Jays and we got lucky with random tickets to a few games. We also got a couple of Raptors and Leafs games thanks to Amma winning raffle tickets at her workplace. I loved the experience of going with Appa and taking trips to Union Station on the TTC. We always had an amazing time being there and cheering on the teams live. These moments, the best memories of my childhood, have truly defined and helped with the creation of the LoveMyCity Project.
While embracing my ancestral roots and welcoming Toronto as my home, I've grown passionate about showcasing Toronto to the world. Ever since the start of the LoveMyCity Project in 2014, it has been a personal mission to travel to as many countries as possible, while marketing Toronto and its teams across the globe for others to acknowledge. During my travels, I take Toronto-branded apparel to give out to the locals I meet. It's a rare opportunity for them to build a bond with Toronto, while representing the city thousands of kilometers away. Out of the 23kg, that's allocated to a standard luggage, 90% of the items I bring along are reflective of my city; such as the flags, the jerseys, the hats and the merchandise for locals. The passion and dedication I have for my project is something that motivates me on a daily basis. It has transformed my hobby into so much more than a mere social media presence - it has provided me with evolving career options and the freedom to create my own path. With a background and career in marketing, and a keen passion to continue developing my interest and role as a content curator, I knew I could take my love for Toronto and its teams and make it much more. Many companies and brands have sponsored me to collaborate and represent them after seeing the caliber of creativity and originality. As a result of this, I've been privileged to have worked with brands such as McDonalds, Rogers, Scotiabank, Major League Soccer (MLS), National Sports, Peace Collective and many other local Toronto brands. From politicians to real estate firms, I have created content as a freelancer for a wide range of audiences and executed their vision and brand to higher platforms.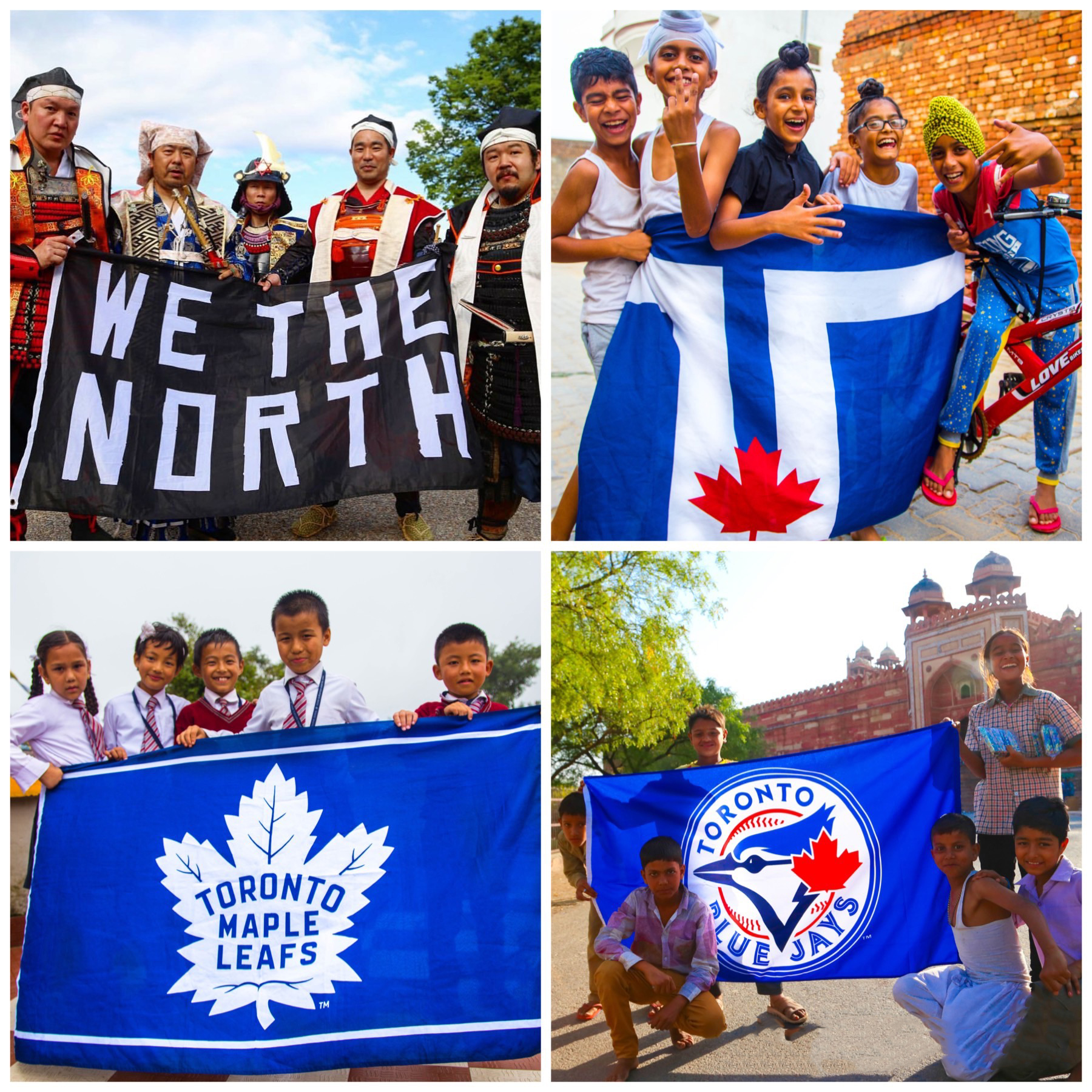 Over the years, LoveMyCity has grown to new heights itself. I truly consider myself fortunate in having the opportunity to represent our city on a global stage. It is inspiring on many levels and I'm sure the little Supendra back in elementary school would be proud to see his passion for Toronto brought to life for the world to witness. I look forward to visiting as many countries as I can and showcasing our Toronto brand and what we have to offer as a city. The LoveMyCity Project - coming to a city near you.