Why Getting to Know the Priest is Just as Important as the Dress on Your Wedding Day
Tamil couples can spend months and even years planning their weddings but seemingly neglect the most important person of the day - the priest. Arguably, the most fundamental part of the wedding is the priest who announces the couple as husband and wife. However, it seems that most Tamil couples neither understand the ritual of a wedding or see the importance of meeting with their priest prior to the big day.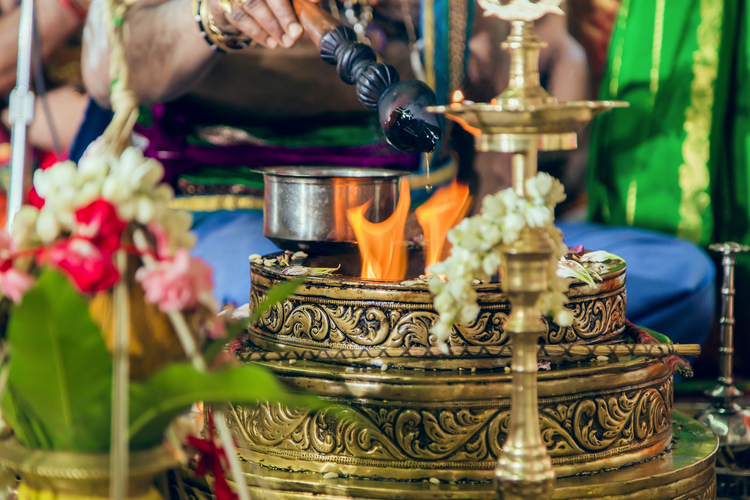 Coming from a big Tamil family, I've witnessed couples spend months and sometimes years planning their wedding. They meet with vendors multiple times, ensuring that the individual is competent in their work, reachable and reliable. However, the single most important person is outcasted - the priest. How many couples go to meet the priest to see if he is the right fit for them?
It's not completely fair to blame the couples as the framework of a Tamil wedding is quite different from other cultures. We are accustomed to attending weddings and hearing ear-deafening music while chatting about the neighbour's kid who has a girlfriend at the age of 25.
The most important part of the ceremony is the ritual conducted by the priest. It is through him that the couple is proclaimed to be husband and wife. However, I've rarely came across couples that met their priest before the big day.
The ceremony is much more meaningful when the couple collaborates with the priest. I also agree that priests are not making enough of an effort to encourage couples to meet them prior to the wedding. Generational and language barriers are also a reality.
When my husband and I were planning our wedding, we wanted a ceremony that promoted gender equality. We researched Tamil Hindu weddings and decided not to include a few rituals in the ceremony. Many advised us that it was not possible as we would be modifying ancient traditions. However, we met multiple times with our priest. Surprisingly, he explained that gender equality was already part of the ceremony but certain parts had been lost over the years.
Together with the priest, we decided to add and remove certain rituals. For example, traditionally, the bride accepts her wedding saree (the koorai) from the groom, symbolizing that she now belongs to her husband's family. However, as we believed that acceptance from both families was important, my husband also changed into an outfit given by my family.
One of the most beautiful messages in the ceremony is that the couple not only promises to be good to each other, but to society as a whole. Aligning with that concept, we included various charity-related initiatives in our wedding, including an online fundraising campaign and joint charity shower. We also requested our guests to bring in non-perishable items to be donated. Three years into our marriage, we continue to celebrate our anniversary by conducting charity campaigns.
An important aspect of our wedding was that our priest agreed to conduct the mantras in Tamil, while we had a friend explain the rituals in English. After my wedding, a friend requested that I continue this practice at her wedding, so I sat beside the priest and explained the important aspects of the rituals in both Tamil and English.
Through that wedding, an event planner had approached me to do the same for some of his weddings. After each of these weddings, I had an overwhelming number of guests, both young and old, appreciate the explanation. Since each of the couples understood the importance of what is associated with the wedding, they've also given back by donating to various initiatives.
Most of us can't speak Tamil fluently. We may not have the right resources to find books and accurate information online. Thus, it's becoming an oral tradition, where we rely on what we hear and see. This is where the role of the wedding industry comes into play.
When I read the online discussion about the Jodi bridal magazine cover last year, what caught me is how powerful the Tamil wedding industry is in Canada and across the globe. These individuals have a huge following on social media where youth closely listen to what they are saying. These individuals can be powerful players in educating youth about our rituals and traditions.
For example, wedding shows can potentially incorporate these traditions through performances, booths, pamphlets, short presentations etc. Photographers and videographers could also benefit from understanding the meaning of the rituals to really capture the ceremony. Perhaps, as an industry, it would be beneficial to hold seminars with religious leaders to understand it better. This in turn can spark interest among youth who follow these individuals on social media.
I remember my priest asking me why I was suddenly interested in knowing about the rituals when I had been attending weddings for so long. When culture and tradition becomes personal, it becomes yours. Through my wedding, I started researching about the different cultural and religious activities I've take part in. It's filled with so much richness, but most of us either laugh at it or say I love the feeling of having culture around me, but don't really attempt to understand it. Personalize your wedding by not only focusing on decor and outfits, but also on your priest!
***Looking to create your love story, your way? Join the other couples who have dated and married through myTamilDate.com!***