The Day My Son Told Me He Didn't Want To Be Tamil
Raising a biracial, trilingual child is tricky business.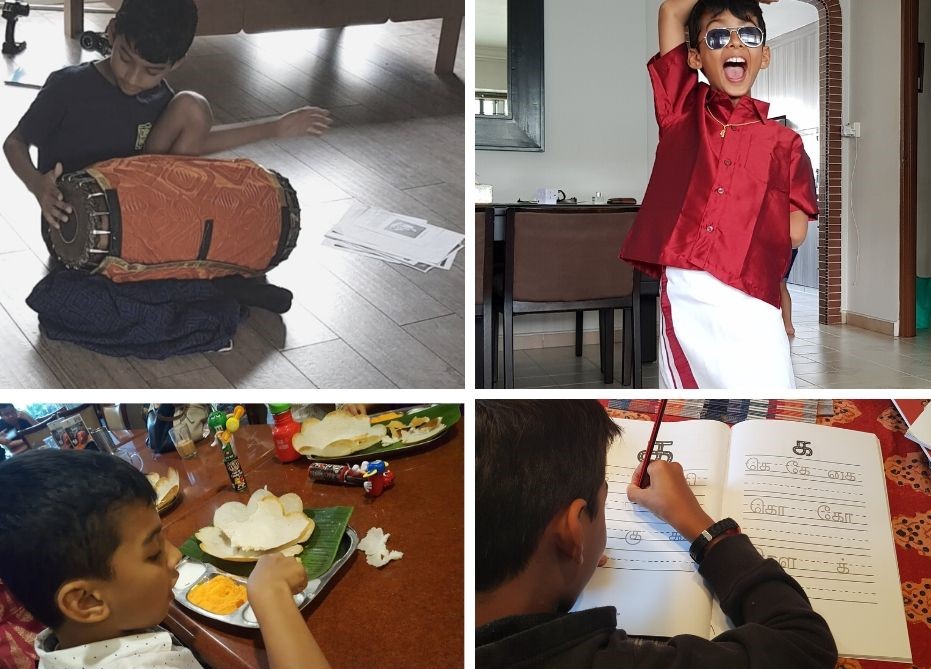 'I don't want to be Tamil and I don't want to learn Tamil! No one knows what it is', said my half-Tamil, half-German son a few years ago. 'I am already learning two languages and if I learn a third, my head will burst'.
Thoughts ran through my head. 'Is he being bullied at school? Did his friends say something? He is the only brown kid in his class… is he being whitewashed?' I was distraught and frankly, did not expect myself to be in that situation.
When my son was born in 2012, I had assumed that he was going to embrace two cultures and grow up speaking 3 languages – English, Tamil and German. It was going to be very straightforward. I speak to him in Tamil, my husband speaks to him in German and he picks up English from daycare/school. Over time, I've realised how naïve I'd been.
Firstly, we live in a very white neighbourhood in Sydney, Australia where there is hardly any Tamil spoken around us. Secondly, all my family is back in Singapore – so I am sorely missing the family network to shoulder some of this massive responsibility. Thirdly, after having lived away from home for over 14 years, my default language is English. It is also the common language between my husband and I - and I find it incredibly difficult to be disciplined enough to switch back to Tamil when conversing with my son (plus, there was some really bad advice about dropping a language from some early childhood health professionals – but we will not go there).
Fast forward 3 years since that explosive conversation with my son… he LOVES his Tamil heritage. Perhaps, the past 3 years of indoctrination from me helped? He loves Tamil food and uses his hands to eat at every opportunity. We went to a Sri Lankan eatery in the western suburbs of Sydney once, and he asked the waiter if the food will be served on a banana leaf (it wasn't, much to his disappointment). He loves wearing his veshti and jubba because 'they are cool outfits'. And the list goes on…
We are also getting a little better with the language. Both my kids have been going to Tamil language classes once a week for the last 3 years (yes, since that explosive conversation). It's great for them to hear Tamil being spoken around them and to meet other Tamil children. But I will admit that it is still a bit of a struggle.
I have to make time for Tamil everyday with them – even on days when I am exhausted, even on days when we have gone through all the other 'essential' school homework and they don't have the capacity for anything else. But there have been some positives through all this perseverance. They both speak and understand a little bit of the language. Recently, my son was even able to read simple Tamil books without any help from me (I was elated!).
Will my kids ever be fluent in my mother tongue? Will they be able to fully embrace their culture if they are not? Am I fighting a losing battle? I don't know… But I will keep trying as much as I can even though it is one of the hardest things I have had to do as a mum. Because if I don't try, I will never find out.
***
Looking for simple ways to introduce Tamil to your kids? Check out my shop Vaaranam Books on TCMrkt.com>>
Looking to create your love story? Join the other couples who have dated and got married through myTamilDate.com!
"How a Message on myTamilDate.com Led to an Engagement for Lavanya & Vitharan"