PS-1: An Opportunity Missed
A look at how Mani Ratnam's Ponniyin Selvan despite it's popularity was an opportunity missed in depicting the Chola era in its most authentic self.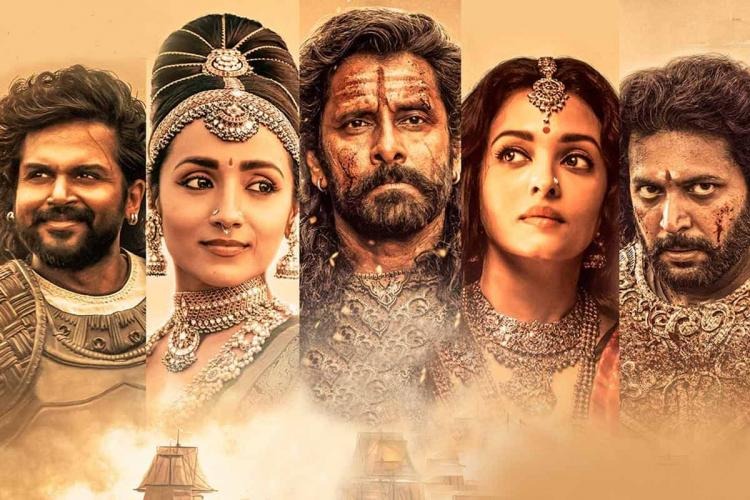 Date on your own terms! myTamilDate.com has been the most trusted dating community for single Tamils around the world for close to a decade! We're the premiere dating site for diaspora Tamils and have the largest membership base in Canada, USA, UK & more. Join today.
---
When I saw the first poster of Ponniyin Selvan that was released on social media, around July of 2021, I was disappointed. A rendering of the Chola sword and the shield were shimmering in gold at the center. The tagline read "Based on Kalki's Ponniyin Selvan". But my disappointment came from the movie title itself. It simply read: "PS-1". Sure, the full form of the title was expanded right below. But it was in a smaller font and was quite easy to overlook.
This is a movie based on the most celebrated Tamil historical fictions of our time. It was a dream of many, including MGR and Mani Ratnam himself, who wanted to make this film since Nayakan. And it was, simply reduced to, and marketed as, "PS-1". There was no equivalent Tamil version of the poster in sight. There were comments pointing this out. But a Tamil version of the poster wasn't seen until the next set of images were released a few months down the line.
It could have been an oversight. But for me it didn't feel that way. If so, a Tamil version of the poster would have been released right after the backlash. Even if the public outcry was not expansive, it was clearly present - especially from the Tamil literary circle which holds the novel near and dear.
From the beginning, it seemed obvious that even though PS-1 may have been marketed as a dream come true for a Tamilan, the makers seemed more interested in using this opportunity to make a "Pan-Indian" film, like Baahubali, to rake in those big box office numbers. Celebrating a novel rooted in Tamil history and cultural identity became a means to an end.
Such oversight did not just stop at the poster. Next came the introduction of the cast. Except for Vanthiyathevan played by Karthi and Aditha Karikalan played by Vikram, the actors did not necessarily appear Dravidian. Here, I feel less critical than other aspects of the film, since casting might have been quite challenging with egos clashing, dates not matching up and the director and the production house opting for somewhat of an "A-list" pool of actors to bring in a mass appeal.
---
Listen to our new podcast 'Identity'!
---
But the director was the "legendary" Mani Ratnam and the production was popular to begin with. They could have literally cast anyone that would have fit the roles better and it wouldn't have compromised much. In fact, it would have enhanced the authenticity of the character profile. Kunthavai, Arun Mozhi Varman, Poonguzhali and to an extent Nandhini come to mind. And while we're on this topic, why were the Pandyas (the antagonists) depicted as stereotypical villains? In other words they were dark-skinned and portrayed as inherently evil. The Pandyas have an equal or more claim to being the custodians of what we currently claim as Tamil identity. To depict them as they were is problematic.
But the deeper issue was the lack of authenticity in portraying the Chola era itself. The music, the art, the architecture, the costumes, the jewellery, and to an extent the use of language itself seemed quite disingenuous and alien to the 10th century Chola country, or Tamilakam, itself. Quoting Arjunan Ullas who runs a popular cultural page on Instagram, "Nobody asked for Tamils using Māru-Gurjara + Indo Saracenic architecture and Maratha outfits."
Thanjai fort is depicted as sitting on a hill top while those who have visited Thanjavur can attest that it's flat terrain. Women are twirling in skirts, wearing 17th century jewellery dancing to South East Asian sounding tunes (Ratchasa Maamaney) backed by what sounds like bamboo xylophones. Ilankai is portrayed as a land that only speaks Sinhala. And then there's the background score when Kundavai meets Nandhini. I was not able to wrap my mind around why the music used for this scene was North Indian classical with a heavy use of Tablas and the lyrics that seemed not entirely in Tamil (I couldn't identify what Saya Sanchare meant).
These inconsistencies even seemed to show up on the promotional tour for the film as Aishwarya Rai was referring to Mani Ratnam as "Garu", the Telugu equivalent of Aiya or Sir. Maybe she herself was confused if Mani Ratnam or the movie she was working on was indeed Tamil. But I digress.
Curious about the choices made in this film, I checked out a few "making-of" videos where the various technicians and artists talked about their creative process in building the world of the Cholas.
Thotta Tharani, the art director, mentions that when he heard the narration he started sketching the set design as per his imagination followed by some research where he visited various historical sites to understand details of the sculpture and design especially on stone pillars. As revered as he may be in the film industry, I felt this approach was questionable. Historical locations, architecture and design cannot simply be driven by imagination and instinct.
In addition, a Hyderabad-based Nizami jeweller was chosen to make the jewels, while Tamil Nadu is home to some of the best temple and antique jewellery makers. It's not like these points of reference are rare. And even if they were, it warrants a detailed study to bring out the authenticity of the era. Rajaraja Cholan, a film by A. P Nagarajan which was released in the 70s is a great example of a film that did this. They painstakingly recreated the Chola kingdom, including building a replica of the Peruvudaiyar temple. And in more recent times, the depiction of the Cholas in Selvaraghavan's Aayirathil Oruvan and the prelude sequence in Dasavatharam depicting Kulothunga Cholan remains some of the most memorable and raw experiences of that era.
At this point you might be surprised to hear me say that it's not that there wasn't a single element of Ponniyin Selvan that did justice. Let's take the Deveraalan Attam portion, for example. Ilango Krishnan, the lyricist mentioned how he used the inert music and rhythm found in Thiruppugazh and ancient cultural practices used to worship Lord Murugan (for example offering Sevvalari (Nerium Oleander) flowers as offering which is also a metaphor used to describe the color of Murugan's skin, red) as basis in writing this particular song. This level of attention to detail which extended from the lyrics to the images on the screen paid off. For me, it was probably the most satisfying sequence in the entire film. It felt authentic, and everything from the music and lyrics, to the attire, choreography, color tone and picturization felt close to what one might expect that era to be.
But whatever we can appreciate of the film, it's important that we reflect on the responsibility of an artist to its subject. Even if that subject is a fictional story. In the words of writer and historian Anirudh Kanisetti: "If historical fiction is forming historical opinions then we absolutely can and must critique it on historical grounds. Fiction, like any literature, like any art, has power. Don't dismiss it so easily."
And Ponniyin Selvan is an important piece of historical fiction that has long since been influencing historical opinions and conclusions drawn about the Chola kingdom and its identity. Kalki himself was criticized for taking liberty in creating a narrative that quite easily could be mistaken as facts. As such, it's important that we not only critique it, but also any artwork which is made on its basis.
The truth is that the Cholas, like members of any dynasty, past or present, were ruthless and far from ideal. The grandeur of their legacy often makes us forget what it likely took to reach their pinnacle and influence, across India and South East Asia.
So, when there was a rare opportunity to recreate this epic on celluloid, more care could have been taken on ensuring the authenticity of the era. For a generation who did not grow up watching historical films done by the likes of Sivaji Ganesan, Mani Ratnam's Ponniyin Selvan becomes an important reference point, creating that first impression of our cultural identity and rich history. And it unfortunately was an opportunity missed.
Acknowledgement: Nive Thambithurai (Editor)
---