Palm Roots is a fundraiser that was initiated in 2013 by photographer Jananie Baskaran.
After starting to dabble in photography, and then taking it on as an entrepreneurial pursuit, Jananie realized that there was something more she wanted to achieve through it.
While portfolio-styled shoots and events allowed her to express herself, and her clients' visions, creatively a desire to delve into philanthropy was growing within at her.
With the drive to change how art and photography are perceived and utilized, and with the mission of supporting children without access to educational resources, she created Palm Roots. By selling photographs taken during her travels, and donating the proceeds, she had found a way to celebrate her roots, while expanding the possibilities for the futures of children.
 "As clichéd as it sounds, my first visit to Jaffna in 2013 gave me an insight on the consequences people were facing in these areas, with very minimal help from the surrounding environment to get their lives back on track. It also made me grateful for the privileges we have here, in Toronto and encouraged me to do my share to help support those who aren't as fortunate as us." - Jananie Baskaran
Jananie wants to do her share to ensure that children in Jaffna are able to afford an education and live and learn in environments that encourage them to become strong leaders. She believes that education is at the heart of creating an identity that is founded in a positive outlook.
Palm Roots, now in its fourth year, has successfully raised well over $20,000 to support various projects in North/East Sri Lanka. Some of them include providing educational fees for over 60 students, supporting institutions focused on raising girls in a safe environment and financially supporting women who are widows.
At Palm Roots 2015, the bids for photos ranged from $150 to $1800 and raised a total of $12, 500. Attendees, who were primarily young entrepreneurs, artists and business owners, were engaged not only in the photography present, but the live performances, networking and engaging conversations about philanthropy and capacity building.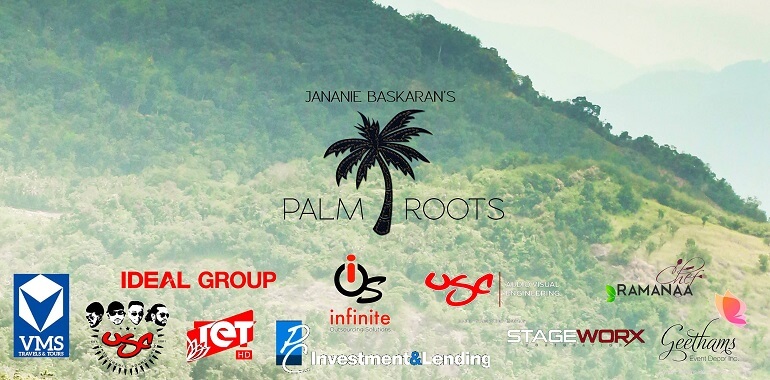 This year's event, taking place on Sunday, May 7th, will include photography taken in North Sri Lanka, with an emphasis on nature, people and their labour. For many who have long since left Jaffna, and not had an opportunity to return, or return often, these photos will be a window into a world that was their first home.
Hosts Thushanth Siva and Banujan Kanagaratnam, alongside Jananie herself, are looking forward to sharing more about the photographs, and those who will benefit from their proceeds through Miracle Family Care.
Palm Roots 2017 will also feature an hour of performances from 4 independent artists, based in Toronto: pianist and singer, Gobiraj Sivalingam, flautist Bhranavi Arul, and veena instrumentalists Aathy Thambiappah and Aara Thambiappah.
Tickets can be purchased on eventbrite.