Jyothi, The 16 Year Old Singing Sensation With Vision Loss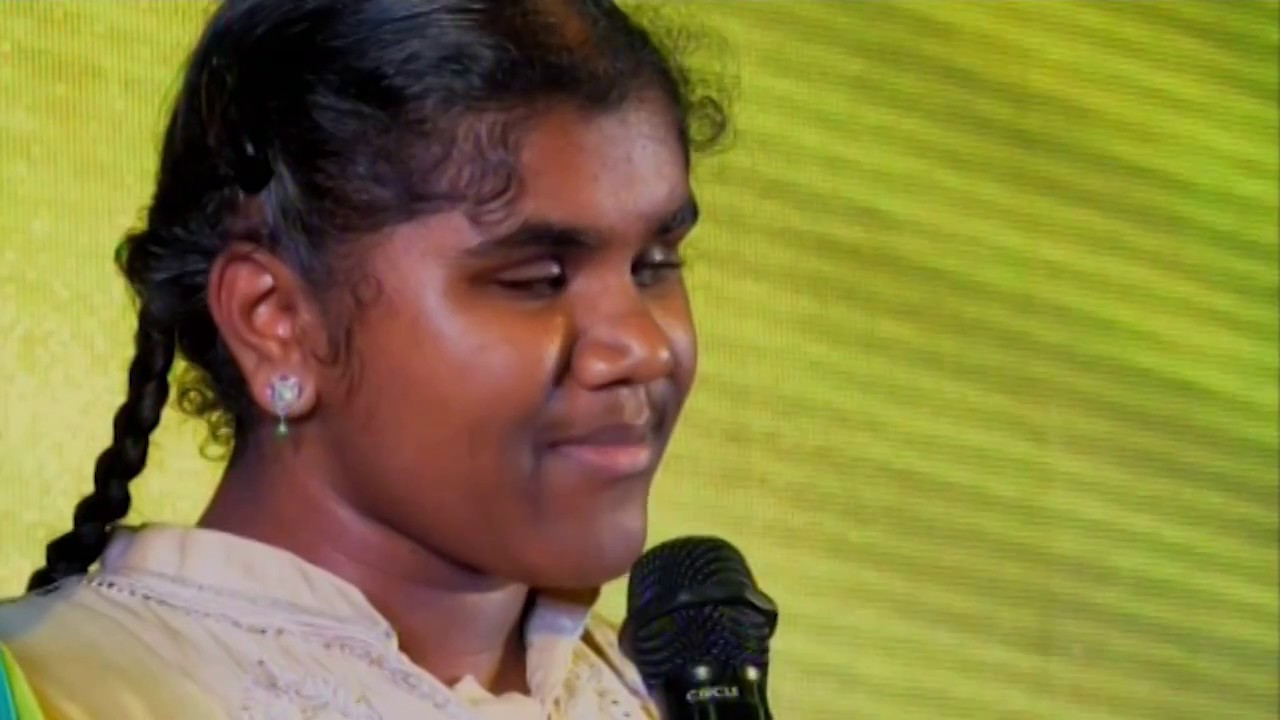 Just over a month ago Jyothi Kalaiselvi graced the stage at World Vision India's Ability Fest, singing D. Imman's Kannamma.
The event, which celebrates the talents of children who have disabilities, took place at St. Bede's Secondary School, in Chennai. But the video of Jyothi's performance would go viral, inspiring viewers around the world and even catching the attention of award winning composer, G.V. Prakash.
Posted on February 26th by WVI, to date it's garnered 1.2 million views. And Jyothi, and her Amma, Kalaiselvi, continue to be invited to share their incredible journey, and Jyothi's gifts which include playing the violin and piano and teaching music.
At 16 years of age Jyothi's abilities and talents are undeniable, and she's had to overcome much more than the average artist to get the recognition she has earned today.
The challenges came early and they came often. After a difficult delivery for her mother Jyothi, just a day old, faced surgery and one month in neonatal care before she could go home. She had vision loss, a developmental delay and would soon be living in a single parent household.
Kalaiselvi reflected that all too often when a child is born with complications and disabilities, one parent withdraws and leaves the other to navigate unchartered territory alone. It was one of the very few moments she let on even a hint of sadness.
Constantly energetic and exuding love from every pore, Kalaiselvi views her life in matter of fact terms. There simply isn't time to think about her own needs or emotions. Aware of the countless obstacles facing those with disabilities, and spurred on that much more to give her daughter every opportunity she can, she said: "Jyothi has her own vision, her own emotions and it's important I respect them and empower her." With the support of her parents, she has done exactly that.
https://www.youtube.com/watch?v=AiwCxxZZk38&feature=youtu.be
Today apart from her schooling, Jyothi's engaged in a variety of activities on a daily basis to ensure that she stays healthy and inspired. Her mother believes that no matter how little or how much you have, without mobility, your quality of life will be completely sacrificed. From walking and swimming, to reading braille Kalaiselvi ensures that there's never a dull moment for her daughter.
It took a while to get this set of activities figured out, and there was much trial and error along the way.
When Jyothi was a young child, her mother recognized how much sound stimulated her. Unable to see, she would become enamoured by the sounds she heard around her. This was years before they were able to turn to learning music as a viable path.
Initially, occupational therapy and establishing day to day routines were the main priorities, especially once Jyothi starting exhibiting autistic behavior.
By the age of 6 she had started studying at a school for children with disabilities. But the curriculum and its emphasis on conventional subjects was not a good fit for Jyothi. She was struggling and Kalaiselvi wasn't about to let her daughter feel helpless in a system that just didn't have the ability to meet her needs.
At age 9, they explored a school which was intended for students with vision or hearing loss. Rather than academics, there they emphasized basic life skills. It was at this school that an invaluable teacher ensured that Jyothi learned to read braille, which she continues to use with ease today.
Soon after this, her foray into music began. Keyboards at 10, vocal training at 11, and her love for music grew. When it came to music Jyothi was in her element, learning independently.
Kalaiselvi, who is actively involved in her church's ministry to those with vision loss, helped a young boy gain entry into the Tamil Nadu Music and Fine Arts University around this time.
Seeing the success of a young person with vision loss, gave her assurance that more doors were waiting to open for Jyothi. And in July of 2014, at 13 years old she was accepted into the TN Music and Fine Arts University as well.
14 hour days became the norm, including school, practice and activities which helped immerse Jyothi in music and remain one of the best students in her class. Very little time was left for imagining stages, let alone appearing on them. Up to that point the only performances Jyothi regularly took part in were at her church on Sundays, where she played the keyboard.
That is until about a year and a half ago, when Jyothi and Kalaiselvi connected with Lit the Light, an organization which empowers those with vision loss through education and access to vital resources. The not-for-profit provided them with introductions and opportunities to help share Jyothi's talents.
https://www.youtube.com/watch?v=FeUKKEMIj6Q&feature=youtu.be
Fast forward to the preparations for Ability Fest 2017, and one of Lit the Light's members requested an opportunity for Jyothi to be on stage. The event was livestreamed by Chennai Memes, and seen by a worldwide audience.
Somewhere in the sea of viewers was director, Shanmugam Muthusamy and the star and music composer of his upcoming film, Adangathey, G.V. Prakash. They were so blown away, G.V. extended an invitation to Jyothi to sing for the film. Weeks later Kailaiselvi is still incredibly moved as she describes the kindness and respect her daughter was given throughout the recording.
#jyothi #teaching session ... the same feeling I got when I was teaching Uthra saivam song.Hope she wins a national award too 😇 ✨✨ god bless pic.twitter.com/wFu4Th4fmo — G.V.Prakash Kumar (@gvprakash)

#jyothi #teaching session ... the same feeling I got when I was teaching Uthra saivam song.Hope she wins a national award too 😇 ✨✨ god bless pic.twitter.com/wFu4Th4fmo

— G.V.Prakash Kumar (@gvprakash) February 25, 2017
">February 25, 2017 She is also in awe of the ways in which social media is connecting them to worlds that were unknown previously. Film for instance, was simply something they weren't keeping up with. When survival is your day to day priority, and discrimination against those with disabilities is far too common, it's not hard to see how that can be.
As she shared stories of her life and Jyothi's, Kalaiselvi continued to impress upon the difficulty of living with a disability when there are such widespread views that this is a burden to society; that this perception is even more difficult to shake in rural areas, where access to resources and education are more limited.
She hopes that everything she strives for, for Jyothi will serve as a testament to others to inspire and encourage them to keep persisting in the pursuit of a meaningful live.
Not one to take anything for granted, Kalaiselvi simultaneously encourages Jyothi to do her best and sets her sights on redefining the possibilities available to her every day. Whether that means continuing to study, to earn her MA, or teaching music to students from around the world, or performing and encouraging other aspiring artists, she's sure of one thing – there is much work to be done.
And she and Jyothi have only just gotten started.
https://www.youtube.com/watch?v=0NykbqKIDXY&feature=youtu.be
Editor's note: Jyothi and her mother, Kalaiselvi, were recently recognized at Raindropss' Fifth Annual Women Achievers' Awards, presented by Sathyabama University. Jyothi was awarded the title of the 2017 Rising Star.
Raindropss is an organization in India, known for raising social awareness through entertainment and media. Playback singer and film composer A.R.Raihanah, (who is also A.R. Rahman's sister and G.V. Prakash Kumar's mother) is Raindropss' Goodwill Ambassador.