I'm a Hindu, Tamil-American, Islamic Calligrapher
I'm a Hindu, Tamil American and an Arabic/Islamic Calligrapher who launched her own brand called IhsanIshan Design. This is my story.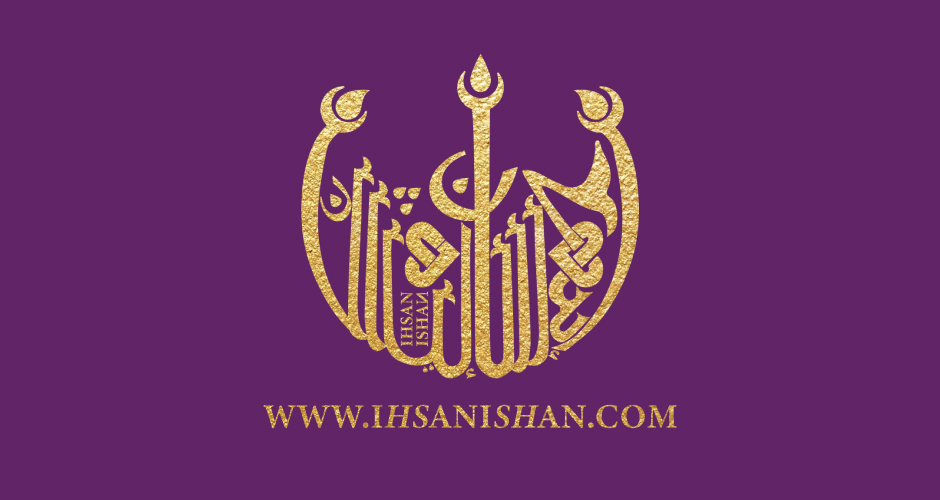 I'm Hindu, Tamil American and I am an Arabic/Islamic Calligrapher and designer.
For too long, there has been tension between Hindus and Muslims. Unfortunately, it is affecting the next generation in the USA where I reside. I felt a need to do something about it! Islam has been in India (the birthplace of Hinduism) since the 7th C, and it's the second largest religion in India - so why the misunderstandings? We have more similarities than differences.
I serve as the Hindu Chaplin at NYU and Columbia and my best friend is an Imam.
Some find my background odd, others interesting, that a non-Arab, non-Muslim is proudly showcasing their religion, art and heritage in a positive light.
How did this journey begin?
Born and raised in Fremont, California, my father was a founder and builder of the Shiva Vishnu Temple in Livermore, CA which I grew up attending. I am classically trained in South Asian performing arts whose roots lie in worship: Carnatic and Hindustani vocals, Bharthanatyam, Odissi, and Kathak dance.
Growing up in an Afghan neighborhood with Pakistani neighbors, my family and I celebrated religious festivals like Diwali, Eid, and Ganesha Chathuri with an equal view. What I felt was cultural pressure, not religious!
More and more Indian immigrants began arriving and divisions started to occur. South Indians stuck with other South Indians, North with North, Bengali, Punjabi, Tamil, Kanada, Telugu etc, mind boggling to me, because I grew up mixing, loving, interacting with all my brown neighbors!
'Good South Indian girls' were taught to go to Ivy league schools or the UC system and become doctors, lawyers, engineers or work in finance. Instead, I chose to go to NYC, received my undergraduate degree in Communication Design from Parsons School of Design. After years of working in the fashion, music, beauty, and entertainment industries, I became the Head Designer for the Metropolitan Museum of Art.
When the Islamic Galleries re-opened, I wanted to learn an Islamic Art form to design products for the shop. For example, Moroccan Islamic Art and Indian Islamic Art look completely different! What ties all Islamic Art together? Arabic Calligraphy! It is a language of faith, used to decorate mosques and illustrate the holy Quran. As a designer and artist by profession, I have always received inspiration and passion from all faiths, not just Hinduism. I have a degree in Arabic Calligraphy and have been studying with my Palestinian Ustadh for close to 12 years.
NYU heard about my work at Broome Street Temple in Manhattan where I taught Hindu prayers to recent converts, helping priests with religious rites, making flower garlands, and picking Lord Ganesha's outfit for the evening (given my background in the world of fashion). NYU wanted someone who was born and raised in the west who could relate to and teach Hinduism to the students. I became the Hindu chaplin and am affectionately known as the #pujaqueen, because I love my pujas (prayer rituals).
When I became the Hindu Chaplin of NY, I was scared and nervous - all sorts of emotions were going on in my head. There is no concept of "chaplaincy" or the word "chaplain" in Hinduism. I have been called a weirdo for being religious and attending temple all my life in my Indian Tamil community! Most folks born and raised in the west don't attend temple (unless their parents drag them kicking and screaming!).
Then I met the amazing Imam Khalid Latif (Executive Director of the Islamic Center of NYU).
Khalid was the first person to welcome me, talk me through my hard times, encourage me to continue chaplaincy, and celebrated with me my happiest moments and achievements.
Khalid is a Pakistani-American from New Jersey. When we met, I was so happy and surprised to meet someone who shared my background. Someone who is religious, a mosque attendee since childhood that grew up with the same cultural pressures and stigmas, and is born and raised in the west like me! I was horrified to discover how much hatred and tensions there are between our brown communities, especially between Indians and Pakistanis. I understand 1947's partition affected a lot of families- that hurt has been passed down for generations. My family and I were fortunate to not have been affected by this since we are South Indian Tamils which has allowed us to embrace religious differences- not fear them. For example, my aunts in Tamil Nadu go to church, my cousins celebrate Eid with their Muslim friends and
I have always celebrated Eid and Nowruz. I told Khalid, I am a proud South Indian Tamil person, my family was not affected by partition.
Hinduism is called Sanātana dharma- or the eternal truth, meaning all faiths lead to the same divine. The holy scripture Upanishad states: EKAM SAT (in Sanskrit) meaning: "That which exists is ONE, sages call it by various names." I grew up chanting VASUDHAIVA KUTUMBAKAM meaning "The world is a family!" one of universal truth and value SATYAMEVA JAYATE "truth alone triumphs" and one that spreads peace and harmony among humankind - SARVA BHAVAMTU SUKHINAH "may all be happy"!
Khalid has introduced me to numerous organizations, universities, attended interfaith panel discussions with me trying to get the masses to understand Hinduism. Hinduism might be one of the oldest religions in the world, but it is still a relatively new faith in the west and is practiced very diversely from yoga to prayer meetings, with differences in languages and culture.
To battle the tensions, negative stereotypes and racism within our brown communities, I put together my Arabic Calligraphy Artwork exhibition entitled "Allah Swami." Allah for God in Arabic, Swami for God in Sanskrit - currently up at NYU. It is very important that Hindus and Muslims have open dialogue in the USA. Folks tend to forget that India, Pakistan, Afghanistan, Bangladesh, Iran were all one nation before colonization. We share more than we differ in culture and religions. Every design has a strong concept and story behind it.
Combing luxe techniques (my fashion background), rooted in tradition but with a modern flair: My art aims to educate and celebrate the unique richness of our ancient brown cultures and traditions, create dialogue and awareness, bring together diverse communities, and showcase stories which are not necessarily mainstream, told through the art of Arabic Calligraphy and hopefully thereby promoting peace, unity, and friendship.
I call it the American Silk Road: cross cultural education told through calligraphy. It is important to experience each others' cultures and religions in order to truly understand and appreciate them.
My mission in summary is this: to educate, start conversations, have dialogue. Appreciation and understanding lead to a more unified, harmonious, compassionate, beautiful world!
Looking to create your love story? Join the other couples who have dated and married through myTamilDate.com!
"How a Message on myTamilDate.com Led to an Engagement for Lavanya & Vitharan"