How Tamil Food Recipes Helped Me Reconnect With My Father
"I recently sent this to the author of a great Tamil cookbook called, The Jaffna Tamil Cookbook by Nesa Arumugam. I wanted to her to know how important this book was. Not only did I learn how to make these great dishes, I also found a way to heal the connection that was broken. I hope this resonates with many."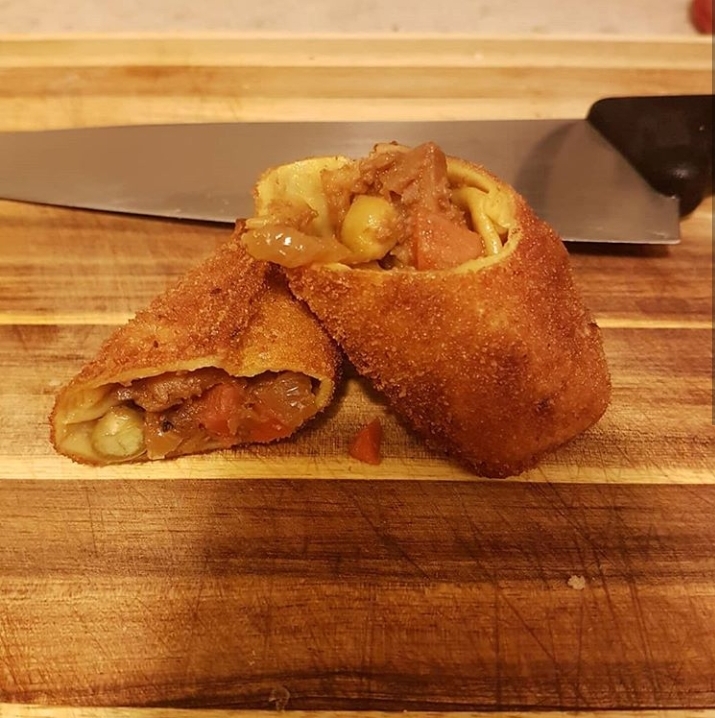 Hi Nesa,
I absolutely loved the book. I was leafing through and found so many recipes my parents have made, and many I've had at birthdays, weddings, and other events. Thank you so much.
I also started crying and I wanted you to know why this book means so much to me. I'm sorry if this email is a bit long.
I was born in Sri Lanka in 1983. The war started and we all had to leave very quickly.
I was three-years-old. I barely learned to speak Tamil, and now my parents and I were forced to learn this new foreign language (Dutch), and live a European life. My parents tried their best to keep some of our heritage, but were told by our handlers/helpers/local government that their son and daughter should be taught Dutch so it would be easier for them.
We were also one of the first to move to the Netherlands. Besides the four of us, there were maybe two other families and a few teenage boys that somehow escaped, and found a home in the city. My mom tried her best to find ingredients and make things like vadai and puttu and it was always so delicious. My dad found work in an Indian restaurant, and after 8 years, became the chef there.
Things were great for a little while. At around 12 or 13 years old we noticed the systemic racism that was happening in our school. Both my sister and I excelled in school, but were left back for language reasons. My sister and I ONLY spoke Dutch. We barely spoke Tamil at home, never to each other, and certainly not at school.
I was 13 when we left for Canada. We tried to start our life again. We noticed how the Tamils were flourishing in Canada. They had good jobs, owned homes, had multiple cars, large families, and were allowed to embrace the Tamil culture.
I felt lost. I was brought up around white people, learned a white language, and was now expected to be Tamil, and embrace the Tamil culture. I still didn't speak the language, nor did I know many of the Tamil traditions.
WATCH NEXT: THE 'DATING WHILE TAMIL' PODCAST
The only thing that remained constant was the food. The food was now more available, and amazing! We were exposed to more dishes than vadai, rolls and puttu haha!
Fast forward another 12 years. Mom died. I was 25. My relationship with my dad was never there. He has much trauma in his life and has tried to battle his demons through alcohol. The way he would show love was through cooking all this Tamil food for us. We would always ask our parents to take us to a Tamil restaurant. He would say, "Why? I can make all the food here!". Things were great when he wasn't connected to the bottle.
He was very disconnected with me. Since I was a boy, I looked at him for guidance and love. My mom was the head of the family, and many days I'd spend listening to her speak and ask questions. My dad's language was food. I'd spend nights watching him cook. I was amazed at how he would reach in bottles, grab things with his hands, and throw it in this pot, and magically create amazing dishes. Nothing was measured or weighed, but somehow ended up being delicious!
Fast forward 10 years later. I've completely stopped talking to my dad. His trauma caused my trauma, and I refuse to pass it along to the next generation. I'm 35 and using what little I learned by watching my dad cook. I love that Sara loves my Tamil cooking. Just last week we were driving home, and she craved mutton curry. We bought the mutton, and within about 3 hours, she was eating mutton curry. I found myself spiritually reconnecting to my father. I remember the way my dad would look at us when my sister and I were children, scarfing down his mutton and chicken curry. He felt the most happy, and now I feel the most connected to Sara and my friends whenever I cook Tamil food.
The mutton and chicken curry were the only two things I remember how to make. It's all from memory. I started writing things down, but I would never follow the recipe exactly. Sometimes it was more fennel, sometimes less cumin. I'd reduce the curry powder if Sara was recovering from a cold, or was feeling sick. All things I'd see my dad do when we were children.
All my life I felt disconnected from my roots. I feel like an alien in my own culture. I still don't know the language or many of the traditions. I've been called white-washed, a coconut and all the other types of slang. The only way I keep the connection alive with my culture, and my father, is through feeding my friends the food I grew up with and loved.
I want to thank you so much for what you've created. I feel like my connection is being restored and my soul is being healed.
With lots of love,
Anton Sountharanayagam
Learn to cook delicious Tamil foods while supporting a great cause! Purchase your copy of Handmade Cookbook today on TC Mrkt.
**Looking to create your love story? Join the other couples who have dated and married through myTamilDate.com!**
Get to know our latest myTamilDate (MTD) success story! Our MTD couple was captured by our UK photography partner Photon Image by Daran.
MYTAMILDATE SUCCESS: A GENTLE PUSH TOWARDS ONLINE DATING BY FAMILY BROUGHT CÉLINE & SANTHOUS TOGETHER