8 things to do in South Africa's Durban this festive season and beyond
With the holidays just around the corner I thought it appropriate to give readers a sense of what they could do in Durban that even Durbanites still do. Here are a few favourites when visiting this sunny east coast city, home to a large number of Tamils and other Indian descendants.
I spend less time visiting Durban than I did in my earlier days. It is the town I grew up in and moved away from in my early twenties to relocate to Johannesburg (an equally abundant and vibrant city to visit). I am excited to be visiting after two full years and to spend some quality festive time with my family. Durban is located on the east coast of South Africa and is home to 1.5 million with Indian ancestory. Indenture is where it all began and the community is home to a mix of subcultures. South Indian Tamil heritage is by far the strongest in numbers and there is also a large community of North Indian descendants. There is social cohesion as English is the most widespread medium of communication. Preservation of cultures remains through religion and there is absolute religious tolerance as our country's constitution promotes this diversity. Many of us still have strong roots in Durban even though we may have moved outside the city (or country) for economic development. Durban is also home to the Zulu monarchy and tribe. It really is a melting pot of cultures and everyone can agree that the unifier in Durban is it's curry - no matter where we go in the world we always want that Durban curry braised with a special mix of masalas which give it a distinctive deep reddish-brown colour. The heat is like no other: both to our palates and the humid tropical climate of Durban.
Number 1: Eat a bunny chow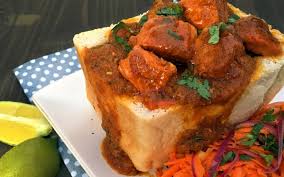 There are no cuddly bunnies involved in the making of this chow. Derived as a way to eat on-the-go for labourers by a Gujarati (bhania) take-away, this hollowed out bread is filled with a rich gravy meat or vegetarian curry. Generally eaten with your fingers it is a great introduction to the South Indian inspired spicy cuisines in Durban. Also sold are rich fish curries made with tamarind (pulee), all varieties of breyani (South African's have adapted the spelling of biriyani) and payasam (vermicelli and sago milk pudding served with papad and usually served as a sweet offering for Hindu prayers). No Tamil wedding is complete without vegetable breyani, brinjal braised dhal (also known as wedding dhal), carrot salad and soji (cream of wheat halwa also known as wedding soji) for dessert.
https://www.facebook.com/CaneCutters53/
http://theorientalrestaurant.co.za/
https://hotelbrits.co.za/wp-content/uploads/2019/08/Britannia-Restaurant-Menu-2019.2.pdf
Number 2: Visit the 1860 Heritage Centre in Durban
Curated by Selvan Naidoo this museum is a tribute to the indentured labourers of India that arrived on the shores of Natal primarily to work on sugar cane plantations. The centre walks you through the history to the present day lives of South Africans of Indian ancestory.
https://1860heritagecentre.com/about/
Number 3: Enjoy samoosas, vedas and spicy pineapples at the Blue Lagoon beach
More in your food journey as you treat yourself to the humble samoosa (not samosa in South Africa) filled with potato curry or cheese & sweetcorn or the local delicacy is tinned fish. Lazy Sundays are spent walking the shores of Durban's beaches and soaking in the cultural delights.
Number 4: Make an offering to the Divine Mother at the MariAmman Temple in Mount Edgecombe
Devotees of Adi ParaShakti in South Africa is as a result of a large number of Hindus (over 500 000). There are many temples across the country and Durban has the largest population in South Africa.
Number 5: Visit the uShaka Marine World
Africa's largest aquarium opened in 2004 and is both educational and fun for the whole family with rides, activities and a host of dining options.
https://ushakamarineworld.co.za/
Number 6: Walk across the Moses Mabida stadium bridge
Build for the world cup in 2010 this stadium now offers visitors an opportunity to get a bird's eye view of the city.
Number 7: Take a boat ride from Durban's harbour
A great way to appreciate the biggest port on the African continent followed by lunch on at the wharf.
http://www.durbancruiseboat.co.za/
Number 8: Shop at Bangladesh Market
Durban staples can be found here from fresh indian vegetables to homewares, fish and offals (something that our forefathers started preparing and is now a delicacy for most Durbanites). This is the place to go for those special idli pots or mooruku making devices.
http://www.bangladeshmarket.co.za/
http://www.durban-tourism.com/
Looking to create your love story? Join the other couples who have dated and married through myTamilDate.com!
"How a Message on myTamilDate.com Led to an Engagement for Lavanya & Vitharan"