Irudaya Dance Company is our teaching and performing company based in Toronto. We teach various techniques and the importance of Bharathanatyam, while encouraging our students to explore their creativity. Having explored other dance genres like Bollywood, Gaana and Tamil cinema as Inter-University competition choreographers throughout our postsecondary education, we are confident in our ability to teach these genres alongside Bharathanatyam.
As disciples of Sri Vasu Sinnarasa (Founder of Sathangai Narthanalayam), our foundation was built based on the ancient history and intricate techniques of Bharathanatyam in the Pandanallur Style. For most kids and parents, an Arangetram is the final goal of their dance career but this was not the case for us. Rather, we considered it the first step into discovering this art form. To further intensify our knowledge in Bharathanatyam, we completed our 4 year diploma at the Annamalai University Canadian Campus in 2012 and received the title of "Nattiyakalamani". From there, we received training from Kalaimani Dr. Uma Anand, (daughter of the legendary artist, the late Guru Padmashri K.N. Dandayudhapani Pillai).
Not every individual is as lucky to find someone who shares the same passion.  Fortunately, our passion for dance brought the four of us together in 2009. We started as classmates, grew as a team, became best friends and bonded as sisters. Using our individual strengths of choreography, expression, clarity and precision, we slowly built our identity. Of course, living the life of an artist of any type is definitely not easy. It requires a lot of time, commitment, sacrifice, and money. As full-time students and part-time workers throughout our dance career, time management was a skill we needed to master. This required many late nights and early days, but having our families by our side got us through it all. Their constant support brought us to where we are today and we could not be more grateful for them.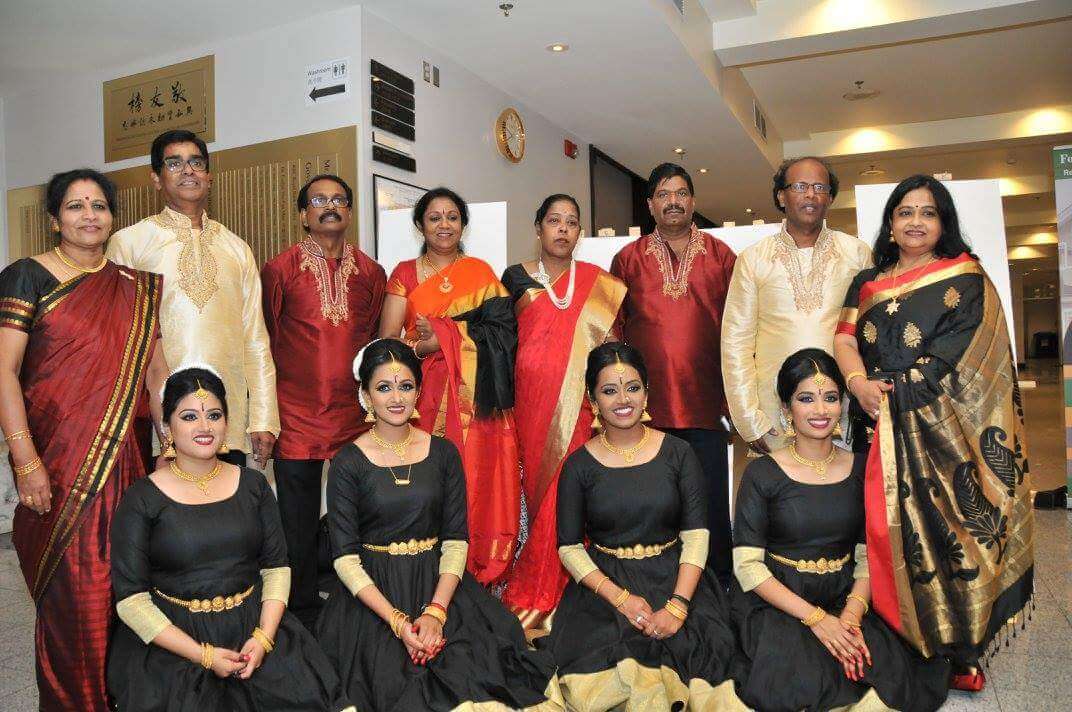 Performing became a routine with multiple shows every weekend. In between school and work, we would meet for countless hours just to create unique pieces and practice endlessly. Although we were told that by doing these performances we were receiving exposure and recognition, we felt our hard work and dedication was constantly overlooked. During this time our passion became a habit and we always felt like we were accessories. Within artists, we began to see a hierarchy set by the community. We had event coordinators ask us to be punqtual for their shows, only to be told "Wait, we will put you after"; or when it was finally our time to perform, the audience would be sent for dinner. Over time, we have been forced to acknowledge that Bharathanatyam dancers are not regarded the same as other artists. There have been many shows where we felt disrespected, forgotten, and made to wait hours to perform until we were given a spot at the end of the show, as an afterthought.
Not to disregard the shows where we were treated with utmost respect, however the few negative experiences forced us rethink our passion. One moment changed everything for us. At one of the largest Tamil events in Toronto, we were asked to perform and, as per usual, we were punctual with our hair and makeup done. We waited to be called and as hours passed, there was no sign of us being called to perform. Nearly 6 hours later, we were informed that we may not be able to perform due to time constraints and the international singers that were waiting to sing. At this point, one of our members broke down to tears. It was unbelievable to think that 5 minutes could not be allotted for our performance, especially when we were requested to perform. One of the international singers, whom we befriended while waiting, spoke to us about their struggles. Hearing his struggle made us realize that regardless of how many times we fall down, we must get back up and persevere! So this is what we set out to do.
As a group, we are constantly intrigued to express ourselves using Bharathanatyam whether it is with Muthras (hand gestures) or Jathis (steps) in various Kaala's (tempos). We view dance as a mode of communication and a language of it's own. Hearing any kind of music always triggers us to choreograph for fun. It started when we experimented and performed a creative Bharathanatyam piece to a cinematic song. The vast response we received from that performance motivated us to continue the idea of creating pure Bharathanatyam choreography set to non-carnatic music, but also modifying the movements to flow and unify these polar opposites.
Unfortunately, due to our creative decisions, we have received a great deal of criticism. We had to face judgement ranging from the type of music we chose, to our choreography. We were informed that the idea of mixing cinematic music with such a traditional art form would not be accepted, but it was never a good enough reason to stop. The criticism only encouraged us to show everyone that art can evolve with time and still be kept traditional. We had to emphasize that we were not destroying the technique.  Rather, we are trying to spread this beautiful art form to a wider audience who appreciate the nuances of Bharathanatyam. We realize that as young artists in this society, it is really hard to receive full support because our capabilities are always underestimated and questioned. Nonetheless, we took this as a challenge and created our brand "Irudaya Dance Company" in 2015.
One of our first unforgettable moments involved two of  South India's famous voices: Krish and Mukhesh. As we finished our performance, we expressed how honoured we were to meet them, but they stopped us and said "You guys are amazing, we are your fans!!!" As such, we are privileged to have shared the stage with countless other South Indian celebrities like Srinivas, Unnikrishnan, Anuradha Sriram, Sid Sriram, Marana Gana Viji, Shasha Thirupathi, Aditya Rao, Sathya Prakash, Sai Charan, Pragathi, Nirujan, and Padmashree Hariharan. To know that they have all witnessed our performances and appreciate our hard work is tremendously rewarding. Until then, we were so occupied with the criticism that we did not realize how appreciative those in the Tamil Cinema Industry were to us for starting this new concept.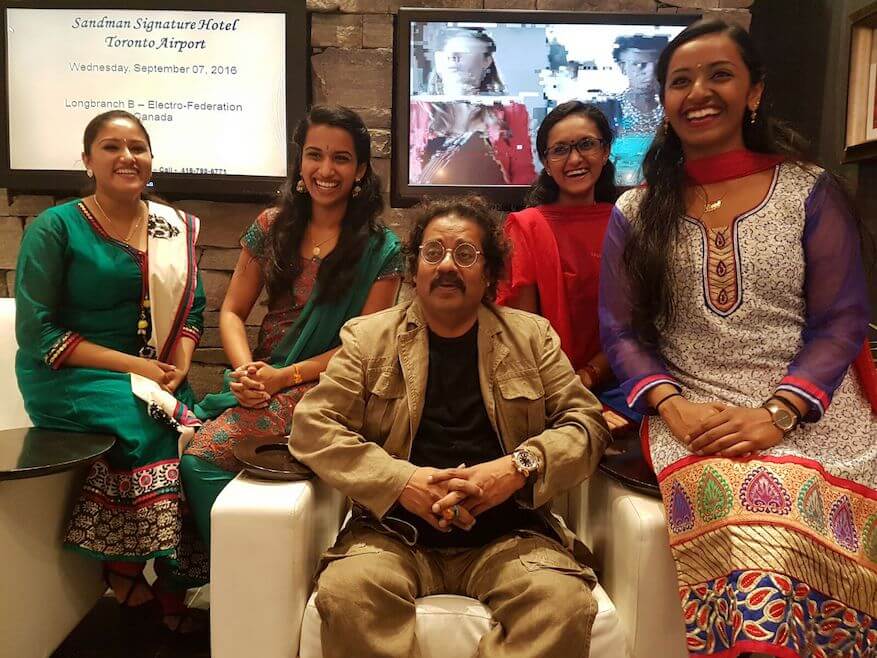 Another major achievement for Irudaya Dance Company was being the official classical choreographers for Ideal Dreams- A Tribute to A.R. Rahman, where we recruited over 10 dancers and created intricate pieces to some of the milestone songs created by the legend himself. Along with many other choreographers and musicians, we were honoured to perform in front of the one and only legend, the Mozart of Madras, A.R. Rahman.
Charity Show (Dance Production)
The four of us developed a passion for charity work from tender ages. Whether it was being a part of charity shows or just acting as a volunteer, we enjoyed making a difference in our own ways. In 2014, along with four additional friends, we hosted our first charity show with all proceeds donated to The South Asian Autism Awareness Centre (SAAAC) and The Markham Stouffville Hospital. Our goal was to attract a diverse audience, try something different and raise as much as possible for these two wonderful organizations. We created "Magical – The Tales of Disney Princesses"- a creative collaboration of Bharathanatyam and old western fairy tales. The turnout was overwhelming with a full house that allowed us to successfully raise a total of $12,000. The feedback we received from the show was extremely positive and that experience gave us the courage to continue experimenting with different music and choreographic methods.
On September 17th 2016, a year after the official launch of Irudaya Dance Company,we held another sold-out charity dance production called "Journey – A Glimpse Into Tamil Cinema," a Bharathanatyam show based on the evolution of Tamil Cinema. Starting from the 1960's until the 2010's, staged many monumental moments to depict the evolution of Tamil cinema, all through the traditional art form of Bharathanatyam. We took the planning and execution into our own hands, and worked day and night in order for our show to be a success.This meant many sleepless nights, and a lot of dedication and tears, but it was all worth it as we raised a total of $20,000 for the Canadian Cancer Society and The Mahadeva Suwamigal Childrens Home in Kilinochi, Sri Lanka. The support from all of our wonderful sponsors and supporters brought us unmeasurable happiness. For the first time, we felt accomplished! Dr. Shan Chandrasekhar, the son of Indian film-maker K. Subrahmanyam and the CEO of Asian Television Network (our media sponsor) stated "This show must not stop here and should be performed in Chennai!" Hearing these words from such a well reputable man from the Tamil Film Industry gave us confidence to continue pursuing our goals.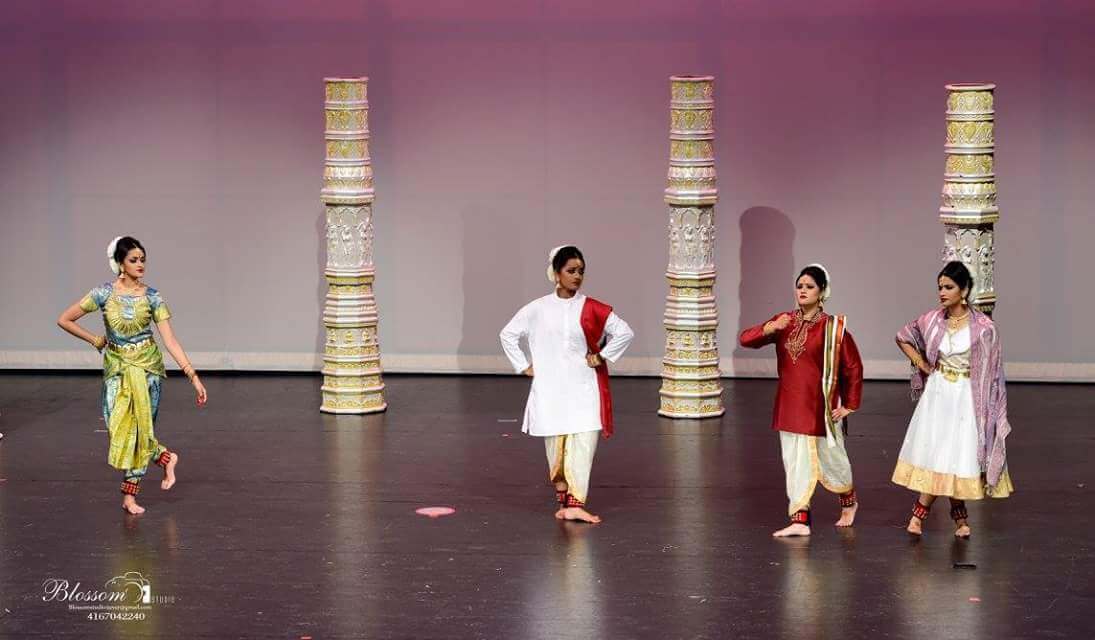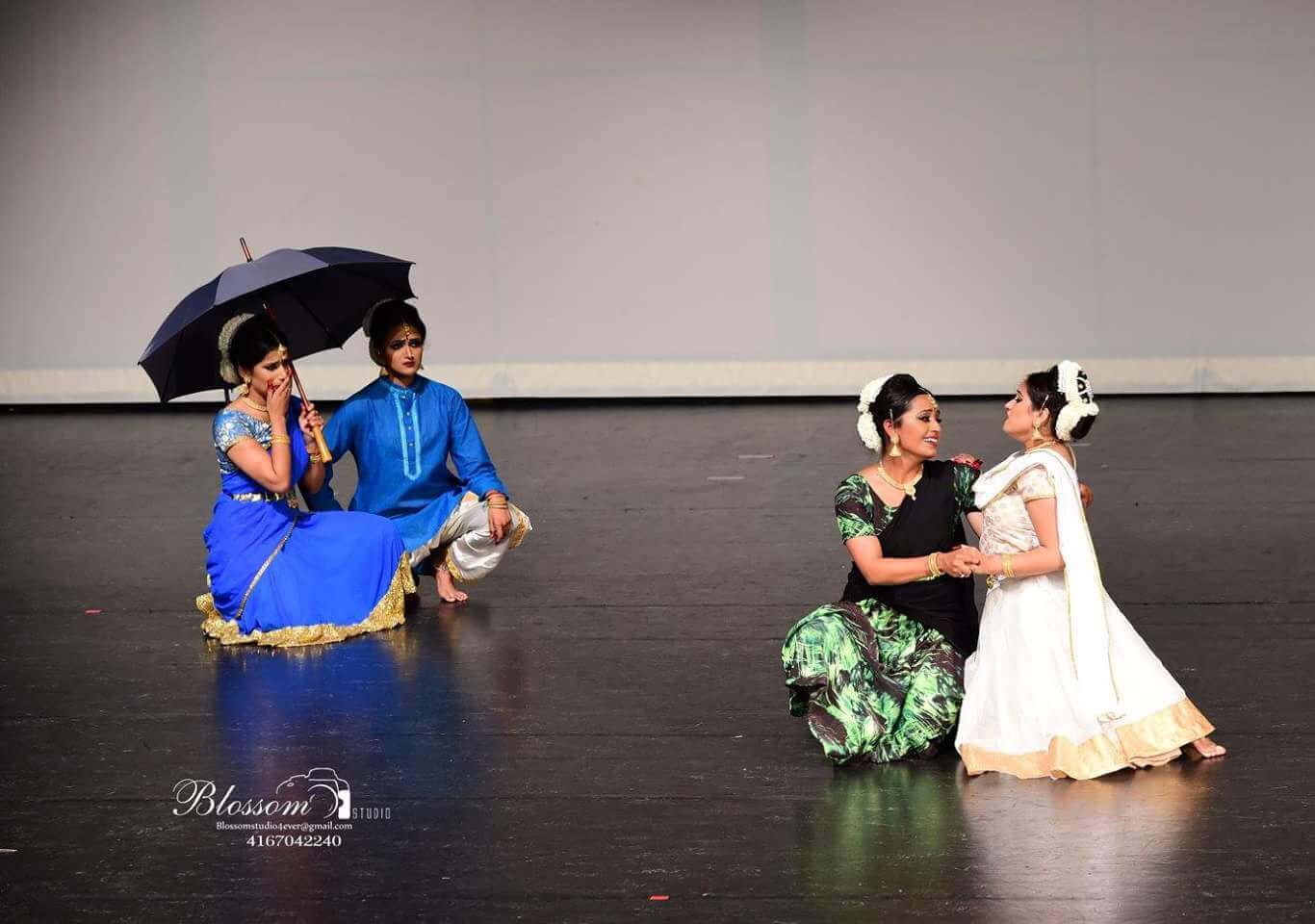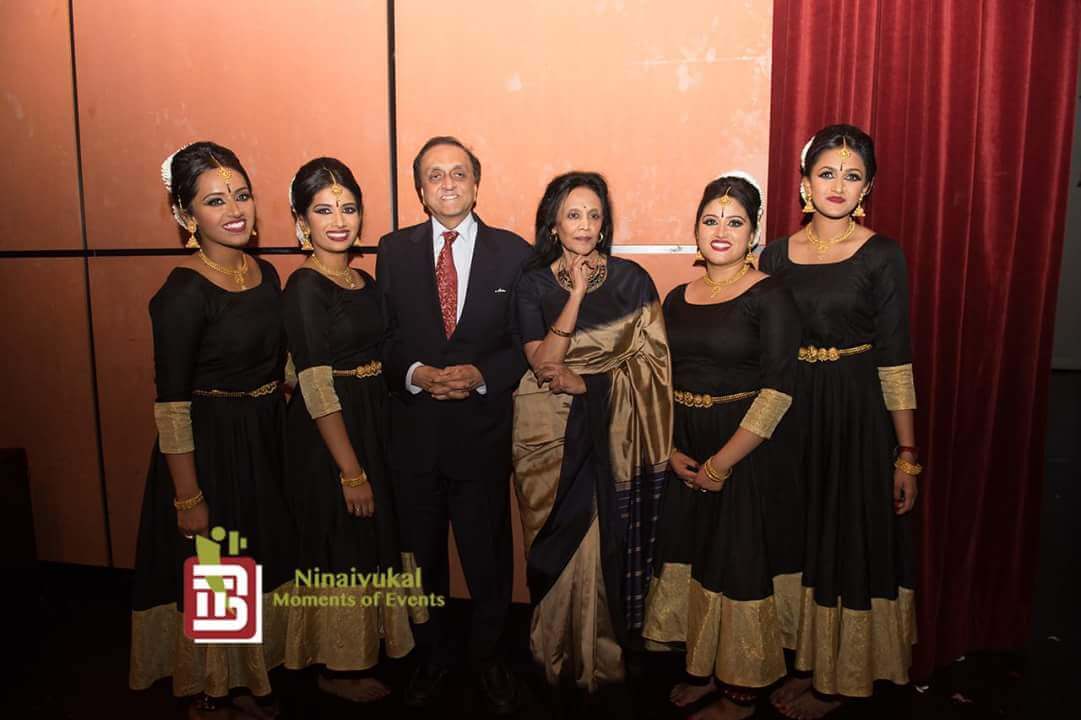 Following our successful show, we were not sure how to keep our supporters engaged. Luckily, one of our mentors helped brainstorm ideas to keep our social media account active and that was when we thought of #IrudayasJourney. We came up with the idea of releasing weekly 1-minute videos of our choreography to some of our favourite music on our social media platforms. Our first video was to the song "Senthoora" from the film Bogan, sung by our dance colleague Luksimi Sivaneswaralingam. Our Facebook page initially had 700 likes, but after our first #IrudayasJourney video, we went viral! The video soon reached over 22.1K likes, 18.6K shares and nearly 1 million views! To top that off, we were tremendously pleased when the music director of that song, D Imman, shared our video along with his wishes- It was unbelievable! We received support from around the world including India, Sri Lanka, Malaysia, Singapore, UK and many other countries. Since then, our page has received over 35K likes and 36K followers. We have gained so much love and support for all our videos, and reading all the encouraging comments has definitely brightened our days. We are so grateful to have our "Irudayans", as we like to call them, by our side.
As lyricist Vairamuthu said, "Maatrum Ondrey Maarathathu"or "Change is the only thing that will not change". What we hope for everyone to take away from this article is to be open to change.  In today's society, it is hard to find those who appreciate rich culture and tradition. Although we have found Bharathanatyam to be widely accepted as fine art within our Tamil culture, we have also seen many people disregard it, because they consider it to be "old-fashioned" or "not entertaining." We want to change this. By merging non-traditional music and Bharatham, we want to show that this art can be kept 100% traditional while still being creative. We also want Bharathanatyam to be recognized on an international level and we are determined to work towards this.
On behalf of all our fellow artists and dancers, we would also like to emphasize the importance of treating artists equally. Everyone works hard to get to where they are and as a community, we need to support them. We believe the time and money used to invite internationally proclaimed artists, can be invested in local talents to further enhance their skills. We know there are many people out there just like us who do not come from a background of artists or completely wealthy families, and it is important to support these individuals and provide opportunities for them because talent can be found within anyone!
We want to share our passion, make a difference and leave a mark in our society.
Sincerely, The Irudaya Dance Company
Nivatha Moothathamby

Keerthana Arulanandarajah

Yahlikah Mahesuwaran

Cynthiya Sri Rangan