Hockey and Multiculturalism: Challenging Two of Canada's Most Cherished Foundations
An Op-Ed to Mike Davies' article in the Peterborough Examiner discussing racism in hockey.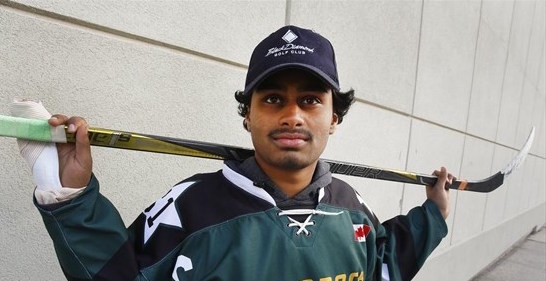 Let's challenge two of Canada's most cherished foundations - hockey and multiculturalism. Practically symbols of the nation, these two come into question in Mike Davie's article in the Peterborough Examiner. The article focuses on a Tamil Canadian teen hockey player, Zachary Sukumaran, who is told, "Go back to where you came from, you (expletive deleted) immigrant," by an opposing player during a game. The rest of the article can be accessed here. This is not the first racially instigated incident and points to a growing concern suggesting that hockey culture deserves a penalty, as multiculturalism keeps getting slashed in all levels of the sport.
The incident calls for a reform to the sport. Much like how Sharks forward Evander Kane has stated, in regard to what other sports are doing to bring awareness to racism, hockey is so far behind. The incidents, within the past few years, are plenty and include Detroit Red Wings prospect Givani Smith requiring police escort to junior league play-off games, a First Nations hockey team of preteens enduring unfair calls at a tournament in 2018, Philadelphia Flyers forward Wayne Simmonds having bananas thrown at him on the ice, and ex-Montreal Canadiens star, PK Subban, being hurled with racial slurs by Bruins fans. This is all capped with Don Cherry's discriminatory and divisive comment about 'you people'. Perhaps it isn't that hockey has a racial problem, but that society does; a lack of adaptation to welcome people of colour into the sport.
The Institute for Diversity and Ethics in Sport (TIDES) releases an annual racial report for the major professional leagues such as MLB, NBA and the NFL. About two-thirds of NFL, over three-quarters of NBA, and even 60% of MLB players identify themselves as non-white. These numbers, when compared to the percentage of visible minorities in the NHL, certainly raises questions of inclusivity and accessibility. It's definitely not that the league or that hockey is racist, but that institutional racism is built into the game itself. A major drawback is few people of color have the opportunities to start playing hockey; the more expensive a sport is, the less representative its player base will be. This consequently impacts the league and the talent pool from which its players stem from, especially when compared to that in a more accessible sport.
There needs to be an acknowledgment of racial disparity in order for any progress to begin. While the negativity continues to get reprimanded, signs of change and rebranding are occurring on both the local and NHL levels. There are more colored players than ever before on the ice, and the numbers are slowly growing to introduce a slow ripple of growth and inclusion. In 2018, the NHL launched a campaign called "Hockey is for Everyone" designed to promote a commitment to diversity. This doesn't take away from the hurt and racism faced by players, but it is a step in the right direction, to redirect the dialogue and to create a rink of respect for all.
Image sourced from the Peterborough Examiner
Looking to create your love story? Join the other couples who have dated and married through myTamilDate.com!
"How a Message on myTamilDate.com Led to an Engagement for Lavanya & Vitharan"