I dedicated over 50 years of my life to learning and teaching classical Indian dance. Dance has taken me across the world and has connected me to some wonderful people. Dance is what ultimately led me to create the SAAAC Autism Centre. On Friday, Oct 13, after 20 years, I will be returning to the stage to perform for a cause truly close to my heart. I am looking to fundraise to help build a new facility for the SAAAC Autism Centre, which will look to support nearly 400 families annually. Join me, along with some acclaimed international and local artists, to support children and families with autism. I would truly appreciate seeing you on Friday, Oct 13 at Colourful Moon

I was a typical girl growing up, but a few times a week I became a god or goddess, a hero or a villain, and told stories of epic battles, of loves lost and won. To me, dance became another language, another way to express myself, my dreams, my emotions. I remember my teacher telling me that classical dance told our history and the dancer was the vessel through which the audience was connected to a rich cultural past.
To me, dance was storytelling at its best, and I knew from a young age that it was a privilege to share these stories.

My life with dance started very early. Like many kids, I was initially dragged kicking and screaming to dance classes by my parents. When you are five years old and forced to keep your back straight or hold perfect form or execute uncomfortable poses demanded by classical dance, things could get miserable. Three days a week, I would go to my classes very reluctantly, but that reluctance would slowly subside. A major reason why - my first dance teacher. I studied under Guru Selvaluxmi Ramakrishnan for over eight years. She was kind, soft spoken, and had a love of Bharanatyam that was obvious the moment she began teaching.
[ note: I should quickly let you know what Bharanatyam is before I go on: In very broad terms, Bharanatyam is one of the popular classical and traditional dances of India. The dances are meant to be stories told about gods and goddesses from Indian mythology, folk tales, and stories. Bharanthyam demands a preciseness and discipline to execute; it combines athletics and art. It can be incredibly difficult, but also incredibly rewarding.]
When my parents decided to relocate to another part of Sri Lanka, I was incredibly sad to leave my teacher, but she had instilled in me a way of looking at dance that gave me so much happiness, creativity, and respect for the art form. The years spent learning from her gave me an unshakeable foundation in dance that I would carry for a lifetime.
When I moved to Colombo, a bustling city centre, I began learning Kuchipuddi, another popular classical Indian dance form. During this time, I met and learned under some incredible artists. My teacher was Guru Ranga Vivekanandan, a world- renowned classical dancer who learned under Padmabushan Dr. Vempati Chinna Satyam (recognized for revolutionizing the Kuchipuddi dance form). My fellow dancers were some of the best in the country, and I was constantly pushed to perform at the highest level possible.
I am proud to say I was able to thrive in a competitive, driven environment. In fact, one of my proudest achievements came when I had the first Kuchipuddi arangetram in Sri Lanka.
[note: Arangetram's can be considered a type of graduation which tells the public a young dancer is no more an amateur, but an emerging dance professional. Arangetram's from this time also had a critical competent where an audience of teachers and critics decide if the performance was satisfactory].
The years leading up to that Arangetram were extremely difficult, filled with long hours of practice and self-doubt. But my teacher, my fellow dancers, and a community of passionate artists really pushed me to reach a potential I thought I was not capable of. Artistically, it was an exhilarating time for me and I was eager to grow and learn more.
When war began to unravel Sri Lanka, I, along with my family, had to scramble to escape the country. Like so many others, I had to leave things behind that were dear to me; my dance career was one of them.
When I arrived in Canada and began working, many other Sri Lankans who had made the journey over were able to recognize me and soon began requesting if I could teach their sons and daughters classical dance. I soon transformed from performer to teacher. I started my dance school, Narthanalaya, in 1985 with 12 kids. Over the next two decades, I would go on to teach 350 students. I tried my best to teach my students what my gurus taught me, and I hope they enjoyed our time together as much as I did.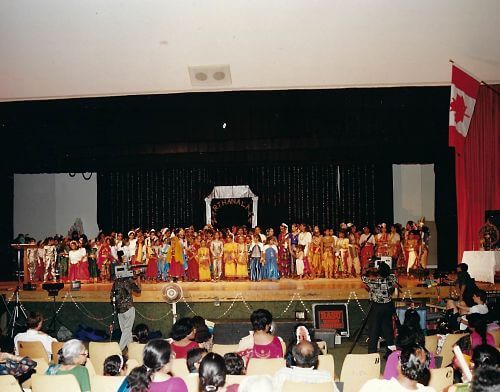 I truly believed in the power of dance to challenge people and create real impact in the world. It's the reason why my dance school did countless fundraising dance shows for charities that supported local and international causes.
It was through these charity fundraisers I came to meet many parents who had children with autism. Through them I learned that autism was a developmental disorder affecting how the brain grew and functioned. How those with autism had social and communication difficulties, and how some children had repetitive behaviours and could become fixated on strict routines, objects or topics.
These parents all expressed to me what any parent would want for their kids: opportunities to grow, have fun, and connect with others. At the end of our conversations, all the parents had the same request: could I teach their children to dance? I had no experience with working with children with autism, but I wanted to help, so I agreed.
With a handful of my dance students (for whom I am eternally grateful, for their time and effort), I began teaching a few young adults with autism on a weekly basis. This was the first time I experienced dance not as a form of storytelling or personal expression, but something much more.
We found that many of the students we taught had gross motor deficits that impaired their ability to move fluidly. Our dance classes looked to build strength, coordination, awareness of body in relation to space. Dance was able to open their world a little bit. For example, we saw students finally making eye contact (most individuals with autism have challenges making eye contact). We saw students discover new movements they were not capable of executing before and we saw students learn rhythm and coordinate their movements.
It was an incredibly fulfilling and satisfying time in my life to see how dance went beyond the stage to make a difference.
[embed]https://www.youtube.com/watch?time_continue=2&v=sh05RU0TViM[/embed]
My work with these students ultimately led me to be the Founder and Executive Director of the SAAAC Autism Centre, a Toronto-based charity that supports newcomer and low-income families living with autism.
Currently, SAAAC serves 250 families and has an active volunteer base of 150. I am proud to say we are able to deliver a combination of free and subsidized programming made possible through strong partnerships across federal, provincial, and municipal governments along with leading autism agencies and private donors.
I am also proud to say I still hold weekly dance classes for a group of very special students and their parents at SAAAC.
I have dedicated the last few years of my life, along with other extraordinary people, to building SAAAC. And this year we are reaching big new milestones: We're turning 10 years old and moving to a new home! Our new home is an 11,000 square foot facility that will support at least 400 families annually through our various services. To make this happen, SAAAC needs to raise $250,000.
To do my part, I am going back to where it all began for me - the stage. On Friday, October 13, after a twenty-year absence, I am looking to perform again. In addition to some very talented international artists, I will be performing with some incredible students from the SAAAC Autism Centre along with their families.
After hundreds of performances, I feel this may be my most important. Dance has taken me across Sri Lanka, created a life for me in Canada, and has connected me to some of the most special people imaginable. This night will be a celebration of dance, the impact it has had on my life and it's ability to bring people together.
Come see my story, come support our new Autism Centre.
[embed]https://www.youtube.com/watch?v=7mbzTcMVPB0[/embed]
Tickets can be purchased here: https://www.eventbrite.ca/e/colourful-moon-concert-performance
This article was originally published by Geetha Moorthy at the following link: https://www.linkedin.com/pulse/one-night-only-why-im-returning-stage-after-20-years-geetha-moorthy/?published=t