The Tamil Diaspora Mourn Victims of Attacks in Sri Lanka
Faith leaders, community members and elected officials organized vigils and gatherings to pay their respects for those affected by the recent attacks in Sri Lanka.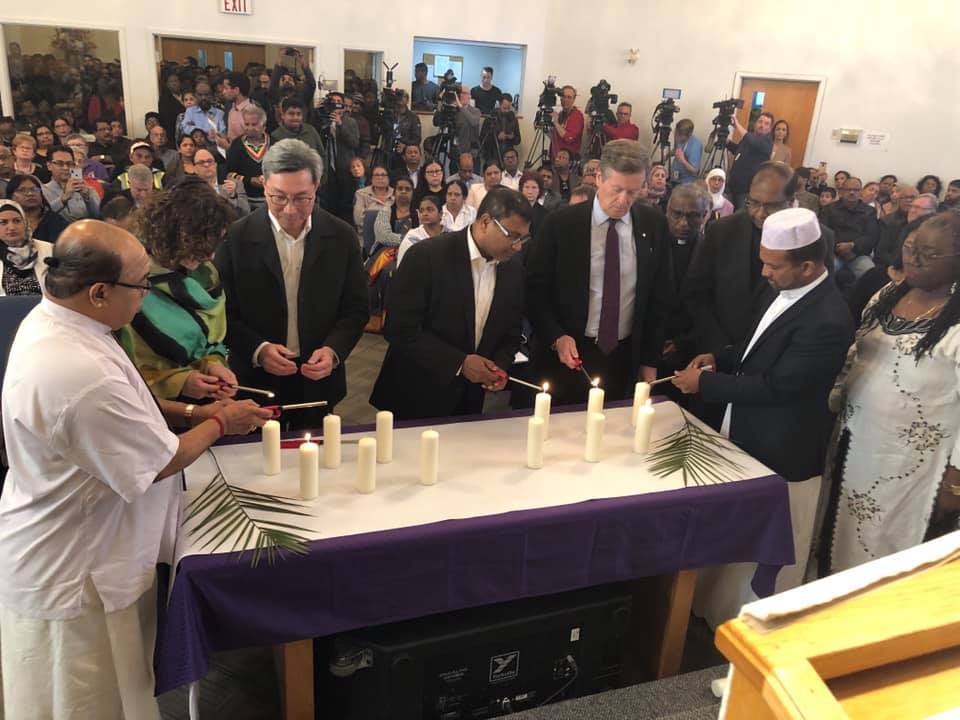 Members of the Tamil diaspora have organized vigils and continue to share their thoughts and prayers over social media as they grieve the loss of nearly 300 people killed in Sri Lanka's Easter Sunday bomb attacks on hotels and churches.
Canadian MP Gary Anandasangaree, who fled Sri Lanka at the age of 10, shared the following sentiments with the Toronto Star:
He said Sunday's attacks risk destabilizing a country that's still struggling to establish a fragile peace, adding many of his fellow expatriates are anxious about its longer-term consequences for loved ones back home."While peace has not been achieved on the island in the past 10 years, there was some semblance of order in some places," Anandasangaree said. "This just brings everything to a halt."
Kumaran Nadesan Founding Chair of comdu.it, an organization that focuses on social development efforts in Northern Sri Lanka:
"Sri Lanka has an unfortunate history of violence directed against ethnic and religious minorities perpetrated by various actors over the years. The scale of yesterday's violence has profound implications as it comes at a critical juncture when communities in Sri Lanka, as well as its diasporas, prepare to commemorate ten years of the gruesome end of the armed conflict and its yet unresolved trauma."
Meera Pathmarajah & Greg Buie, Founders of Visions Global Empowerment:
"Sri Lanka has always held a very special place in our hearts. It is, after all, where Visions was born in 2003. The recent violence that has taken place across the island is simply unimaginable to us. For a place that has endured so much already in recent decades, it seems particularly cruel that its people must now face this current crisis. We, of course, stand in solidarity with Sri Lanka and all affected by this horrific tragedy. Our hearts are with you all at this painful and uncertain time.
We at Visions, in our own small way, have been committed to realizing change and bringing hope to the people of Sri Lanka over the past 16 years. Today, we stand as committed as ever to continuing to do what we can to serve and support this magnificent country and those who call it home. We hope you all will join us in not only offering our condolences today, but doing all we can in the long-term to serve those in need, to build up communities, to strengthen education and civil society, and to help ensure a future of peace and prosperity for all."
An inter-faith vigil was organized in Toronto and other parts of the world to grieve the victims:
'Beyond comprehension: Canadians gather to mourn, seek solace after Sri Lanka attacks