"Tamizh Futurism" Celebrates Tamil Culture Through Architecture
TC chats with Adhavan Sundaramurthy about his thesis "Tamizh Futurism."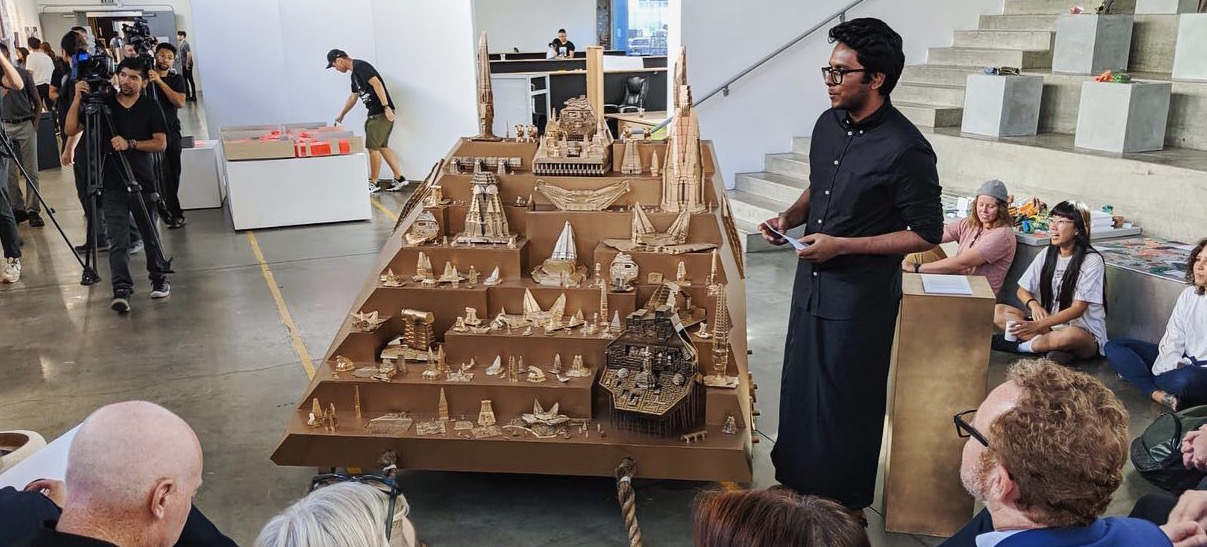 Adhavan (follow his TC Connections profile here) is an Architectural Designer who recently completed his Masters in Architecture at the Southern California Institute of Architecture famously known as SCI-Ar . Born and raised in Chennai, he holds a Bachelor's degree in Civil Engineering from the College of Engineering, Guindy, Anna University. He's also the co-founder of an Architecture firm called Dot Architecture & Design studio based in Chennai, Tamil Nadu.
What's 'Tamizh Futurism'?
Tamizh Futurism, a term I'm proud to have coined, is the vision of a possible future/futures steeped in ancient history, philosophy, literature, and the traditions of "Tamizh" language, which celebrates the legacy of Tamizh culture through the speculative lens of Architecture. In spite of its rich history - the language, its tradition, its culture, and its people are being continuously oppressed due to geopolitical reasons. Through a history of cultural influences, invasion, colonization, conquest and repression, the distinct architectural elements and technological logic of Tamizh architectures were also lost.
Studying the last of the remaining structures that were built during the Early Chola period (1400 BCE - 200 CE ), some glimmers of the structural and formal logic central to this vernacular can still be gleaned. Tamizh futurism is a whole new perspective of looking at ancient Tamizh civilization. The project revisits some of the most important and significant tamizh architecture through a speculative lens to find cues from the past and project it onto the future by pushing its boundaries to the fullest potential to create a new formal Architectural style.
How did this project come about?
My grandfather is a Tamizh Poet and he has published almost 30 books post his retirement from Southern Railways. There's one mandatory book that everyone in our family had to read no matter what - the Thirukkural. It played a really important role at every step of my life. And it's also one of the important reasons for the love I have for the Tamizh language. Since then, I've always been wanting to contribute back to the language. I had an opportunity to do something in my thesis. During my research, fascinating information about our past was discovered. But the fact that we haven't done anything about it, in spite of our rich history and legacy, bothered me. We've only been trying to prove and validate our past. The history is important, but what's more important is what can be done with it now? With the discovery of Keezhadi, we have physical pieces of evidence that Tamizh civilization is one of the oldest in the world, but what's next? We can't keep dwelling on the achievements of our ancestors. We were provided with such a strong platform that could be developed to a great extent. That's when I realized that the vision for a Tamizh future is as important as the validation of the Past.
How have your peers and those in the Industry received your work?
Peers here were excited and fascinated when they heard about the history and the contributions of Tamizh to this world. I made sure to communicate that tamizh shouldn't be seen as a local communication tool but a language that can be celebrated as a global phenomenon and since it's one of the oldest civilizations in the world, everyone can and should be a part of it. The sense of belonging and inclusivity excited them more and they were interested in knowing more about it.
Where would you like it to go now that you've delivered your thesis?
I see Tamizh Futurism as an Art movement that tries to combine our ancient techniques and practices with modern technologies to create a vision for the future. Tamizh Futurism is a wide umbrella and is not restricted to Architecture. It can be adopted in any industry like Art, Architecture, Music, Multimedia, Writing, and Fashion. When we talk about Indian Architecture in a global platform, the conversation would always be about the ancient structures that are 1500 - 2000 years old or we come to the 1950s and talk about buildings that were designed by a famous French Architect Le Corbusier. When I studied the Architectural history of western civilization, I noticed that art movements like Renaissance, Baroque, Classicism, Brutalism, Constructivism, Deconstructivism, Modernism, Postmodernism played an important in shaping the society at different points of time in history. But we do not have any significant movement like the above, which is surprising. I strongly believe that Tamizh Futurism can be one such movement that would scream to the world who we are and what we are capable of and it would play an important role in creating and imagining a successful Futuristic Tamizh Civilisation.
What would you like the global Tamil community to take away from your work?
Tamizh is one of the oldest languages in the world, it's one of the seven classical languages of the world, but still, barely anyone knew about the language when I moved to LA. Though it was surprising in the beginning, I later realized that we haven't done anything extraordinary for them to know about us. As a Tamil community, we've contributed a lot to the global society, but what we've contributed through and for Tamizh is very negligible. Approximately 80 million Tamizh people are spread across the world, but only a handful is constantly contributing to the language in an international platform. I think that has to be increased. Rather than looking at the contributions from the past, we should start looking into what we can contribute to the current society, adapt it to the present world scenario and make it relevant. Being in an International platform we have the potential to reach a global audience. If we start contributing something in every industry and discipline that we are a part of for and through the language, I'm sure Tamizh would become a global phenomenon even before we know it. ( சிறு துளி பெரு வெள்ளம் ).
It's rare to hear about Tamil professionals in the field of architecture. How did you get into it? Have you faced any setbacks?
I've always been this person who loves to create a positive impact in people's lives and it always brings me immense joy and happiness when I see that happening. I believe Architecture is one of the very few disciplines that play a really important role in shaping the society we live in.
My parents were supportive of my decision- there was little tension at the beginning. They let me pursue what my heart longed for. And they supported me at every step of this process. This wouldn't have happened if not for my family's constant support.
What are some future career goals you've set for yourself to achieve?
I am working on making my firm, based in Chennai, into an International practice and to have a global footprint. That's in the pipeline. Currently, I've been reaching out to international galleries and museum spaces to curate an exhibition of my work. A small contribution from my end to make Tamizh Futurism into a global movement. I've also been working to make Tamizh Futurism a part of academia, so that it can become a more grounded idea.
Can you describe your creative process? How/where do you find inspiration?
It depends on every project. For Tamizh Futurism, it was all inspired from ancient Tamizh architecture. It was mostly temples like Thanjai periya Kovil, Madurai Meenakshi Amman Kovil and some of the important Thaers (Juggernauts). I came up with a set of principles with which a Tamizh futurist architecture can be designed. These principles would kind of tweak and undermine or do the opposite of the ancient techniques that were used in the past, creating a new formal Architectural language.
I'm also inspired by my group of mentors and supporters: Tom Wiscombe, Marrikka Trotter, Graham Harman, Michele Liu, Thein Manimekalai Sowrirajan.
What lessons have you learned about pursuing this field that you'd like to share with aspiring architects?
Scalelessness is something I love about Architecture. The camp where I come from, we see Architecture as not just buildings. We strongly believe that it has the potential to be something beyond just a building. And that's where the scalelessness comes into play. It can be a tiny object that you design for a house or something as big as a city that plays a role in shaping who we are, how we perceive space and how we perceive this world. Architecture to me is a Narrative. It's a medium with which you can communicate, narrate a story and with simple gestures it also can make a political statement. Breakout of the conventional way of approaching architecture and I'm sure it can contribute to us a lot more than a roof over our heads.