Roobha - The Story of Romance And Struggle of A Young Tamil Trans-Woman
Roobha is a Tamil feature film produced in Canada. Roobha weaves a unique romantic tale that deals with the complexities of gender identity. Roobha, a trans-woman, struggles to find her place after being ostracized by her family. Her chance encounter with a family man, Anthony, leads to a beautiful romance. But their blissful relationship soon comes crashing down for reasons not their own.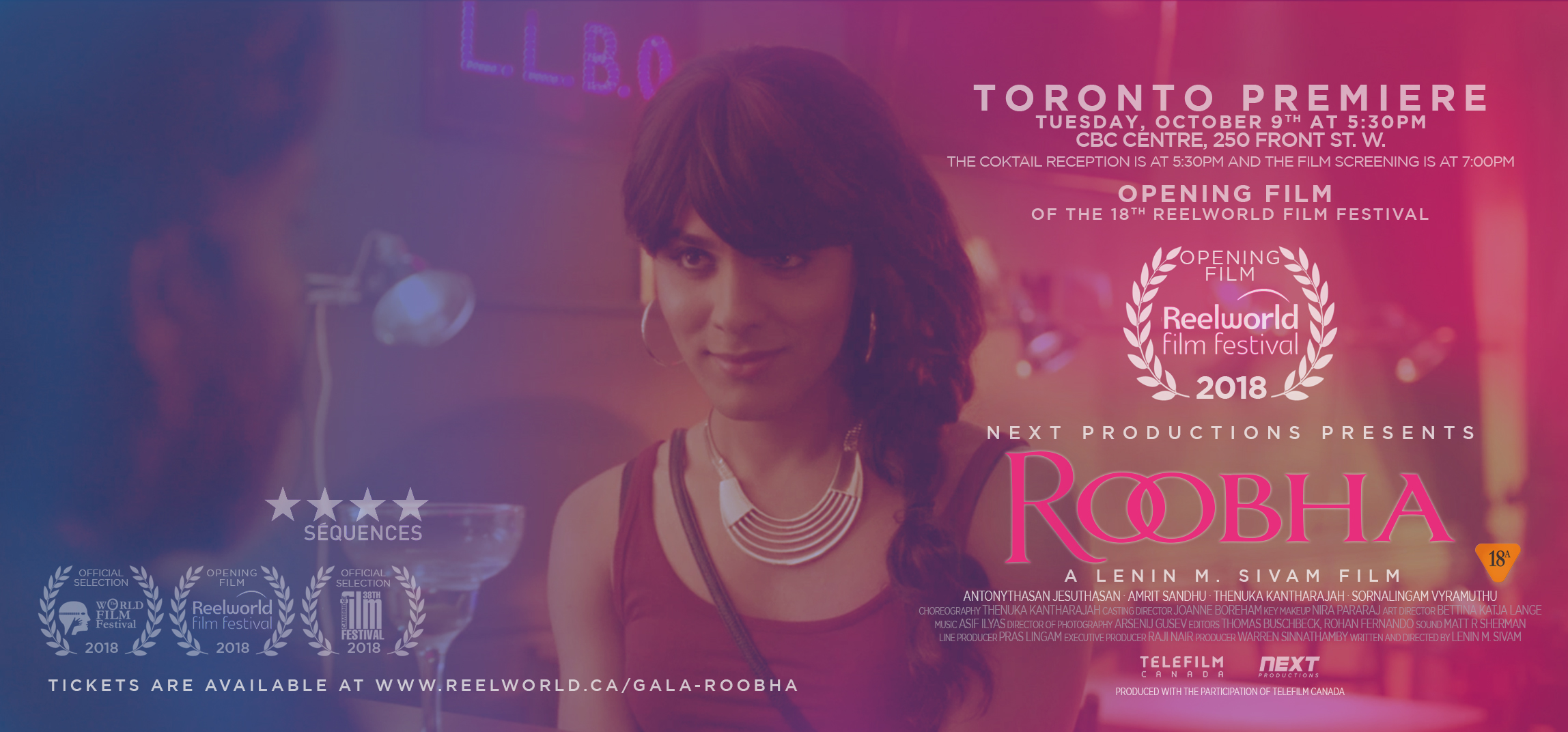 I've always wanted to do an adaption for my next film project. This led me to approach a friend a respected writer, Shoba Satki, for a great story. He sent me a couple of his unpublished short stories. One of them was Roobha. As soon as I read Roobha, I knew it was going to be my next film.
The first thing that struck me about Shoba's story was the spontaneous love between Roobha and Anthony. I felt that this forbidden romance between a young trans-woman and an older Tamil family man was unique and universally appealing.
Secondly, I liked the parallel that can be drawn between Roobha and Mohini, the only female avatar of Lord Krishna. My childhood is filled with memories of listening to Hindu mythological epics told via Villu Paatu, and one of my most memorable characters was Mohini. Her ravishing beauty and her playful adventures were always a treat. I thought it would be an amazing opportunity for me to convey my fascination with Mohini through Roobha.
Lastly I felt that Roobha would be a great film to confront the transgender stigma and biases that exist within the Tamil community. In the ancient times, Tamils believed that the transgender members are incarnates of Mohini and deserved a respectable place in the society. However, this congenial tradition has sadly taken an about-face over time and the transgender members are now often ridiculed and stigmatized. I felt that there are so many Roobha's out there who are living a fake life.
ROOBHA WILL BE THE OPENING FILM OF THE REELWORLD FILM FESTIVAL 2018
A gala and reception have been arranged for the opening night.
Date: October 9, 2018
Venue: Glen Gould Studio, CBC Centre, 250 Front St. W., Toronto
Gala & Reception: 5.30 p.m.
Official Screening: 7.00 p.m.
For those who are unable to attend the opening night gala, there will be a second screening.
Date: October 10, 2018
Venue: Cineplex Canada Square, 2190 Yonge Street, Toronto
Time: 6.30 p.m.
Tickets are available online at www.reelworld.ca/gala-roobha
CREDITS:
Actor/Actresses

ANTONYTHASAN JESUTHASAN

AMRIT SANDHU

THENUKA KANTHARAJAH

SORNALINGAM VYRAMUTHU

Choreography

Casting Director

Key Makeup

Art Director

Music

Director of Photography

Editors

THOMAS BUSCHBECK

ROHAN FERNANDO

Sound

Line Producer

Executive Producer

Producer

Written and Directed By

LENIN M. SIVAM | NEXT PRODUCTIONS