Rick Selvarajah: Professional MMA Fighter Turned Entrepreneur
Rick Selvarajah is keeping busy with training for his professional MMA fights, but is also passing on his knowledge to other fighters through his academy Revival MMA and Fitness.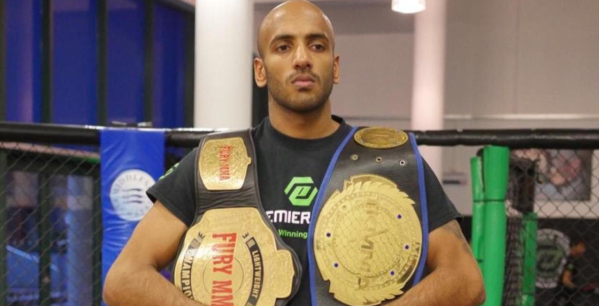 ***Know anybody in the global Tamil community with an interesting story or workin on an interesting initiative that we should feature? => FILL OUT THIS FORM ***
***Looking to create your love story? Join the other couples who have dated and got married through myTamilDate.com!***
"How a Message on myTamilDate.com Led to an Engagement for Lavanya & Vitharan"
Describe your path to becoming a MMA fighter.
I initially started as a way to just lose weight. I wanted to try martial arts and I was instantly captivated by the art of training my body and mind. I fell in love with the sport and started to compete just to test myself. It was something that came very naturally to me, but coupled with a lot of hard work and dedication I was able to progress to becoming a professional athlete. The rest is history.
Do you see yourself continuing down this path for the next 5-10 years? How would you describe your career so far?
I plan on competing for the next 5-7 years depending on how my body feels. My career so far has been amazing. I've fought at the highest level in the UK and I'm proud of my achievements. But I am someone who always wants to push further and so I still have a lot more of my dreams to chase.
What are your plans after your current pursuit of being a MMA fighter?
After I retire from fighting, I plan to continue expanding my academy - Revival MMA and Fitness. I am already a coach, as well as an athlete, but once I have finished fighting I will make the transition to fully focussing all of my time on growing and developing my academy.
Tell us more about Revival MMA and what prompted you to start that business.
Revival MMA is a new martial arts and fitness centre that was started to pass on the knowledge and skill I have gained throughout my life. At Revival we welcome students from all walks of life and work on them becoming the best version of themselves that they can be. At Revival we believe in 'Rising Above Excellence', not only in skill and fitness but also in discipline and confidence, which are attributes our younger students benefit from the most. I opened the business because I started to realise that I wanted to teach martial arts in my own unique way and leave a legacy behind later down the line.
What is one thing that you were surprised to learn about in the course of starting and running your business?
I was surprised and truly humbled and shocked when I realised how many people wanted to support my business. I was getting messages from so many people that I haven't connected with in a long time, with so many of my old friends and family joining up and loving their classes. I am, and will always be eternally grateful for all the love and support I have received. It's also such a pleasure to see so many new faces, eager to learn and take everything in. It reminds me of the passion I had when I first started.
Can you recollect a failure, or apparent failure, which set you up for later success?
A massive failure at the time which later on proved to be a huge success for me, was losing my first ever MMA Tournament. I was about 8 months into training and I decided to compete. I fought against a more experienced opponent and lost on points. How I felt after that loss cemented to me how much I wanted to get better and become a fighter.
How did your family and friends take up your choice of career? Did you have any naysayers?
At first my parents were apprehensive when I told them I wanted to start MMA and fight professionally. Both my parents wanted me to focus on my studies. My brother and sister were both straight A students but I was never very excited by school and I never dedicated to it and felt lost until I found martial arts. It's the first time in my life that I felt passionate about learning. As the fights and time went on and I started winning fights my parents began to understand what it meant to me and now they are some of my biggest supporters. My mum has been to every single one of my fights, as have my siblings. My wife is super supportive of what I do and I have a baby son who hasn't been alive long enough to see me fight but I am pretty sure he will be at my next one.
Do you have any mentors that have helped you in the progression of your career? Do you think everybody needs mentors? How does somebody find a mentor?
I do have a couple of mentors, not only in Martial Arts, but also life in general. Mentors to me are people who I look to for advice and who's example I aim to follow. I think to find a mentor you should seek out someone who is at a place that you would like to be, and get in touch with them and try and find out what it took to get there.
___
What do you think you would tell 16-year Rick looking back?
I would tell my 16-year-old self to not take life as seriously in the future. Life's one big journey and we are all on our own path. I would remind my younger self to enjoy the ride and do what makes you happy.
How would you describe your dream life? Or dream day?
My dream life would be spending my time with my amazing family somewhere hot like the Maldives, I would be able to spend time with my family by the sea by day and teach then train by night. I really love being in the ocean and could spend forever on a quiet small island, with an unlimited supply of food!
What is a new belief, behaviour or habit that has most improved your life?
The behaviour that has most improved my life by far is having a hard work over everything mindset. I truly believe anything is possible as long as you are willing to work hard to achieve it. That's a concept I swear by and live out daily.
___
How would you describe the Tamil community in the UK?
I think at times the younger Tamil community in the UK is pretty spread out. I think we need to do more as a people to support each other and build a strong community like our parents have.
What is your favourite Tamil food (meal or dessert)?
My favourite Tamil food is mutton kothu rotti. I love food so much but nothing beats a kotthu.
What is your favourite Tamil movie?
My favourite Tamil move is Jeans. It's one I grew up watching with my family and one that will always remind me of my childhood.
What does Tamil culture mean to you?
Tamil culture to me means being unbreakable. I think our people have literally been through hell and back and we are still here. I'm so proud of my parents for how they have moved to another county and built new roots in a foreign land. I suppose a word that sits close to my heart when thinking about Tamil culture is pride. I will forever feel pride at how my parents came here with nothing, and not only built a life but built one to be proud of.
***If you want to connect with Rick, please reach out via his TC profile - https://tamilculture.com/user/rick-selvarajah***
Related Articles:
"These Tamil Entrepreneurs Share How They Grew Their Side Hustles"
"Angel Investor Jay Vasantharajah On Building His Portfolio One Day At A Time"
"Danny Sriskandarajah's Journey From Rural Sri Lanka to CEO of Oxfam Great Britain"
"Coronavirus Took My App From Our Lives"
"This Toronto-Tamil Family Is Living Minimally To Maximize Their Quality of Life"
17-Year-Old Anjalee Narenthiren is the Founder of Not One, But Two Companies