Once a Cheater, Always a Cheater?
Dealing with divorce in the Tamil community.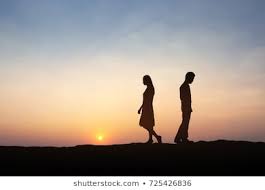 Does it ever occur to those who judge someone for getting divorced that the reason may be adultery, perversion or even a potential case of child abuse? (Not that this should matter as it's a personal choice which the individual should not have to explain.)
Taboo subjects. Especially in our Tamil society, where if you bring this up, victims are shamed rather than the culprit.
I got married and started a new life in Canada with full of hopes, dreams and in love like all married couples. Into our first year of marriage, I had a gut feeling that something was off. My husband would have his phone constantly with him, even taking it to the bathrooms at all times. His pattern of coming home changed. Sudden business trips and hours on his laptop. My doubts were cemented when we ran into his colleague at a mall who was surprised to find out that we were married. I felt embarrassed that he had lied and made me question him more. We argued about this when we got home, but my husband wouldn't give me a straight answer. To make matters worse, one day, a woman called and asked for my husband and asked me who I was - when I mentioned I was his wife she laughed and said that it can't be possible as she is his girlfriend. When confronted, my husband brushed it off as a prank call.
You should always trust your instincts. I started checking his activities more closely and that's how I found out about his on-off relationship with a girl who was a teenager when they started their relationship. Obviously my husband had lied about his age, as he was 12-years older. I e-mailed the girl first and interrogated my husband and he admitted that he was having an affair and would end it. I was furious and booked a ticket to Europe to see my family. When I brought this up with my parents, they had hard time believing me. How could a wonderful person like my husband - who is quiet, helpful and wouldn't raise his voice- do something like this? I was persistent and said that I want to separate from him. My parents weren't pleased, as no parent wants to see their children's marriage fail. They talked me into giving him a second chance and discussed the situation with his family and thankfully they were very supportive.
He did his best to make me happy and apologised and I forgave him. I told myself that we all make mistakes and a one-off situation shouldn't jeopardize our marriage as overall he was a good husband and he was supportive in many ways and besides, it would break my parents hearts. As a Tamil girl, you factor in the family by when making this decision, that's how we are all raised.
We moved houses and life went on peacefully until a bill came showing my husband had purchased a new laptop and other unexplained items, which I never saw. When I questioned him about this, his response was it's a credit card fraud which he would investigate. Deep down, my instincts told me a different story. Shortly after, out of the blue, a girl called to inform me that she was bothered by my husband and told me stories which were hard for me to comprehend. I brought this to his sister's attention - she phoned the girl and had a few conversations and that's how we found out that they knew their family from back home and the expenditures on the bill was for that girl. They were having a relationship and the girl's family welcomed him into their home and all his business trips in the past were to this girl's house. I felt humiliated. My husband was confronted and his brother-in-law gave him a big lecture, but my husband didn't give any straight answers and kept denying things even when he was presented with the facts.
Again, I was on the flight to my parents and this time they didn't say or ask anything. I was depressed and didn't want to talk to anyone. I constantly had this thought of being a failure. Here and there, I would hear some of my relatives talk about me but no one knew what was going on. I stayed with my parents and avoided my husband completely. He would phone, but I wouldn't answer his call and his e-mails went unanswered. After few years of being with my parents, his family would beg for me to come back to start fresh as my husband was now a changed man. I was naïve but not a fool to believe that. As a daughter, I couldn't bear to see my parents suffering, them avoiding functions and having visitors home. I didn't see them smile much over the years since my separation. Relatives and family members started gossiping more and more and some would ask my parents why I was back in Europe on my own. My parents didn't know what to say them. All these things make me think perhaps moving back to Canada would be the best for everyone - even though my parents disapproved of my decision.
I went back and things were resumed, although much had changed. He lived his life as if nothing happened and we hardly talked except for the necessities. He would always put a great façade when visiting relatives or functions. People would always comment, what a great guy he is, and I should be lucky.
One day I received an e-mail from a common friend stating that my husband was sending inappropriate messages to his girlfriend and sent me some screenshots. When my husband wasn't home I started checking his e-mails and Facebook messages. There were many email exchanges with many young girls. I was no longer surprised, and I didn't care much. My wake up call came when I saw that he had messaged my teenage cousins with double meanings and the reality sank in. My next thought was, I need to get away from here immediately as I need to protect my cousins from him, otherwise he will have a safe path using family connections. Are these harmless e-mails or is he a potential paedophile? How far will he go? Will he harm someone? So many unanswered questions consumed my mind. To this day, I don't have any answers.
I was so amazed by our Tamil society - how some can negatively label someone, once they are divorced, without knowing the facts. Even the ones who knew what had happened distanced themselves - I was not a good example for their daughters. I was humiliated and depressed to the point of sometimes thinking if it was worth living. The thought of my parents is what gave me strength and pulled me together to move forward with my life.
I wanted to share my journey to remind our community to not judge and gossip about someone who is going through a divorce - you don't know what hardship they are going through.