Maple Beer Co. and the Quest to Craft Canada's Great Sports Beer
Great Canadian water, high quality barley, premium hops and true brewer's yeast are what Rakka Rakkappan boasts as key to crafting a great tasting beer. Following a 12 year long dream to venture into the beer business, Rakka began a quest to develop a distinct and unique tasting craft beer. He would spend a year making multiple trips to neighbouring liquor stores, scouring shelves for every craft beer in sight, and spend endless nights tasting and meticulously critiquing each in the name of "research." After deciding that he wanted to develop a beer that would ultimately appeal to those just getting into the craft beer scene, Rakka settled on a light ale that he would affectionately call Maple Sports Ale.
Quick to point out that the beer does not actually contain any Maple syrup or Maple flavouring, Rakka cites his interest in developing a craft beer that is 100 per cent Canadian made with Canadian ingredients as reason for the choice of Maple in the company's name and in their flagship product.
"Despite the fact that I'm Tamil, I am very proud of my Canadian identity. We have some of the best barley, hops, yeast and water in the world. Combine these ingredients with some of the best brewing techniques and brewers, Canada could become the world's beer capital and I want to be a part of making that happen," says Rakka.
From speaking with Rakka it is clear that he cherishes all things Canadian, including the ever-popular Canadian tradition of communal events involving sports and alcoholic beverages. He explains that this tradition led to him calling his product a Sports Ale. Due to its light taste and intention as a gateway for drinkers into craft beer, Rakka considers his beer to be the ideal beverage for sports fans who enjoy a comforting alcoholic beverage while watching their favourite sports.
At present, Maple Sports Ale is available in 10 Canadian cities, including: Toronto, Brampton, Scarborough, Markham, Pickering, Stouffville, Uxbridge, Kingston, Gananoque & Merrickville, with plans to expand even further across the country.
Early reviews of the beer have been positive, with bar and pub patrons responding well to the unique taste of both a North American and English ale.
Tasting Note: Clean, easy-drinking Sports Ale with aromas of fresh grain, pepper, lemony hops, and hints of red apple.
Many drinkers have also responded warmly to the beers' red and white cans which display obvious Canadian pride and sports imagery.
When asked what his goals were for the future of his product, Rakka has set an ambitious goal of seeing his beer sold in every major city of the world.
"I am currently working on breaking into the UK, US and Indian markets. I want to prove that craft beers don't necessarily have to be done at a small scale but can be big too. Wouldn't it be great if people all around the world had a taste of Canada?"
Taste Maple Sports Ale for yourself at their launch party! Grab your free tickets here.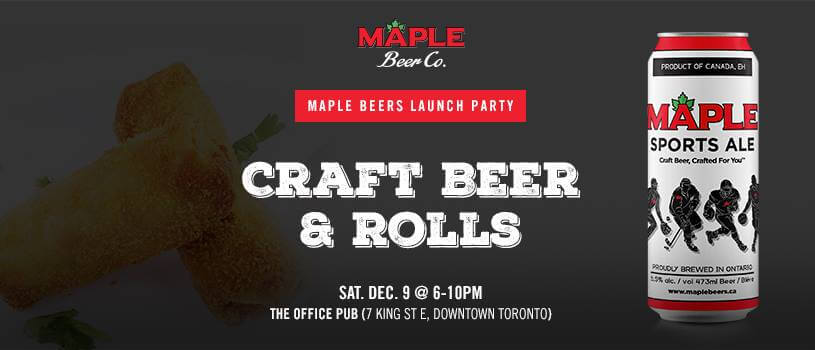 * * * https://www.youtube.com/watch?v=CSeMwRmkC54
You may also visit the links below to find out where the beer is currently being sold:
Website: www.maplebeers.ca
Beer locator: www.maplebeers.ca/find
Facebook: Maple Beer Co.
Phone: (416) 720-4833
Email: sales@maplebeers.ca