Indhu Rubasingham Takes on the World of London Theatre
Being critiqued is nothing new to this theatre veteran, whose work has been consistently well received and has even earned her a handful of distinguished awards, including the Asian Women of Achievement Award and the Liberty Human Rights Arts Award.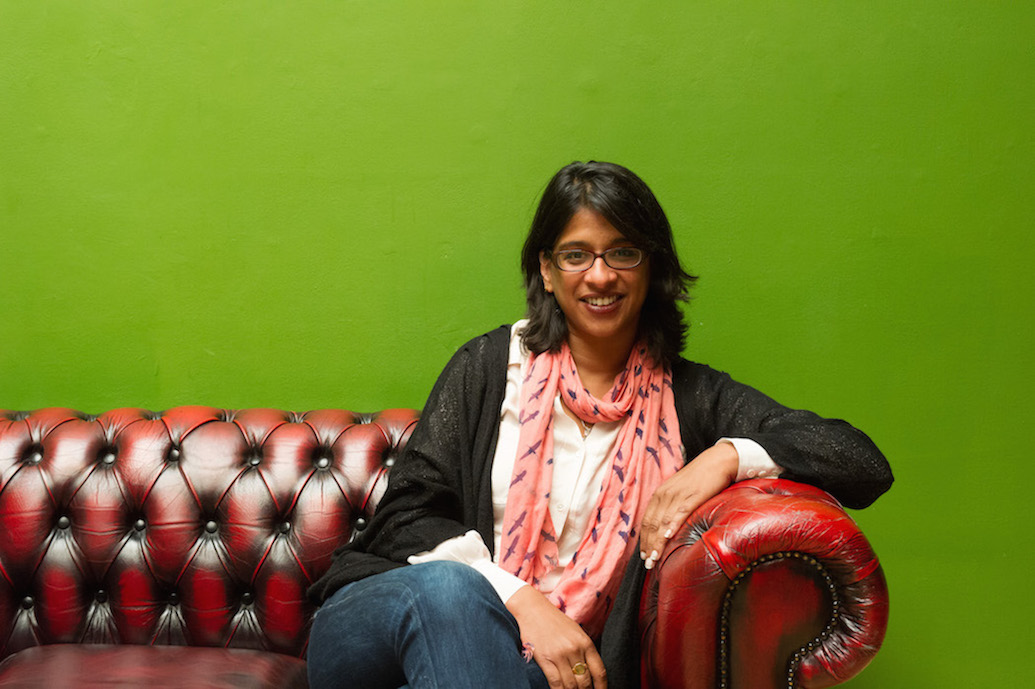 "Do you still get nervous?"
"Oh all the time. All the time," she emphasizes. "I'm nervous every time I put on a show - whatever the show, because it's scary. You put your heart and soul into it and then you put it out there to be critiqued."
Yet being critiqued is nothing new to this theatre veteran, whose work has been consistently well received and has even earned her a handful of distinguished awards, including the Asian Women of Achievement Award and the Liberty Human Rights Arts Award. With a headstrong career spanning over 20 years, it was humbling to hear 42-year-old Indhu Rubasingham, artistic director of Tricycle Theatre in Kilburn, London, admit that she still gets nervous.
"I've worked really hard for it. It always makes for a good media story when you hear that someone suddenly gets discovered and they become a star - and I don't believe that for a second. I think for anyone who was ever been 'discovered', there's been years of work behind it."
For Indhu, the years of work started when she was a teenager. As with many young Tamils influenced to pursue a traditional career path, Indhu started off in science, although she often changed what she wanted to do from being a lawyer to going into politics. "Ironically, I was good at sciences but I think I was a natural born rebel. I was very adamant not to do that route but I had no idea what I wanted to do."
It wasn't until she was sixteen when she was introduced to the world of theatre. "I did this work experience at Nottingham Playhouse. It was by coincidence that I got my work experience at a theatre and I just fell in love with it. I couldn't tell you what it was... it was something about the world and atmosphere of it. I just thought 'this is a world I want to be a part of' but I didn't know in what way."
Indhu still carried on to do her A levels in Science but began to join every theatre group she could in her free time. It wasn't long before she realized she wanted to pursue a drama degree. However, without the relevant A level requirements, she was not accepted into any drama programs. Stuck at a crossroads, it was surprisingly her father who persuaded her to use her year off to do an A levels in English so she can apply to drama programs.
"I remember my dad saying something really interesting. He said, 'Your generation always complains about our generation being old fashioned and not knowing things but it's up to your generation to inform us and open our eyes.' I think it's very true because for them they came from Sri Lanka to Canada or England or wherever with a different set of expectations, values and culture. They came as immigrants. Why should they know what our experiences are, being born and brought up here?"
Indhu continued to strongly credit her success to having her parents' support. "I definitely wouldn't have been able to do it. It's a hard world and you have to have incredible confidence without that support. It's not that it was easy for them either because they didn't know what this world was. Parents in our community want their kids highly educated in order for them to have a decent income […] They want to know they're going to be alright and that isn't the case with this lifestyle."
The lifestyle she is referring to is one that is consumed by the world of the theatre. "Work is my life. People who get attracted to theatre or the arts - it's a bit like an obsession. It takes up everything. I don't have a stable family with two kids and that kind of lifestyle and I don't think I want that. It's not my thing but equally you kind of go, 'Am I going to be like this all the time?' - you don't know."
Indhu made her way into this lifestyle after directing her first play as a student at Hull University in Yorkshire, England. She found directing to be the perfect medium between her analytical scientific half and the countering creative, intuitive self. "It felt like something that sat really well with me and once I realized that I really enjoyed doing it as a student, I wondered what it could mean for me professionally."
She soon made the move down to London and got a bursary to be a training director at Theatre Royal Stratford East, where she had the opportunity to help on new plays, musicals, and pantomime – including assisting the notable English writer and film and theatre director Mike Leigh. The breadth of experience allowed Indhu to go on to do freelance directing for a number of theatres including, the National Theatre, Chichester Festival Theatre, and Birmingham Rep.
These years were faced with many ups and downs, due to the highly volatile nature of freelance work, to the degree that even after one year of having booked several shows at different theatres, Indhu found herself out of work for the entirety of the next year. "I remember in my 20s, my friends who were lawyers or doing medicine – they were earning loads more money. I would suddenly feel embarrassed and I couldn't go out in the same way, especially in London. The restaurants they would go out to on a daily basis or weekly basis would be the restaurants I would go to once in a year. It changes your social circle, especially when you're younger."
It was these new realities that made Indhu more confident that theatre was for her. "Do you really want it? That's the best question I think. It's knowing what you're willing to do and what you're ready to give up. What's important to you?" She reflects on a moment almost a decade ago where she reached a low point. "I thought, 'I can't do this. I have to do something else.' But I realized, 'No this is really what I want to do' and by discovering this at a really low point, it was a commitment to myself. 'This is all I can do. Let's just keep going'."
This decision to keep going proved pivotal as about 5 years later she was offered the position of Artistic Director at Tricycle Theatre. Ironically, it was the type of position she had adamantly refused to consider for several years before, as she understood the immense administrative responsibility of the role and worried it would take away from her creativity. On the contrary, it proved to also give her the space and in hand, the control to choose the type of stories she wanted to tell.
"The first play of my program as an artistic director, and one that I also directed, was a play I had been working on for 7 years as a freelance director and I couldn't get it on anywhere. It was called Red Velvet." Red Velvet tells the story of Ira Aldridge, Britain's first black actor who played Shakespeare's Othello at the Theatre Royal in Covent Garden in 1833. Written by Lolita Chakrabarti with the lead played by Adrian Lester, Indhu made a promise that if she were to get the role of artistic director, it would be the first play she put on. "I was really nervous because you think about how a lot of places have rejected this. It was my first play and I knew everyone was going to be looking." Red Velvet turned out to be a huge hit. It opened to rave reviews and went on to win various awards. It even transferred over to New York - making it one of Indhu's career highlights.
Red Velvet established her mission as artistic director to continue offering "different lenses to the world" and giving a platform for the unheard voices that aren't "led by the white male gaze", as she puts it. It was a perspective she understood very well, having grown up surrounded by the Sri Lankan immigrant culture, and it allowed her to connect with other immigrant cultures.
She went on to direct works like Ruined at the Almeida Theatre. Set in Congo, Ruined examines the lives of women who experience levels beyond rape; they are literally ruined, with their reproductive organs destroyed in wars but yet somehow these women still survive, both physically and emotionally. Another play she directed at the Tricycle, and one of her favourites, is Paper Dolls. Based on a true story, Paper Dolls explore the lives of five Filipino immigrants who live in Israel and care for elderly Hasidic Jewish men, while in their spare time partake in a cross dressing group called Paper Dolls.
"What I love about the story is the human connection beyond religion, culture, or sexuality. I am interested in human connections under the extreme, beyond what we believe in. I'm interested in that mix […] That's the power of theatre; you can tell those stories. You can challenge the thinking in a way that I feel like I can, to the best of my ability." And it was apparent to me that this is what Indhu Rubasingham lives and breathes for; it is the essence of who she is.
Leaving our interview, I couldn't help but feel that I had just met one of the raddest women. To even imagine what it would be like not having examples of women like this in our community...
The thought alone makes me nervous.
– Photograph © Jane Hobson